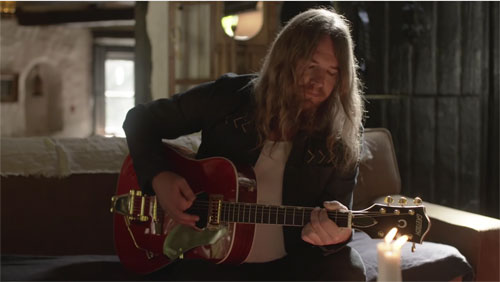 This one escaped us, but now that it has crossed our radar, we had to share Israel Nash's beautifully shot, captivating video for "LA Lately."
Nash, a singer-songwriter originally from Missouri and currently based out of the Austin, Texas area, picked up steam with third album Rain Plains, which became a favorite on NPR and stations such as KEXP and KUTX.
His highly anticipated follow-up, Silver Seasons, dropped in October of last year. Although it was recorded at his studio on his 15-acre Texas ranch, the track "LA Lately" and its official music video were inspired by the City of Angels.
"'LA Lately' is a song that was written on the road while we were leaving LA after our show," Nash told relix.com. "There is something magical about that city and the song is all about our experience. From getting there, to being there, and -as we do- moving along and leaving. When it was time to shoot a music video, it really seamed like the only place to be. The video is unabashedly a journey through the layers of Los Angeles. I also learned that you should take any chance you get to hang out in a backyard in Laurel Canyon. So make a friend or two down there while you're at it."
Watch the clip below featuring Nash on his Gretsch Rancher with Bigsby.