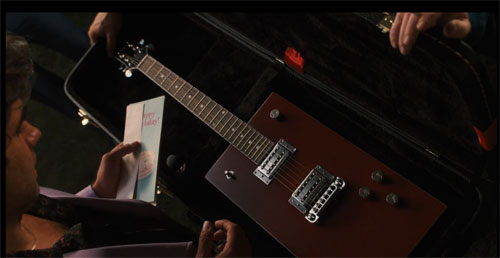 The new 10-part HBO drama series Vinyl debuted last week, and looks to be a an interesting and wild ride through the sex- and drug-addled music scene of 1970s New York.
Created by Mick Jagger, Martin Scorsese, Rich Cohen and Terence Winter, Vinyl stars Bobby Cannavale as record label president Richie Finestra, a man who is trying to save both his company and his soul without destroying everyone in his path.
In the pilot episode, though, it was unfortunately a 1959 Gretsch Bo Diddley that suffered his ire.
During a party thrown by Finestra's wife (played by Olivia Wilde), his co-workers present him with the guitar in a scene that is inter cut with live performance footage of "Go Bo Diddley."
"The guitar, it's really great," he said. "I used to listen to his records—stand in front of the mirror with my mom's broom."
Later in the episode, Finestra unfortunately suffers a relapse, and winds up drunkenly playing the guitar around his living room. Falling off the wagon sparks an argument with his wife, leading Finestra to take his frustrations out on his priceless guitar and television set.
You can watch the the full episode for free here, in exchange for your email.