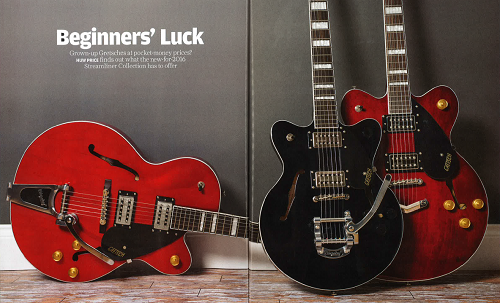 The March 2016 issue of Guitar and Bass magazine highlights the all-new Streamliner collection with a detailed review, with the G2655T Streamliner Center Block Junior Double Cutaway receiving the "Guitar and Bass Award." The G2655T scored 9 out of 10 for its design, manageable size, easy playability, and sweet clean tone.
The review by Huw Price includes an in-depth look at each of the models, and focuses on the brand new Broad'Tron humbucking pickups that all three Streamliner shapes (Center Block Jr, Center Block, Hollow Body) share.
"The sound we were looking for was between a classic Filter'Tron and a PAF-style humbucker, but leaning more towards the Filter'tron," explained Gretsch Product Manager Adam Bowden-Smith. "So Gretsch tonality with a broader sound, hence the Broad'Tron name."
The G2622 Streamliner Center-Block Double Cutaway and G2420T Streamliner Single Cut Hollow Body also scored high, earning an 8 out of 10 with praise for their excellent tonal resonance and overdrive tones, traditional Gretsch style, and easy playability and stable tuning.
"These Gretsches are so solidly made and well finished that there's plenty to enjoy for newbies and Gretsch die-hards alike," concluded Price.