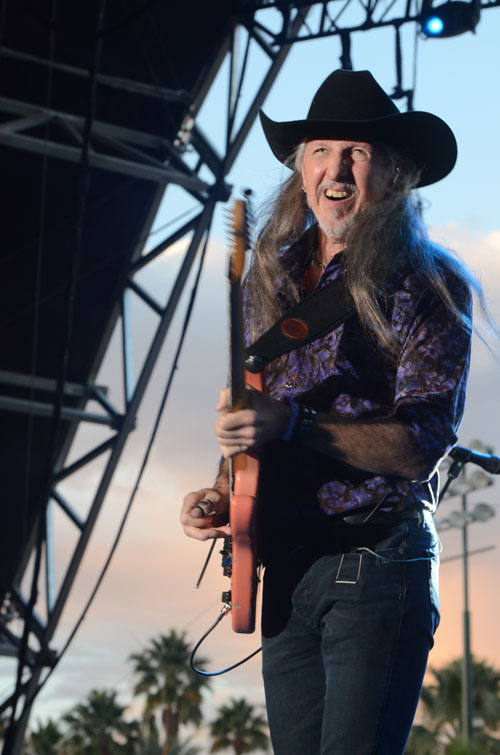 Just as the sun began to set on Stagecoach, legendary rock band the Doobie Brothers took the Palomino stage for an hour long performance. Storms had threatened the area just prior to their set and as the techs taped down set lists and fine-tuned guitars, a small rainbow appeared between the mountains, almost as if it was a sign of the magic about to happen.
For nearly 50 years, the Doobie Brothers have entertained the masses with some of America's greatest songs, and tonight they proved they are as magnificent as ever.
As an act that has transcended generations, eager fans of all ages flocked to the far tent to catch the iconic group's performance, kicked off with the classic "Jesus Is Just Alright," a power ballad riddled with guitar and keyboard solos.
Other notable hits and highlights included "Rockin' Down the Highway," "Long Train Runnin'" and "Black Water." They ended their epic set with "China Grove" and "Listen to the Music," leaving attendees awestruck with the surreal experience of witnessing this legendary band live.
Little Big Town Left 'Em Wanting More
Little Big Town hit the Stagecoach Mane Stage at 7:45 p.m., right before festival headliner and current touring mate Luke Bryan.
The foursome somberly emerged on the edge of the stage where they were swathed in purple lighting, and sang a capella a quick snippet of Dolly Parton's "Jolene" and Prince's "When Doves Cry." Members Karen Fairchild, Kimberly Schlapman, Jimi Westbrook and Phillip Sweet have truly mastered harmonizing their voices, and this a capella moment set the tone for the powerhouse vocals and seamless harmonies displayed throughout the set.
There was just a brief moment of silence following the intro, and then the quartet fired up their first full song in  the sassy "Little White Church." Fairchild immediately directed the crowd to put their hands together for the upbeat, sing-along track, which appeared on 2010's The Reason Why.
The group wasted no time jumping from there to their smash hit "Pontoon," which got the sea of fans grooving and raising their beer cups high in the air.
The bandmates all took turns taking lead on vocals throughout the set. Schlapman sang "Sober," Sweet took "Front Porch Thing" and Fairchild delivered their Grammy-award winning hit "Girl Crush," which launched the band into super stardom last year. The crowd had definitely been waiting for that big moment, and its refrain echoed across the field as tens of thousands of voices eagerly chimed in.
And as hugely popular as "Girl Crush" is, it seemed Little Big Town had a more upbeat finish in mind.  The group ended their show-stealing set with the Westbrook-led "Boondocks," leaving a predominantly drunken field of fans clamoring for more.
Luke Bryan Closes out the Bash
LBT had noted during their set that they were warming up the crowd for the biggest "hip shaking" guy in the business.
They obviously know him well.
Luke Bryan gyrated and shimmied across the stage, delivering his interesting brand of country, which incorporates elements of hip-hop, hard rock R&B and vintage pop country.  Not to mention, plenty of hits — 11 of his last 13 singles have hit No. 1, and he played "Rain is a Good Thing," "Kick the Dust Up" and "Crash My Party" early in the set.
He also came out promising the Stagecoach crowd he was going to play as long as he wanted Sunday night. God bless him, because when he performed "Drunk On You," crooning, "Girl, you make my speakers go boom boom …"  Well, we boom boom boomed right on outta there!  Even as we reached the far, far, far away parking lots, he was in fact, still going strong.