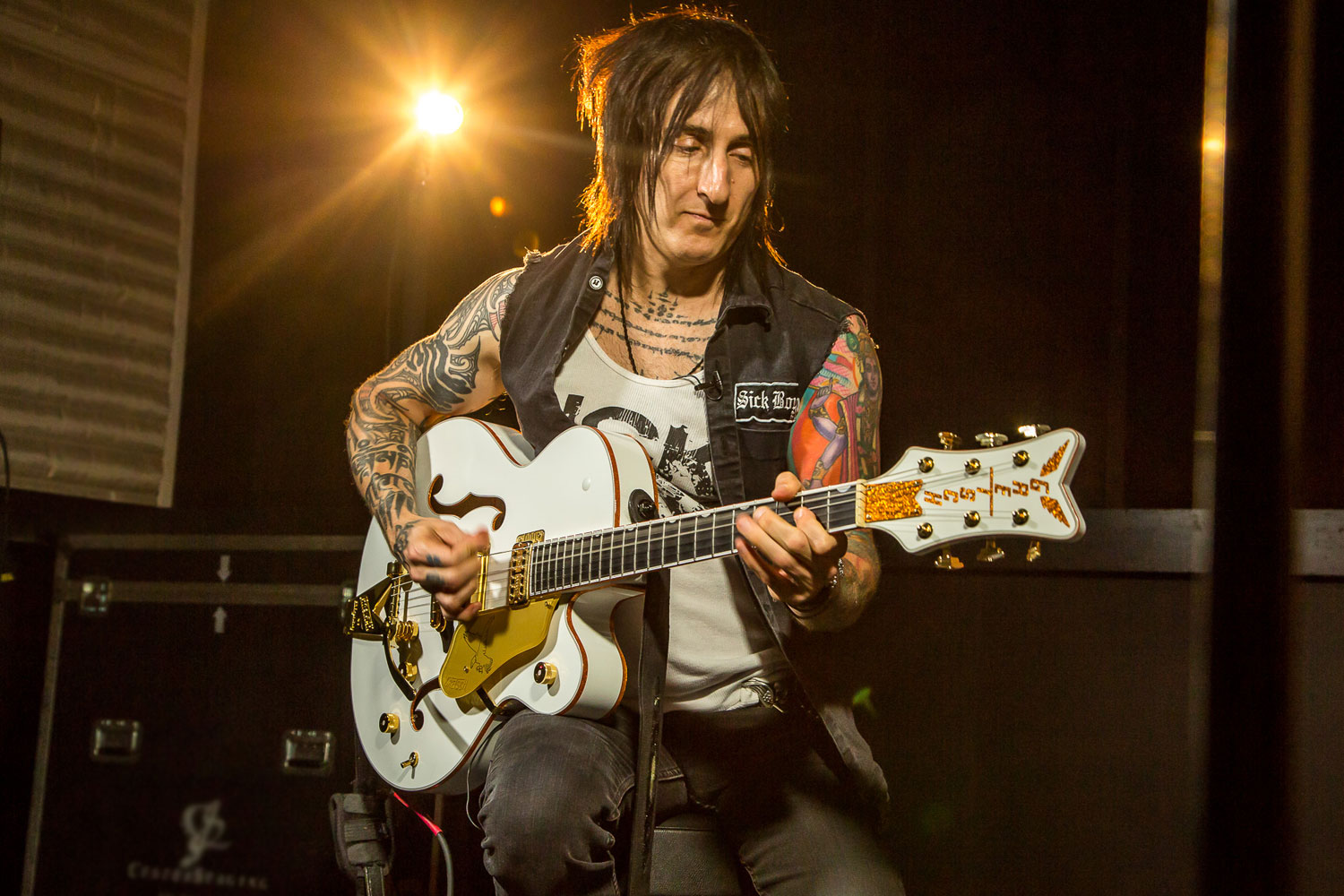 As kids, most of us were surely asked multiple times what we wanted to be when we grew up. Whether or not we remember any of those answers is probably a long shot. But for Guns N' Roses guitarist Richard Fortus, he can still vividly recall one moment when he hid his real answer.
"I remember being five years old and sitting in Sunday school class and them asking what we wanted to be when we grew up and everyone had normal kid answers," shared Fortus. "I'm thinking to myself, 'I want to be a musician,' but I didn't want to be judged in the eyes of the Lord so I just said 'a fireman' like the kid in front of me said. But I've always been in love with music since I can remember. Always dreamed of doing it professionally."
And so he has. Since founding his first band in 1984 (The Eyes/Pale Divine), the St. Louis-bred musician has been part of the Psychedelic Furs, Love Spit Love, the Dead Daisies, and toured with Guns N' Roses over the last 15 years.
So while Sunday school may have planted the noble idea of putting out fires, fortunately his father worked for a company that built guitars and music was strongly encouraged in the household. Fortus cut his teeth on violin at age 4, added drums and then guitar by his early teen years. Another well-preserved memory from his childhood just so happens to be his first time spying a Gretsch guitar.
"I was 4 or 5 years old thumbing through my parents record collection and seeing a Chet Atkins cover," said Fortus. "I actually remember that it was a red single pickup. I remember thinking it was sexy."
In later years as he immersed himself in the whole punk rock scene, Gretsch continued to be on his radar.
"From the Damned and from the Bow-Wow Wow, the early Adam and the Ants stuff, it was very influential to me— I think tonally (what) my ideas of the perfect rock guitar tone were," said Fortus. "But tonally … they are so versatile. To me they are rock machines. Malcolm Young … super aggressive sounding in my opinion."
Fortus bought his very first Gretsch, a 1966 Tennessean from the late Bobby Caldwell, who was an icon of country music and one of the most influential guitar players in St. Louis.
"He gave me a great deal on it, and when I was with the Psychedelic Furs and Love Spit Love I toured with that guitar," said Fortus. "It used to be in really good condition and then I beat it up. I remember I knocked the bridge out of that guitar on stage — it use to happen pretty regularly as I would hit it so hard, and then I had to have it pinned. But I still have it, and it's got some good scars on it."
But in order to preserve his beloved Tennessean and also with Slash returning to the GNR lineup, Fortus sought something new tonally as he began preparing for the massive "Not In This Lifetime" reunion tour. He found what he was looking for with a Players Edition White and Black Falcon.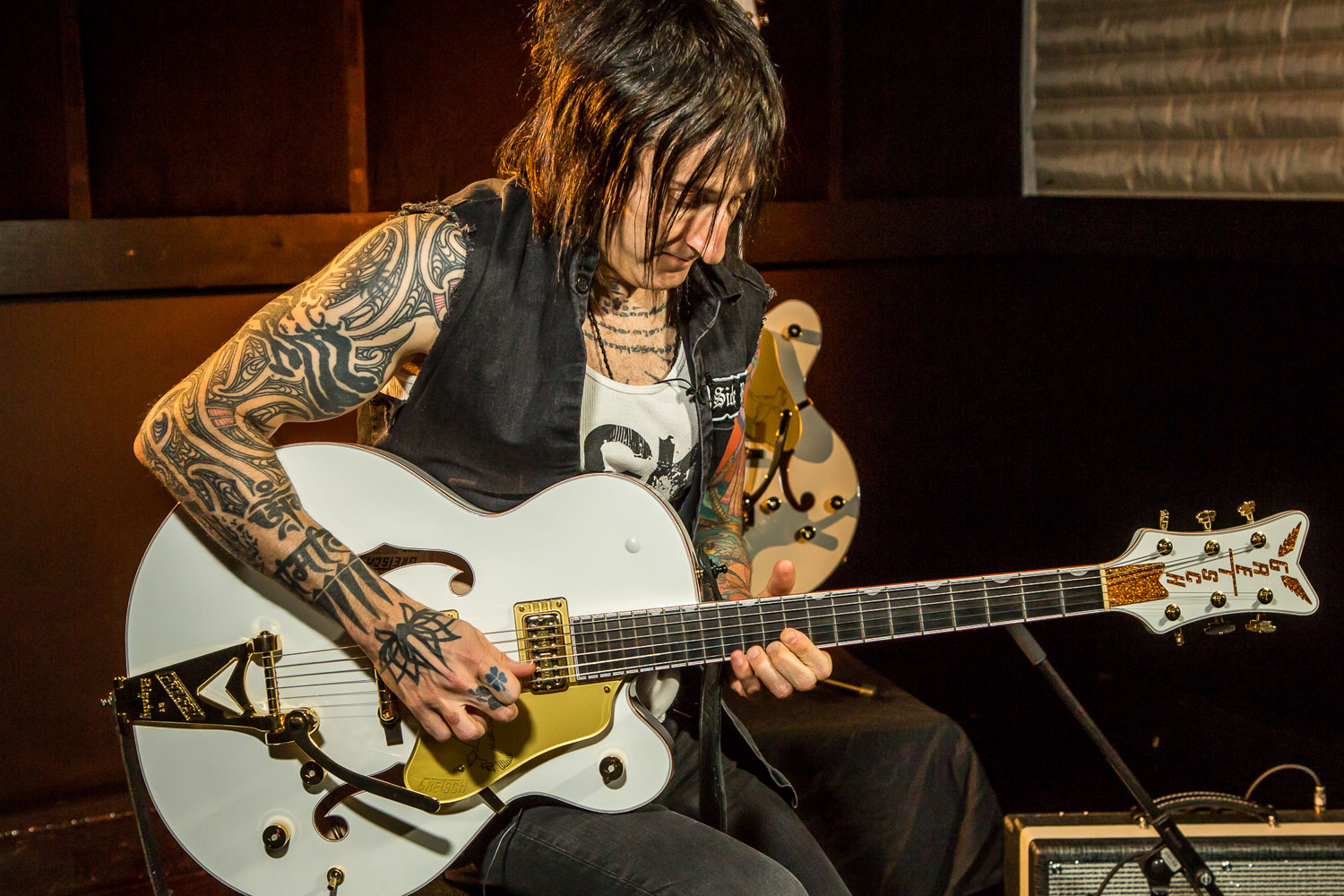 "These work perfectly for me especially in the Guns N' Roses scenario where I'm using sort of a low gain amp with more of a higher gain amp and Slash is playing Les Pauls and this (Falcon) seems to really balance that nicely," said Fortus. "It adds a lot of low end and top end and brightness and charm to the guitar but still really heavy, and I have not had any issues with feedback. It's been great."
"They're incredibly powerful and cut through a mix really well and the way they frame other guitar tones is really cool. They really work well together."
The GNR reunion tour is also working out extremely well. The North American summer leg earned rave reviews and grossed over $112 million, with the band set to finish off 2016 and start the new year with stops in South America, Japan, New Zealand, Australia, South Africa and China.
None of which is a surprise to Fortus.
"I've been playing with Guns N' Roses for 15 years now and it's been a great experience," he shared. "The work ethic these guys have is amazing."
Click here to view tour dates, and if you are interested in hearing Fortus wax more on his Players Edition guitars, check out this exclusive video package …