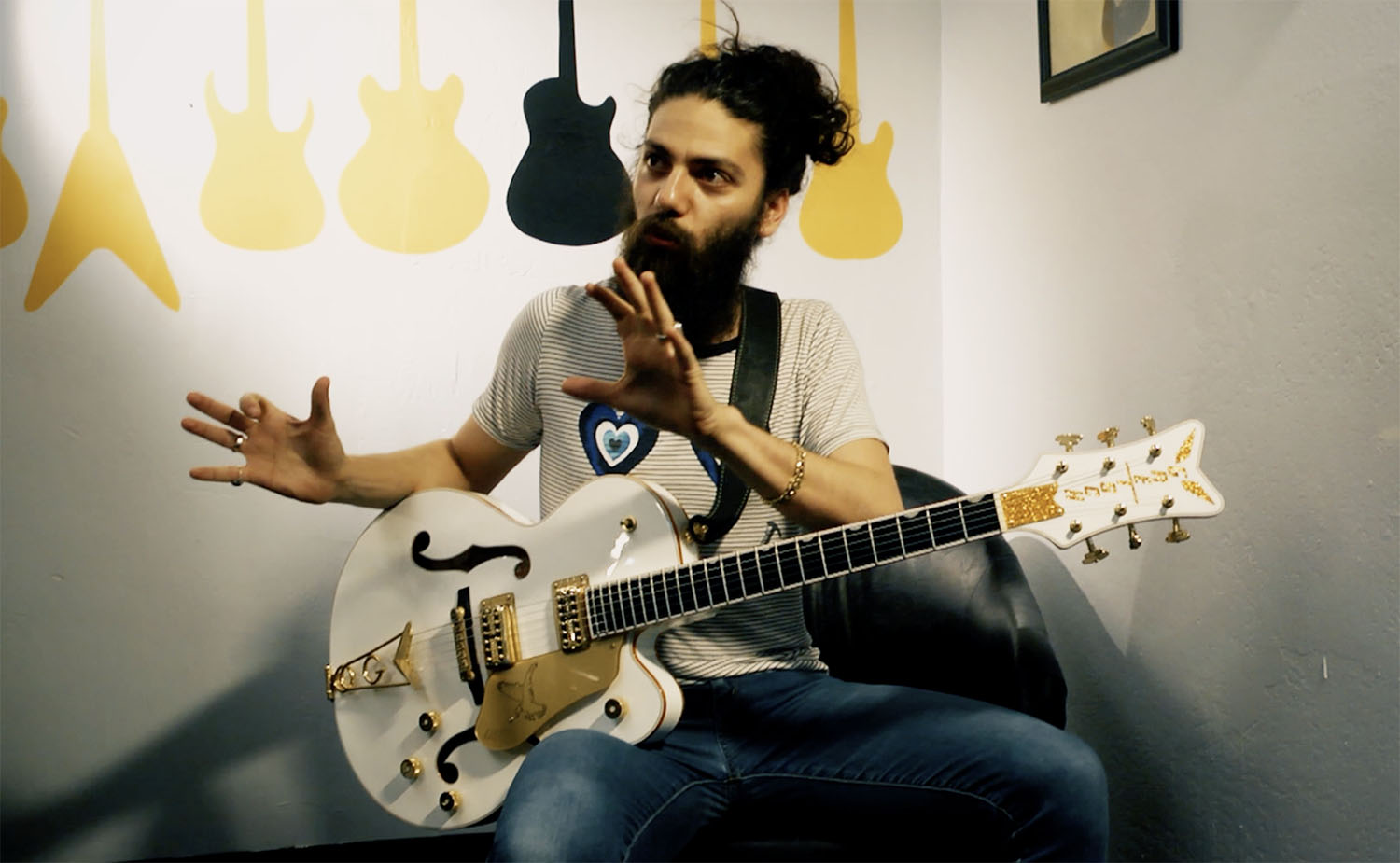 Israeli multi-instrumentalist and music producer Joseph E-Shine has his hands in all kinds of projects.  Born and raised in Tel Aviv, E-Shine has five Gold Records to his credit and toured with many of Israel's biggest acts including Acollective and Hada Nahash. Now living in Los Angeles, E-Shine keeps uber-busy with his wife's indie rock band, Ninet Tayeb, as well folk/blues rocker Barns Courtney and pop artist Kirstin Maldonado.
Although his work ranges in diverse genres and styles, E-Shine has consistently found that his Gretsch guitars deliver all the versatility in tones that he needs.
"Unlike Strats or Les Paul which are very distinct, Gretsch has kind of its own realm," said E-Shine. Gretsch is a whole different level because it almost lives in its own space. If I had to describe the Gretsch sound It has this like … It's a very big clean tone which does not hurt you in the high frequencies. That's what I love about it.  It's very round throughout but at the same time, it has this great quality of being very, very round and thick but still very punchy. So, it cuts through the mix in a great way but it doesn't hurt you up top. When you play a big chord, all the strings are really balanced and you get this warm tone."
After playing a Gretsch Chet Atkins G6120 for many years, he picked up a G6136 Falcon Center Block when he moved to L.A., which soon became his go-to.
"I loved it [the Chet] but I felt on stage it was a little too heavy, sometimes," explained E-Shine. "Sometimes you want something a little thinner, and that makes you, I don't know, move freely and get something that cuts a little more in the mix. This is where I got this girl – the Center Block Falcon model which I think is probably one of the best instruments I've ever played in my life. This thing sounds good in any situation – whether it's a quick DI thing in the studio, which happens so much, especially in pop sessions and all kinds of stuff. Being a producer, I have to do a lot of different things and this tool is just amazing for it. Then on stage, it is a whole different thing because it has the Gretsch legacy sound – the big clean tone and fat low end but also when you get into distortion parts, it barely feeds back unless I want it to. It's just perfect."
In the exclusive video interview, which you can watch below, E-Shine expands on what he meant by that Gretsch legacy.
"When you talk to people about Gretsch guitars, they think about country music and Chet Atkins and and Nashville," he said. "The truth is – and that's the beautiful thing about it — George Harrison played it. Malcolm Young played it, Depeche Mode guys played it. The Edge – I mean so many people and so many genres and still this guitar does stand out and stay unique. I think the ability to maintain such an old-school country folk legacy with being a big part in the pop rock kind of realm just makes it a winner. It's something really special."