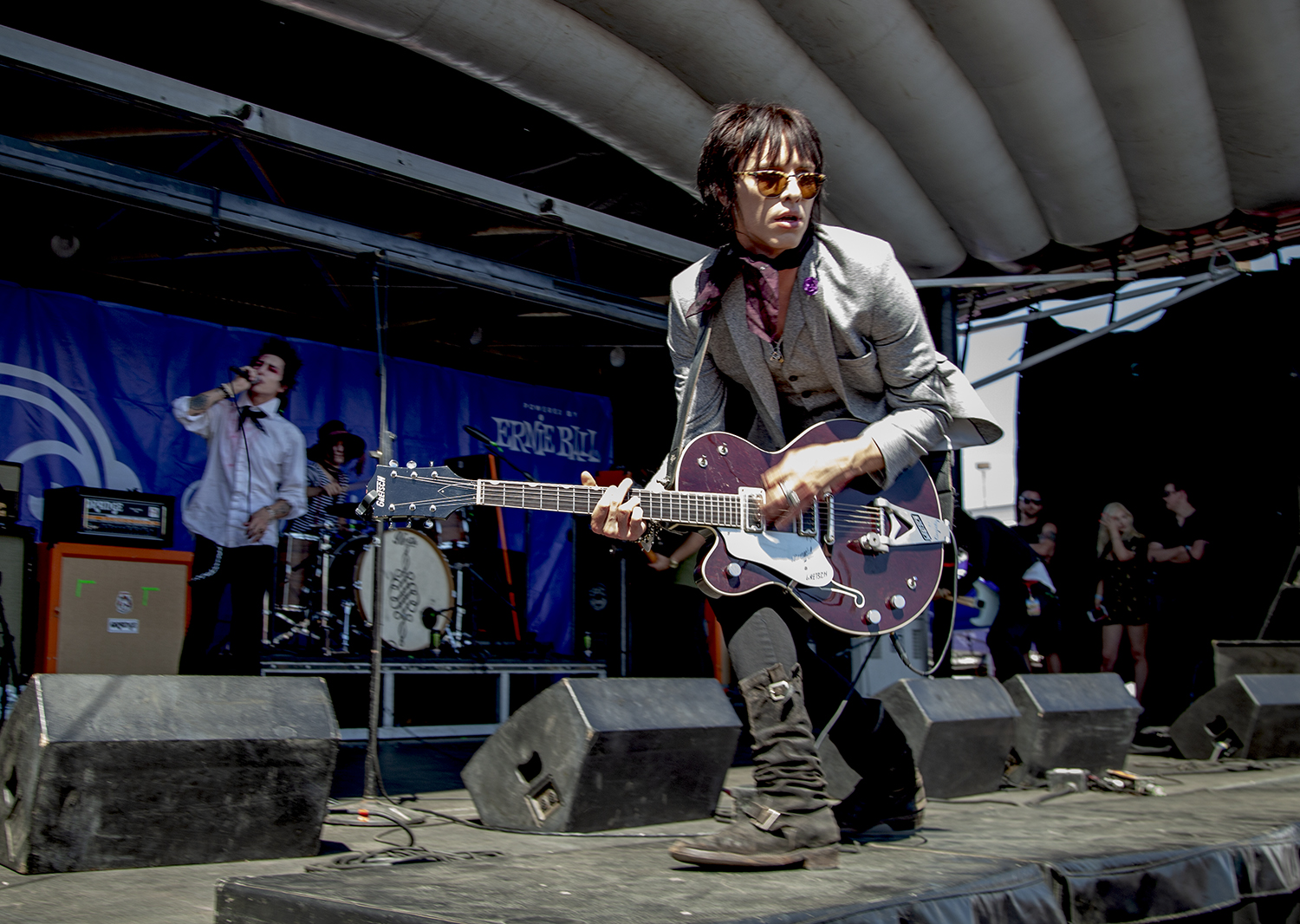 Gretsch recently caught up with Palaye Royale's fashion-forward guitarist Sebastian Danzig on his tour bus to chat about all things Gretsch.
His history with the iconic brand began when he saw the Animals music video for 1964 hit "House of the Rising Sun."
"The first time I saw a Gretsch was the guitar player in that video," said Danzig. "I saw the Tennessee Rose and thought, 'That is the coolest guitar.'"
The lefty guitarist has since collected quite a few Gretsch guitars for his arsenal, including vintage left-handed Tennessee Rose and Chet Atkins Country Gentleman models.
"I think it's incredibly versatile," said Danzig of Gretsch guitars and their sound. "Like for what we are doing, I am able to get a great — I play heavy gauges, I play 13's on all of my guitars— so when I'm hitting them you kind of get this resonation from the bodies since I'm playing semi-hollows. It has allowed me to really create a tone out of anything I'm going for. If it's super heavy, you can make it sound heavy. If you want it to be super delicate, you can make it like you know the Pixies kind of tone or the sloppiness of a Johnny Thunders kind of tone."
Although they are pricey guitars, Danzig is not precious with his guitars, and finds that his Gretsch instruments hold up very well to the abuse of the road.
"If it can't last [on the road], there's no point in having it anymore," noted Danzig. "Surprisingly enough with how delicate and beautiful Gretsch guitars look, they stay in tune and up to speed with what I need. I beat the shit out of them … they have gone around the world with me."
Literally.
His Las Vegas-based rock outfit with brothers Remington and Emerson has been on the touring grind for the better part of three years and with the recent release of Boom Boom Room: Side B, it doesn't look like the trio is slowing down anytime soon.
"I don't live anywhere; I don't have a car. I am always on the road. I need to have my [Gretsch guitars] and my suits, and that's it!" said Danzig.
Watch the full interview below, and catch Palaye Royale on tour here.