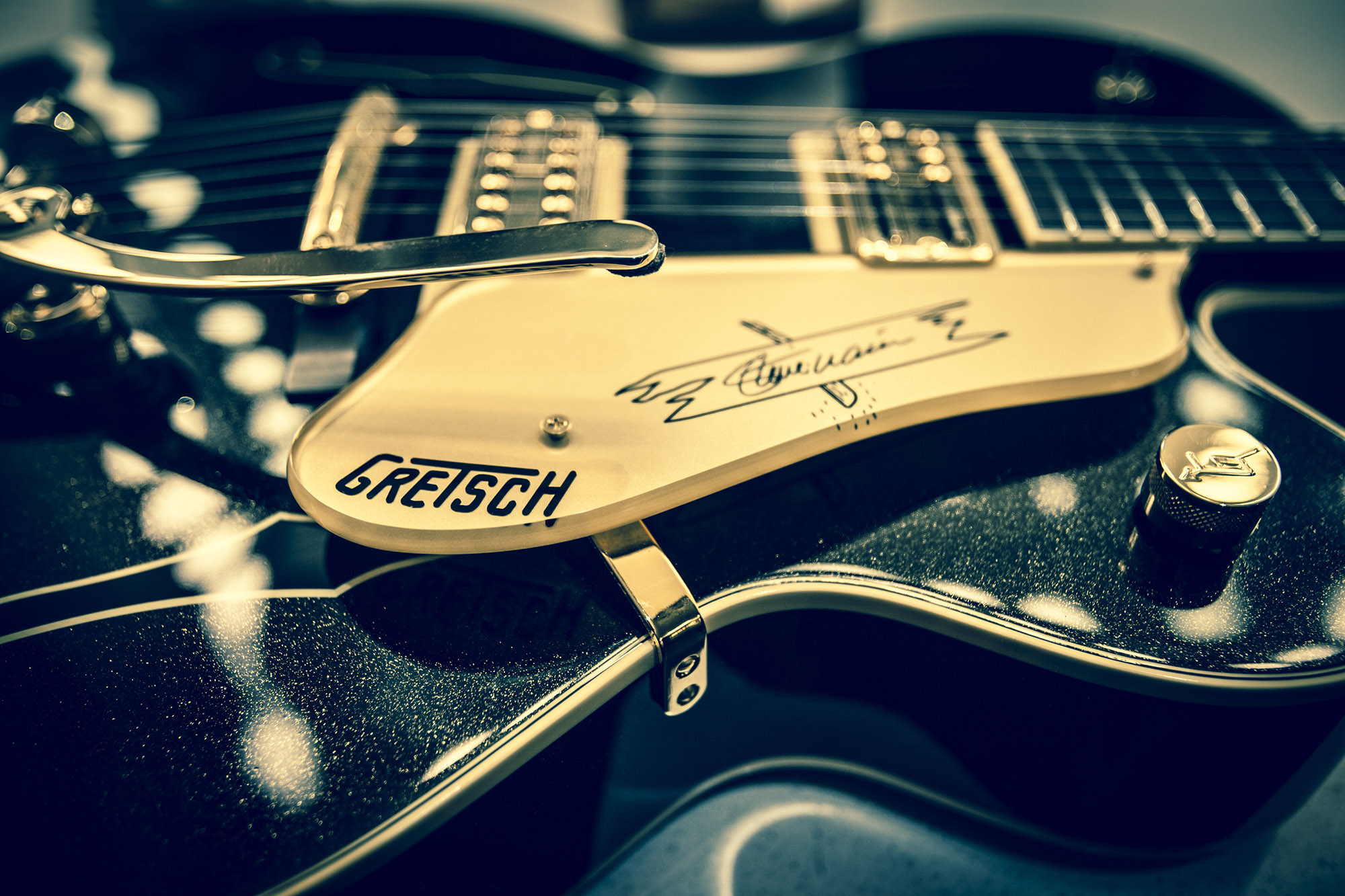 In an exclusive new video interview, acclaimed country hitmaker Steve Wariner reveals his earliest memories of Gretsch and how a dream has come true with his new G6120T-SW Steve Wariner Signature Nashville® Gentleman with Bigsby® model.
"When I was a boy, my dad would take me into the Vic Zinn music store in our hometown," recalls Wariner. "I would see that row of beautiful row of shiny Gretsch guitars hanging there, just like Chet Atkins, Duane Eddy and George Harrison had. Those were the guys to be!
"I never dreamed that one day I'd not only would I be making music with Chet but become close friends with him. I also never dreamed one day I'd have my own signature model Gretsch guitar. But you know, dreams can come true."
A longtime Gretsch player, Wariner had definitive ideas in mind when it came to his signature model, starting with designing the G6120T-SW to handle a broad tonal landscape and accommodate various playing styles.
"I wanted this guitar to appeal to all styles of music, whether it was Chet-picking, rockabilly, indie-pop or rock," explains Wariner. "My own sons play and write everything from rock to film score music, so I guess you could say I wanted to design a guitar any of us could use."
Wariner also infused the G6120T-SW with his favorite appointments from the original Gretsch he used on stage. The 16" single cut hollow body features 1959-style trestle bracing to improve sustain, while the closed F-holes reduce undesired feedback. The 25.5" scale length is ideal for comfortable, rapid performance finesse. The 12" radius ebony fingerboard of the G6120T-SW features 22 medium frets for articulate noting, whether you're playing swift rhythm runs or twangy solos. The brass nut generates a unique brightness to your sound, whether you hit open strings or barre chords.
"It's got a brass nut so the strings sound the same when played open as they do fretted, something that Chet liked as well," notes Wariner. "The Gretsch I played on stage the most had one, so I really wanted to carry that over to my signature model."
A TV Jones TV Classic Plus bridge pickup hits with rounder top-end and a touch more output, while the TV Jones Paul Yandell Duo-Tron emphasizes the intonation from the bass strings while creating a full, bolder voice from the treble strings.
"The Paul Yandell Duo-Tron in the neck has smooth but clear tones," notes Wariner. "The Classic Plus still twangs but has some bite, and pushes well with overdriven rock sounds."
Whether you're plucking away at a country riff or tearing out a rock 'n' roll run, tone on the G6120T-SW can be customized to your liking with a simple but effective master volume, master tone and three-way toggle switch. The tone knob hides contains a push/pull coil selector for single-coil sound.
"[The push/pull] tone pot make the pickups single coils for classic DynaSonic rockabilly sounds, and even Tele and Strat-like sounds," points out Wariner. "I always loved those clear Duane Eddy and early Chet Atkins sounds. Getting a little more versatility on stage or recording on one guitar is really an A-plus."
Watch Wariner debut the stunning Magic Black G6120T-SW in the exclusive video below, which also includes some off his masterful picking technique as well as some rock 'n' roll riffing from his son, Ryan.