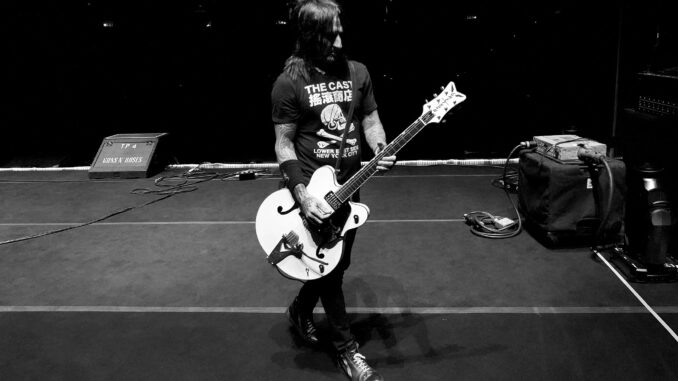 With a multitude of projects over the years headlined by a nearly two-decade stint with rock powerhouse Guns N' Roses, Richard Fortus is known as one of the most respected guitarists in the world. And as Fortus tours the globe with Guns, he wows packed stadiums with a set of his new signature Gretsch Falcons.
Years in the making, these guitars are not only a tribute to the artists that influenced the St. Louis native, but are also made to Fortus' exacting specifications as to what he needs on stage with the rock powerhouse.
As a child, Fortus began his musical journey by playing the violin and drums. Interestingly enough, the guitar felt like something he would never master.
"I always thought guitars were the sexiest things, but I was always intimidated by them because of the length of the neck," he said. "But I was fortunate enough to have friends who were really great players that inspired me to not only get into the guitar, but to get good quickly.
"You get obsessed. You get bitten. It absorbs you, and it's all you want to do. When I was 12 years old, that's what happened."
Part of the reason Fortus was so obsessed with Gretsch from the start was because many of his musical heroes played them — from Chet Atkins to Stephen Stills, Malcolm Young, Billy Duffy and Steve Marriott.
"Gretsch, in many ways, is the tone of rock and roll to me," he said. "That's what I've always gravitated towards."
When Slash rejoined the rock and roll powerhouse in 2016, Fortus quickly discovered that his Gretsch instruments in particular served as the perfect complement to his counterpart's trademark tone.
"It really sits around Slash's tone, which is more of a vocal, driven sound," Fortus said. "It really fills it out. When I tried my Gretsch [guitars] with him, that's when it really came together.
"When you're playing chords, the definition between notes is really great, and it sounds huge. A lot of low end, top end, a lot of sparkle and shine. It really stands out and is aggressive."
The Richard Fortus Signature Falcon comes in two versions — Vintage White with a String-Thru Bigsby and Black with a V-Stoptail.
Both feature a double cutaway maple body and chambered spruce center block, along with a set of custom-wound Filter'Ton pickups in the bridge and neck positions to accommodate his dexterous versatility.
"It was important to retain the chime and low end thump and definition of a vintage Filter'Tron," he said. "It's all about the pickups. That's what really sets this guitar apart from other guitars on the market."
At the end of the day, Fortus still pinches himself at the thought of seeing his signature models hanging on the walls of music retailers everywhere.
"The Falcon has always been iconic. Having a signature Gretsch … I still can't believe it," he said. "It's such an honor. It's such a lifelong dream. With Gretsch, it was always this pinnacle of quality. I aspired to someday own a Gretsch, let alone have my name on it."
Watch the full video with Fortus below, and learn more about the Richard Fortus Gretsch Falcons here.