We were thrilled to partner with Under the Radar for their SXSW day parties in Austin, Texas, which kicked off on Wednesday at Flamingo Cantina with a noontime set by HAELOS.
Heavily influenced by late '80s and early-90s post –new wave dance music, the London electro-pop trio is one of those "must watch" bands during the annual music festival. Signed to renowned indie label Matador Records, HAELOS dazzled the crowd with their expansive and glorious sound.
Another highlight proved to be Hinds, a quartet of awesome gals from Madrid Spain, who headed into SXSW with a ton of buzz and momentum. The lo-fi garage rock band is definitely out for exposure this week as they kicked off the first of 17, yep, count 'em, 17 shows at SXSW with an early afternoon set. The band grooved to Hot Chocolate's "You Sexy Thing (I Believe in Miracles)" and gave out a Texas Lone Star salute to the audience before launching in to their set.
To the jerk in the crowd who intentionally popped our orange Gretsch mini beach balls, we just want you to know that several of us nearly passed out trying to blow those things up! #karma #partypooper
Despite the "ball buster," terrific sets by Hockey Dad, Fear of Men, Sunflower Bean, YUCK and Caveman finished out the day on a huge high.
>>>
We love when we talk to musicians and they get all gooey and geeky over guitars (like we do) or just wax poetic about songwriting and their craft.  There was certainly that sense of shared communal love of music going on at Under the Radar's official SXSW showcase on Wednesday night at the Central Presbyterian Church.
From TEEN to Car Seat Headrest to Still Corners, the audience sat quietly in the pews, treating the performances with a devout sense of reverence.
But what do you when performing a SXSW show at a church if you are the one up on the altar? Preach from the pulpit of course.  Dressed in jeans and a matching denim jacket with a Neil Young and Crazy Horse "Rust Never Sleeps" T-Shirt peeking out, Eleanor Friedberger of The Fiery Furnaces took the altar and showcased several songs from her 2016 highly praised solo album New View.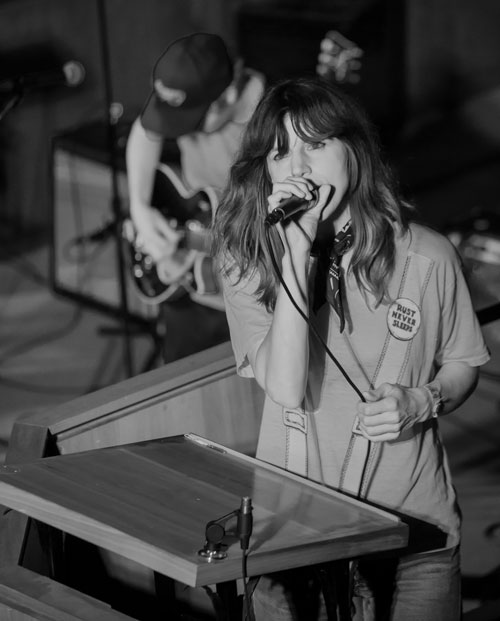 Backed by touring back Icewater, Friedberger eventually made her way up to the raised pedestal, where she dipped back to her 2011 solo debut Last Summer and closed out her set with its carefree cut "My Mistakes."
"It's always sort of shocking – I'm so proud and impressed when people come to see us," Friedberger had said earlier in the set.
As she strutted off the stage while her band finished out the song's final notes, it was evident that she had impressed and converted several new fans with her "new view" and ongoing musical maturation.
>>>
We also walked away seriously awed by Julien Baker, a singer-songwriter from Memphis, Tenn., who has the ethereal voice of an angel. Although diminutive in figure and armed only with an electric guitar, Baker took and commanded the stage with her raw and confessional songs off solo debut album Sprained Ankle.
The album includes tracks like "Good News" and "Rejoice," seemingly fitting titles on the surface for a house of worship. However, Baker explicitly explores depression, substance abuse, and even contemplates her faith with references both to god and the devil.
Caught up initially by Baker's airy and beautiful delivery, it's both jarring and even more impressionable when her darker lyrics actually sink in.
"Come visit me, come visit me," she sang during "Blacktop." "In the back of an ambulance, a saline communion that I held like a séance on the blacktop. The devil in my arm says feed me to the wolves tonight."
Taking those words literally, if there were any critics in the audience, we're betting she effectively silenced them.  Stay tuned for more from Baker as her star seems destined to rise.
>>>
Although our Gretsch team primarily split our time on Thursday between hosting artists at the Brooklyn Vegan SXSW day party and out in the hill country at Israel Nash's Plum Creek Sound studios, getting back over to Under the Radar to catch Petite Noir was an absolute must!
Petite Noir, aka Yannick Ilunga, is a South African singer-songwriter from Cape Town, South Africa. His debut album, La Vie Est Belle / Life Is Beautiful, is difficult to classify with elements of rap, dance music and rock. Some would say alt-R&B, but we'll just roll with what Ilunga coined "noirwave," and it definitely had the mid-day crowd on Thursday grooving.
THANKS TO THE SO VERY AWESOME CREW AT UNDER THE RADAR FOR HAVING US!