"A stranger is just a friend you haven't met yet," Israel Nash told those who had gathered out at his Plum Creed Sound studios in Dripping Springs, Texas, on Thursday for "Live From the Hills With Love," an afternoon of good old southern hospitality, outstanding performances and free beer.
About 45 minutes away from the madness of South by Southwest musical festival in what's called Texas Hill Country, sits Nash's labor of love.  And for those who scored a ticket to the intimate hang and ventured down an old gravel road to the studios on the side of a hill to watch sets by Nash, Bee Caves, Kirby Brown, T. Hardy Morris, Eric Pulido (Midlake), Matthew Logan Vasquez and the Wild Reeds, they were definitely treated as newfound friends by a very welcoming host.
Originally from the Ozarks in Missouri, Nash and his wife transplanted to the Austin area from New York in 2011, after falling in love with the scene during the annual SXSW fest.
Critically-acclaimed 2013 breakthrough album Rain Plans was inspired by country life on his new 15-acre ranch, and Nash and his top-notch band  (comprised by Joey McCllelan on guitar, Eric Swanson on pedal steel, Aaron McCllelan on bass and John Fleischman on drums) made sure to perform a few of its tracks during their Thursday night headlining set. Rootsy sing-along number "Rexanimarum" earned instant cheers from the crowd with its downright country lyrics:  "Oh, my baby, settle in. Take your worries and put fire to them. Pour me out just like sour wine. Got the money if you got the time."
Nash shared stories throughout the set, revealing the stress and team effort that went into converting an old barn into a studio to record 2015's Silver Season, a masterful blend of psychedelia and country that was produced by Grammy-award winner Ted Young (Kurt Vile, Sonic Youth).
As Nash recalled, just as everyone had arrived to get to work on the album in May 2015, Austin was pummeled with historic flooding, and instead of laying down tracks, the guys were sandbagging and building a trench around the studio.
And although rain drizzled for most of Thursday morning, there was nothing but blue skies and a glorious sunset as Nash and company immersed themselves and the audience in Silver Season cosmic-sounding cut "Strangers," the beautiful harmony-soaked "LA Lately" and the Neil Young-ish like ode "Parlour Song," which Nash was inspired to write after the Sandy Hook shooting.
Nash's on-stage swagger is undeniable, yet he also showcased a special humility and true appreciation for his family, bandmates and the fellow artists who came out to play sets throughout the afternoon.
The intimate event felt every bit like a communal and triumphant celebration for Plum Creek Sound, and indeed, if you arrived a stranger, you felt like you left as a friend.
>>>
We missed catching Kirby Brown's live set, but we sure enjoyed the Texas-born, New York based artist's front porch pickin' and strummin' on our Gretsch Roots Honey Dipper Resonator.
>>>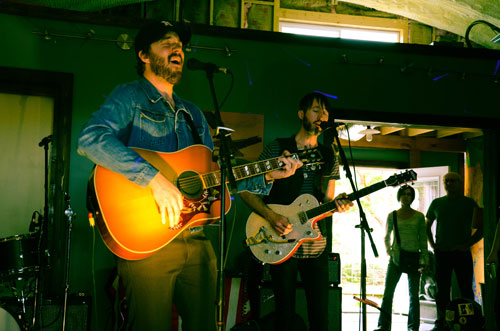 Eric Pulido of Midlake has been working on a debut album with newly formed supergroup Banquet, featuring fellow Midlake bandmates McKenzie Smith, Joey McClellan and Jesse Chandler, as well as Band of Horses' Ben Bridwell, Franz Ferdinand's Alex Kapranos, Grandaddy's Jason Lytle and Travis' Fran Healy.
Joined by McClellan (on a striking Silver Jet) and Chandler on keys/flute, Pulido gave a sneak peek of one of their new songs, recorded a few hours away in Denton, Texas, and well, let's just say, we can't wait until the album drops.
>>>
Matthew Logan Vasquez of Delta Spirit, who is a fellow Texas Hill Country resident, played what he introduced as a "long song about doing drugs, finding religion, moving back to Austin, and meeting his wife in Fresno." He wasn't kidding about the long – the song sprawled  a good 15-20 minutes.
>>>
T. Hardy Morris (Dead Confederate) kept it simple, just a man and his guitar as he played songs off his 2015 album Drownin On a Mountaintop, which was described by Pitchfork as "wild, prickly, and unsentimental. The twang remains, but this time grunge and punk are the driving impulses."