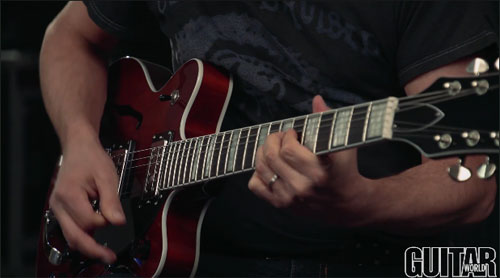 The new Gretsch Streamliner Center Block Jr. Double Cutaway with Bigsby won Gold in Guitar World magazine's July issue.
"I can't even begin to express how much fun the G2655T is to play," wrote reviewer Paul Riaro. "Out of the box the guitar is setup perfectly, with low action and strings that possess a springy feel, much in part to the Bigsby licensed B50 vibrato.  I found the Bigsby most effective when I used it for slight half-to-whole step vibrato wiggle. As long as you're not whammy aggressive, the guitar will stay in tune. Also, the  snugly thin profile of the nato neck allowed me to sail across the fretboard.
"The Broad'Tron pickups are noticeably darker sounding with plenty of output, pushing forth deep lows, growly midranges and cutting highs, and sound deliciously smooth when confronted with distortion."
Read the full review and see a video demonstration over at guitarworld.com.