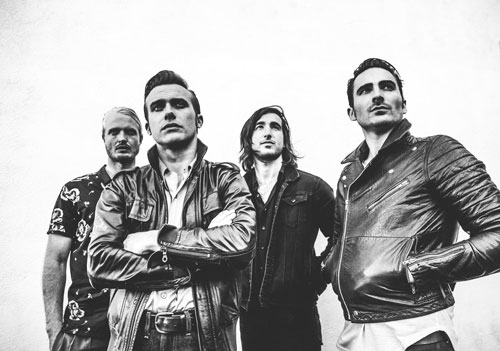 "Fuzzy, bluesy and melodic … it's as if the Laurel Canyon harmonies of the 1970s spent the glam rock '80s in The Viper Room on the Sunset Strip before getting a 2015 update in Silverlake." – Paste Magazine
Paste Magazine's editor-in-chief Joshua Jackson could not have described Los Angeles-based quartet the Shelters anymore perfectly, and their updated retro sounds evoke every bit of their homeland. Comprised by singer and guitarist Josh Jove, singer and guitarist Chase Simpson, drummer Sebastian Harris and bassist Jacob Pilot, the Shelters have been tearing up the L.A. music scene for the past few years.
Their infectious beats and energetic live shows caught the attention of legendary music veteran Tom Petty, who welcomed the band into his home studio and co-produced their self-titled debut, dropping tomorrow (Friday, June 10). Petty's influence is heavily present throughout the Shelters inaugural effort, and it's hardly a coincidence that Jove and Simpson's vocals can be easily mistaken at times for Petty's signature croon.
Having Petty take Jove and his bandmates under his wing was an undeniable dream come true for this young band.
"Everyone knows he's one of the best American songwriters and I think he has a lot of wisdom in regards to what makes songs do well and what makes people love music," said Jove during an interview with Gretsch Guitars. "He's such a music lover himself and he's studied great music over all these years and he knows what makes a good song."
Petty is not the only influence at play, though. The Shelters draw from countless other inspirations that include Hendrix, the Beatles, Jimmy Page and the Kinks. Their riffs are reminiscent of hits of the past, pulling from the pinnacle of each era from the '60s to present day. For instance, anthemic opening track "Rebel Heart" features a jingle from Jove and Simpson's guitars that can be likened to Simon and Garfunkel's "Mrs. Robinson." These components combine with a supremely catchy chorus: "She's got a rebel heart/One day she's going to fall/She's got a rebel heart/She's up against them all," making for a simple and fun instant hit. Elsewhere, track "Liar" opens with a "Smoke on the Water" vibe that progresses into an '80s-style chorus, showing the stylistic range the Shelters are capable of.
Throughout the album, the Shelters never really show signs of slowing, keeping their energy high and riffs steady as their ever-present classic elements hold strong. "Gold" embodies quintessential '60s surf, while "Fortune Teller" and "Down" ooze Petty-like qualities. "The Ghost is Gone" is perhaps the most complex, modern and musically diverse songs on the record. This cut carries quite a variety of sounds that feature an eerie Doors-esque melancholy melody that builds into a heavier, dynamic classic rock song during the chorus.
Other songs gracing the record are equally inspiring, eclectic and enthusiastic. The Shelters present a simple yet sophisticated collection of sounds that offer a modern take on classic chart-toppers with the right amount of distortion, fuzz and effects. It's a bold move to tackle vintage sounds and continue the legacy paved by such legendary influences, but this talented young band has found the sweet spot of mixing it up with their own unique updated style. It's no wonder Petty was instantly drawn to the Shelters and their appealing brand of music that offers a little something for everyone.
Pre-order the album here.