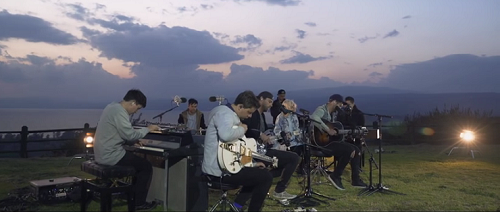 Australian-based worship band Hillsong United recently journeyed to Israel to record 15 live tracks from their album Empires, plus a few bonus songs. These live recordings have been compiled into a new effort titled Of Dirt and Grace, which will be released on July 15.
The clip below offers a behind the scenes look into the group's trip throughout the Holy Land, with Hillsong United hitting several meaningful destinations that provided the inspiration for certain songs. For example, "Captain" was recorded on a boat on the Sea of Galilee, while "Closer Than You Know" happened under an olive tree similar to where Jesus would have prayed, and "Say the Word" took place on the Mount of Beatitudes.
"It was literally a miracle we got to do what we got to do and we got what we captured," states guitarist Jonathon Douglass. "I think what's so unique and special about this project, is just being able to match what we're hearing and the truth of the word of God in these songs with the locations. I know what that did for us in that process of recording was so encouraging, so uplifting, so inspiring. Our belief and hope and prayer is that this will happen for every single person that watches and listens to this project and that they will be inspired, lifted up and encouraged."
Watch the clip below to view the picturesque moments captured during the recording process.