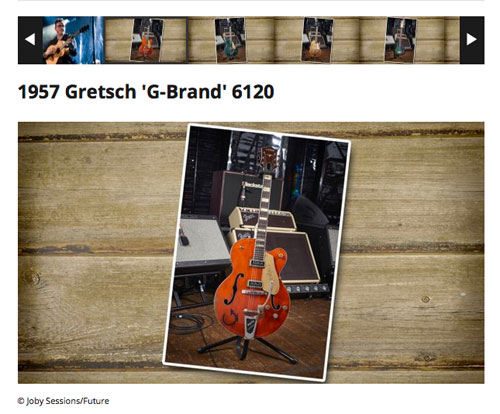 Sheffield singer, songwriter and producer Richard Hawley recently teamed up with musicradar.com for an exclusive tour of his recording and live rig collections, which includes two of his treasured Gretsch guitars —  a vintage 1957 6120 and a Country Club 6196CG.
"I have a '56 as well, which sounds radically different — they were still experimenting to get it right, but there's some debate over the exact year and month of this one," explains Hawley of his 6120. "The book says '57 but Deed, Duane Eddy's wife – who knows her onions – says, 'No, it's a '56: no G-brand in '57'."
As for the Country Club, Hawley calls it "one of the finest guitars" he owns.
"It's beautiful, it's a big fat sound, the pickups have colossal testicles," he said. "I have no qualms or snobbery about playing new or reissue guitars: it's all about the sound and the feel… and let's face it, it looks fucking cool as well."
View a photo gallery of Hawley's gear here and click here to find out where you can catch Hawley live on tour this summer.