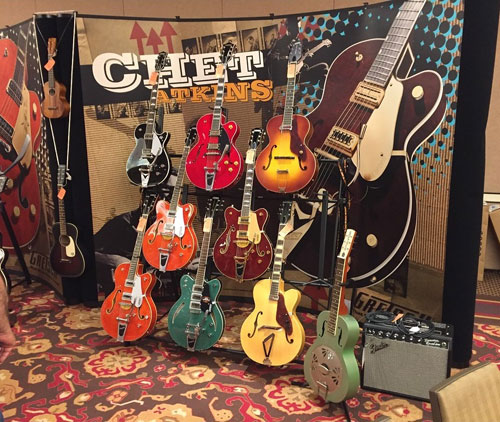 Gretsch was once again a proud sponsor of the annual Chet Atkins Appreciation Society Convention, held in mid-July in Nashville, Tenn. Together with Lane Music, Gretsch offered an assortment of Chet Atkins "signature" guitars on display as well as other popular models for attendees to check-out.
Since 1985, the CAAS convention is known for its sheer number of talented finger-style guitarists in attendance that gather to celebrate the late, great, Chester Burton Atkins. CAAS members from all over the world bring their guitars to trade licks or break into impromptu jams in the hotel lobby and  hallways. Each day is packed with workshops taught by the world's greatest finger-style players, concerts, and vendors where fans can sample or buy products such as guitars, rare record albums, thumb-picks, and finger-style instructional materials and videos.
Several stellars performances were captured on video at the Gretsch exhibit of some of the attendees, and we'll be rolling those out across our Gretsch Facebook page over the next few weeks!
Here's the first few …
Chet Atkins Appreciation Society: "Red Wing"Watch Guy Van Duser, Sasho Zver, Greg Huckleberry and Pat Corn tip their hats to Chet Atkins with "Red Wing" from the Gretsch Exhibit at the 2016 Chet Atkins Appreciation Society (CAAS) Convention in Nashville!

Posted by Gretsch Guitars on Thursday, July 21, 2016