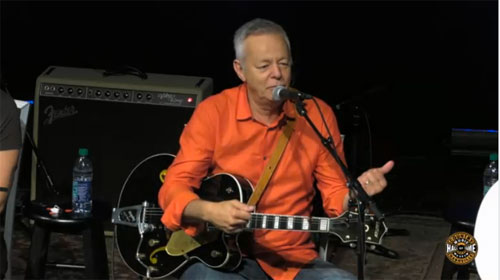 The Country Music Hall of Fame booked a special music celebration event to send off the American Sound and Beauty: Guitars from the Bachman-Gretsch Collection. And for those who couldn't attend in person, you are in luck as "The Gretsch Sound: A Guitar Pull with Emmanuel, Pennington, Robinson and Striking Matches" was streamed online, and is archived below.
Through this casual musical performance, these masterful players discussed the unique features of Gretsch design and demonstrated their individual musical styles with their own instruments.
Tommy Emmanuel is regarded as one of the world's leading fingerstyle guitarists, and is a two-time Grammy nominee, and one of only five guitarists named Certified Guitar Player (CGP) by Chet Atkins.
Emmanuel had the distinctive honor of using the world renowned early Chet Atkins Gretsch 6120 prototype guitar, aka "Dark Eyes" guitar, for both the CMHOF performance and a previous July 12 show at the Grand Ole Opry, marking the first time in 55 years that the special instrument had been played in public for an audience.
The 1956 Gretsch Sealed Top 6120 prototype was built specifically for Chet Atkins and was dubbed "Black Gold" in a 2013 Guitar Aficionado magazine feature article, and has been hailed by Guitar Player magazine as one of "Two of The Most Important Electric Guitars Of All Time."
Kentucky native Eddie Pennington, a perpetuator of the "Muhlenberg Sound" of Merle Travis, is a recipient of the NEA National Heritage Fellowship and a member of the National Thumb Pickers Hall of Fame. Virtuoso guitarist and singer-songwriter Joe Robinson is an Australian Guitar Magazine award winner and a winner of Australia's Got Talent. Striking Matches, the songwriting, guitar-wielding, alternative-country duo of Justin Davis and Sarah Zimmerman, has been featured on the ABC series Nashville, and their debut album, Nothing but the Silence, was produced by T Bone Burnett.
Fast forward to about the 10-minute mark for the start of the action!