July 29, 2016
By Gretsch News
---
Arizona native Zella Day returned to her roots at the Marquee Theater in Phoenix Wednesday night, enchanting her audience with an eclectic and hypnotizing performance.
The indie pop songstress emerged onstage, channeling her inner gypsy soul in a black lace jumpsuit and jacquard wrap that was an instant reminder of a young Stevie Nicks— one of Day's proclaimed idols. Flashing the audience a shy smile, she jumped into "Sweet Ophelia" from her breakout album Kicker, swaying to the dreamy melody and waving her hands to the lullaby of her haunting vocals.
The opening track was merely a warm up for Day, who became progressively more animated and energized with each song. She picked things up on "She Ain't No Holy Roller," leaving her post at the mic to dance around the stage with a tambourine. She was into full theatrical swing on "The Outlaw Josey Wales," making use of the entire stage and reaching towards the audience to encourage a sing along.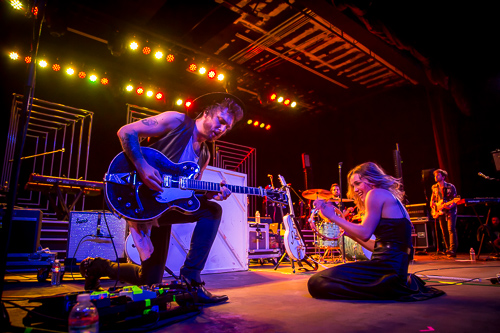 Day came back down for song "High," grabbing a gorgeous White Falcon which showcased her multi-talented musical abilities. The captivated crowd was well under her spell for the remainder of the performance, which included songs "1965," "Ace of Hearts," "Hypnotic" and a new unreleased track "Man On the Moon." Her set also included a flawless cover of Fleetwood Mac's "Rhiannon," nearly transforming her into idol Nicks.
Day continued to wrap the audience around her finger by dancing wildly between choruses, flirtatiously serenading guitarist Christopher Oppold and throwing herself to the ground with the mic cord strung around her neck. For a moment, Oppold stole the show himself by strumming the strings of his Country Gent with his teeth.
The show came to a dramatic close with the audience chanting along to hit "East of Eden," followed by Day's latest single "Mustang Kids." It was the perfect ending to encompass the style of Day, with lyrics that capture the free-spirited nature of her songwriting.
Mustang kids are out
Rolling over hills and the roundabouts
Black tar, tambourine
Playing for the girls in the back seats
The mustang kids are out
Rolling over hills and the roundabouts
White line, motorcade
Sweeter than your baby face