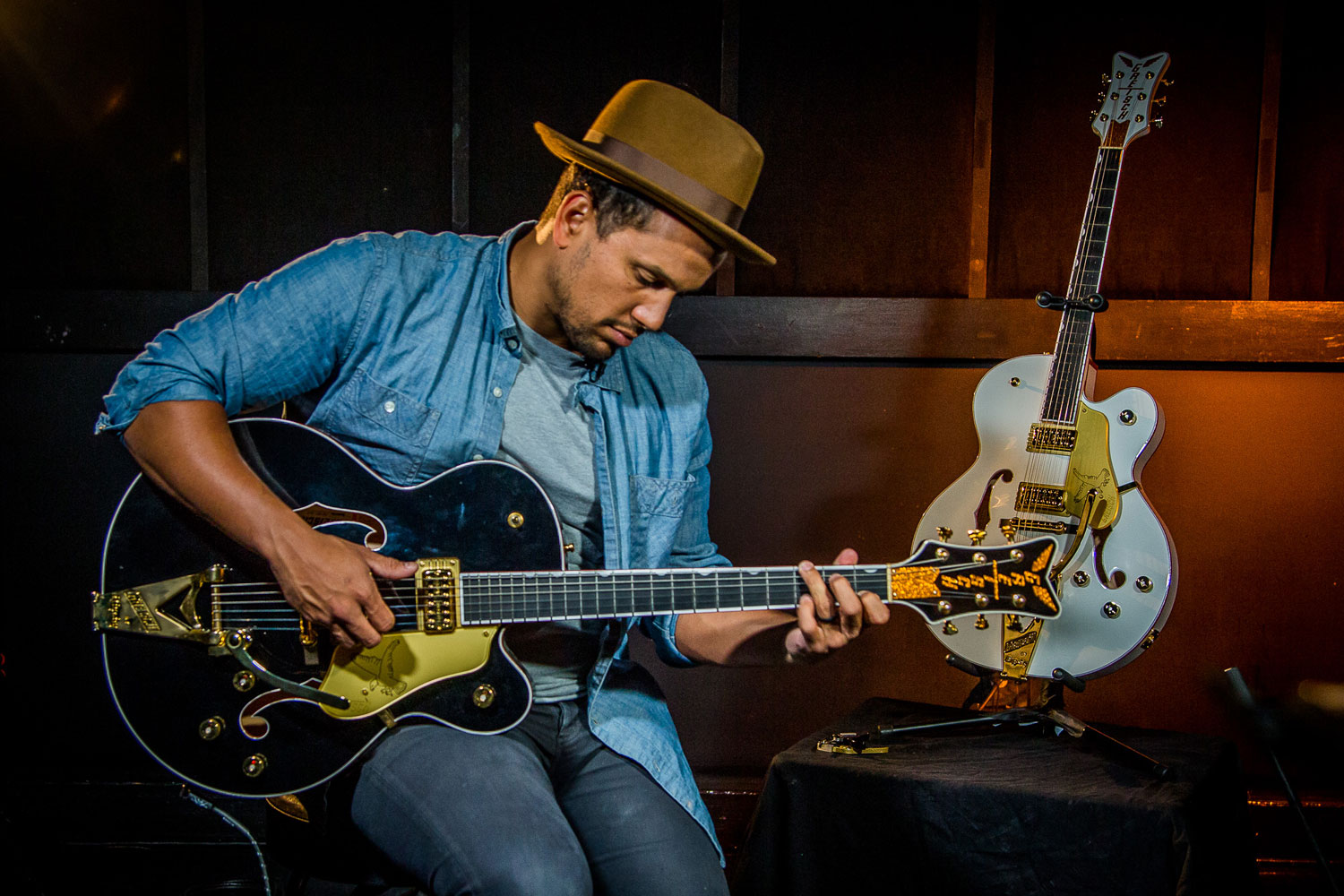 "The beautiful thing about art and music is that in just a minute you can capture a moment, a feeling, a story and even a lifetime," reflects Abner Ramirez, who makes up one half of the husband-wife duo Johnnyswim. "You can capture that moment and share it with people and feel like they were reliving that with you. Like they felt that for the very first time with you. They were there. That's definitely what has kept this more than just a hobby. Even from the beginning when I knew one chord and didn't know what it was called, it was always a lifeline. There was always something magic with sound."
A son of a pastor father and church choir director mother, Ramirez began his musical journey on the violin at age 6. And while he stuck with the instrument well into his days at art college, he was pushed towards the guitar via threat of eviction from his church youth band.
"I remember the leader of the band said to the group 'We are going to switch the sound up; it's going to be more aggressive, a little more rock 'n' roll,'" recalled Ramirez. "So it was basically, if you can't play guitar, you are out of the band, and I was the only string player that couldn't play guitar. I quickly said, 'I can totally play guitar.' I guess the violin translated well — it literally was just watching the guy in front of me and copying him and it was good enough to stay in the band. That's where guitar started and it's stuck with me ever since."
Another special and fateful pairing came in 2005 when he met his wife, Amanda Sudano Ramirez, in Nashville, and soon instituted a songwriting partnership. They clicked together musically and personally, beginning a romantic relationship along with their creative connection. The couple married in 2009 and relocated to Los Angeles, and have continued to record and tour extensively with their blend of American folk, soul, blues and pop.
Regardless of "genre," the underlining theme behind everything that Johnnyswim touches has a purpose, and is approached with honesty.
"I think most musicians can tell when someone is faking it — whether it is a song or even a riff or solo," explained Ramirez. "You can tell it if a guy is meaning it or not, and our goal with Johnnyswim and with what we do is that every song has a purpose."
"Let It Matter," for instance, is the lead single off new album Georgico Pond, and is a song written after the deaths of his father and mother-in-law, famed disco queen Diana Summer.
"We lost them within a year of each other, and it felt like everybody that hasn't lost a parent before just wants you to get over it," said Ramirez. "They just want you to better and they feel uncomfortable with your grief. So, there's a friend who came up to us and just said, 'Listen, it's okay to hurt,' and told me about losing my dad and that 'it's okay that it hurts; he's worth it.' And there's something so freeing about knowing that grief can be good, that it's needed and it can be valuable. And so 'Let it Matter" is about if it matters, let it matter.
"And there's something beautiful to be able to stand in front of people and play songs, not because your artist relations guy said 'It's going to be a hit and make you a bunch of money.' There's a value in just being able to stand in front of people and hold a guitar and sing a song that you need to sing. It's just something you have to do or else you wouldn't be you."
When Ramirez stands in front of audiences to support the new album, he'll be doing so with a changeup to his usual guitar rig.
After years and years of strictly playing acoustic guitar, Ramirez found himself searching for a bigger sound.
"I remember this club in New York that we've played like 30 times, and I remember walking off stage and was so annoyed at the sound I was getting," he shares in this exclusive interview. "I wanted to take up more space. I was playing this acoustic that I do love but it was just this space. I wanted to be bigger than the room and I couldn't be and I remember being backstage mad yapping at my wife and manger. I remember then hearing this guy and he was playing a Gretsch electric. He was just singing and playing and it was filling the space I wanted to fill up."
Ramirez has thus "gone electric," and added a new Gretsch Players Edition Black Falcon to both his studio and live touring gear.
"Picking up a new guitar is like a making a new friend that you never knew you had, and you want to spend all your time getting to know them," said Ramirez. "When I got this guitar, I couldn't stop playing."
Ramirez also revealed that his Black Falcon is all over the new album, even adding the missing piece to one song in particular called "Touching Heaven."
"We didn't know where it was suppose to go," he explained. "It was just a piano vocal song and we had a choir and added a kick drum and a tambourine. That's all it was, but it still wasn't there yet. So I was thinking I needed to add something but didn't know what and then a friend of mine, a great guitar player sat down, picked up this guitar in our studio at home and he just started playing these little plucks. That's all he did for the chorus and it's my favorite song on the album because of those plucks."
Watch more from Ramirez in our exclusive Gretsch video here, and get your copy of Georgica Pond here.