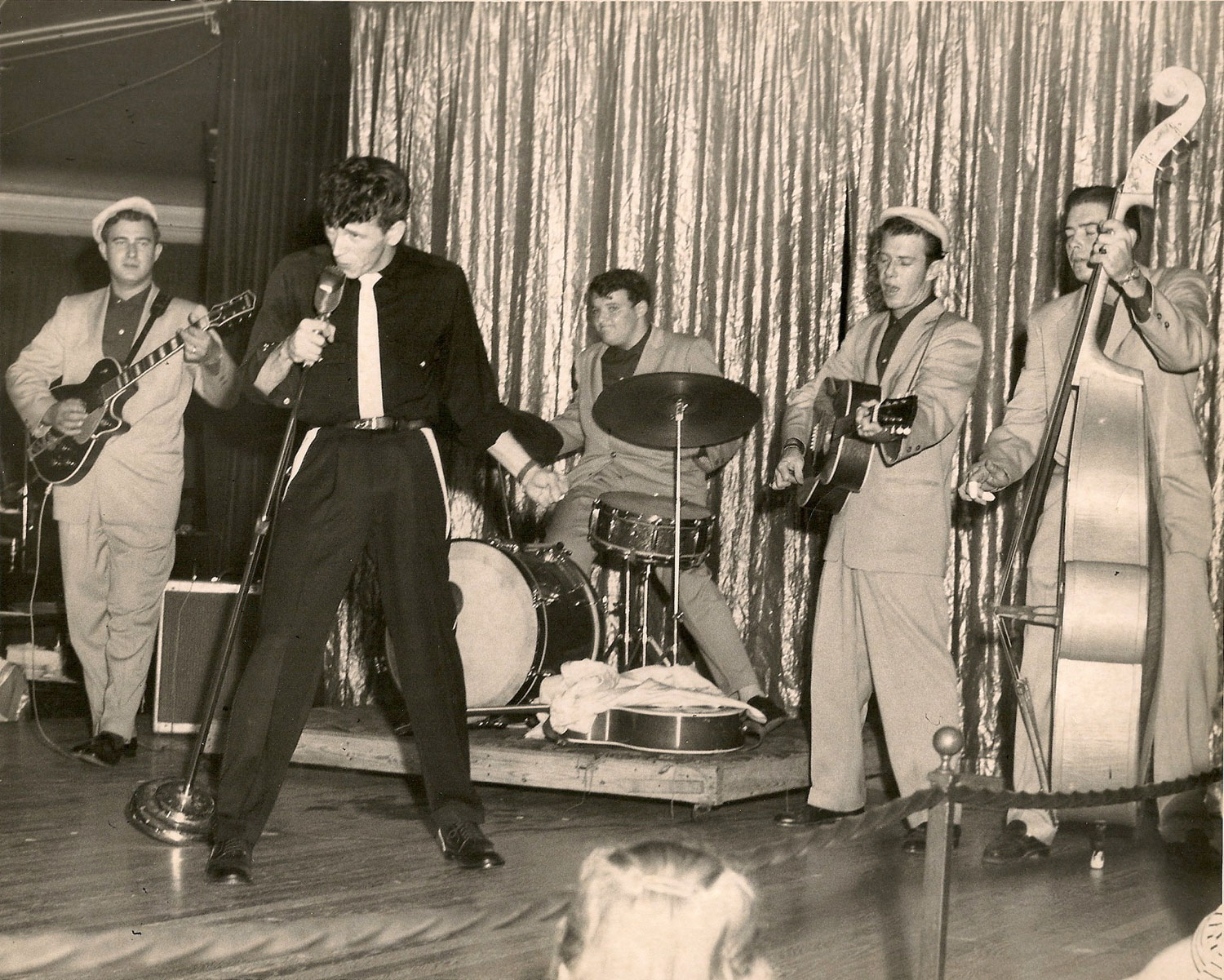 Written by Jeff Owens
On May 4, 1956, at Bradley Film & Recording Studio on south 16th St. in Nashville, record producer Ken Nelson had prepared for that day's work by having several session veterans on hand to back up a little-known singer from Norfolk, Va., who was coming in to cut a few songs.
Nelson knew his way around a studio and had serious industry muscle—he'd helmed A&R for the country and western division at Capitol Records since 1951, was a peer of Chet Atkins over at RCA Victor and Don Law at Columbia, and was already steering Capitol artists such as Hank Thompson, Jean Shepherd, Ferlin Husky and others through hit-filled careers, as he later would for Sonny James, Buck Owens and Roy Clark. Capitol was eager to find an act to rival RCA Victor's new sensation, Elvis Presley, and Nelson was on the lookout.
The singer from Virginia showed up all right; the only problem was that he arrived with his own four-piece backup band. That was Ken Nelson's introduction to Gene Vincent and His Blue Caps, and he had no way of knowing if they could cut it, so to speak, when the red light blinked on. Something of a showdown promptly ensued—Nelson had his own reliable musicians ready to go, whereas the wiry Vincent adamantly insisted on using his own band.
A bargain was quickly struck in which Nelson agreed to listen to Vincent and his boys perform one song. The band set up and tore through a swinging little Vincent-penned number called "Race With the Devil," during which Nelson heard 26-year-old lead guitarist Cliff Gallup reel off not one but two unbelievable solos. And that was that.
Ken Nelson sent his session guys home.
*          *          *          *          *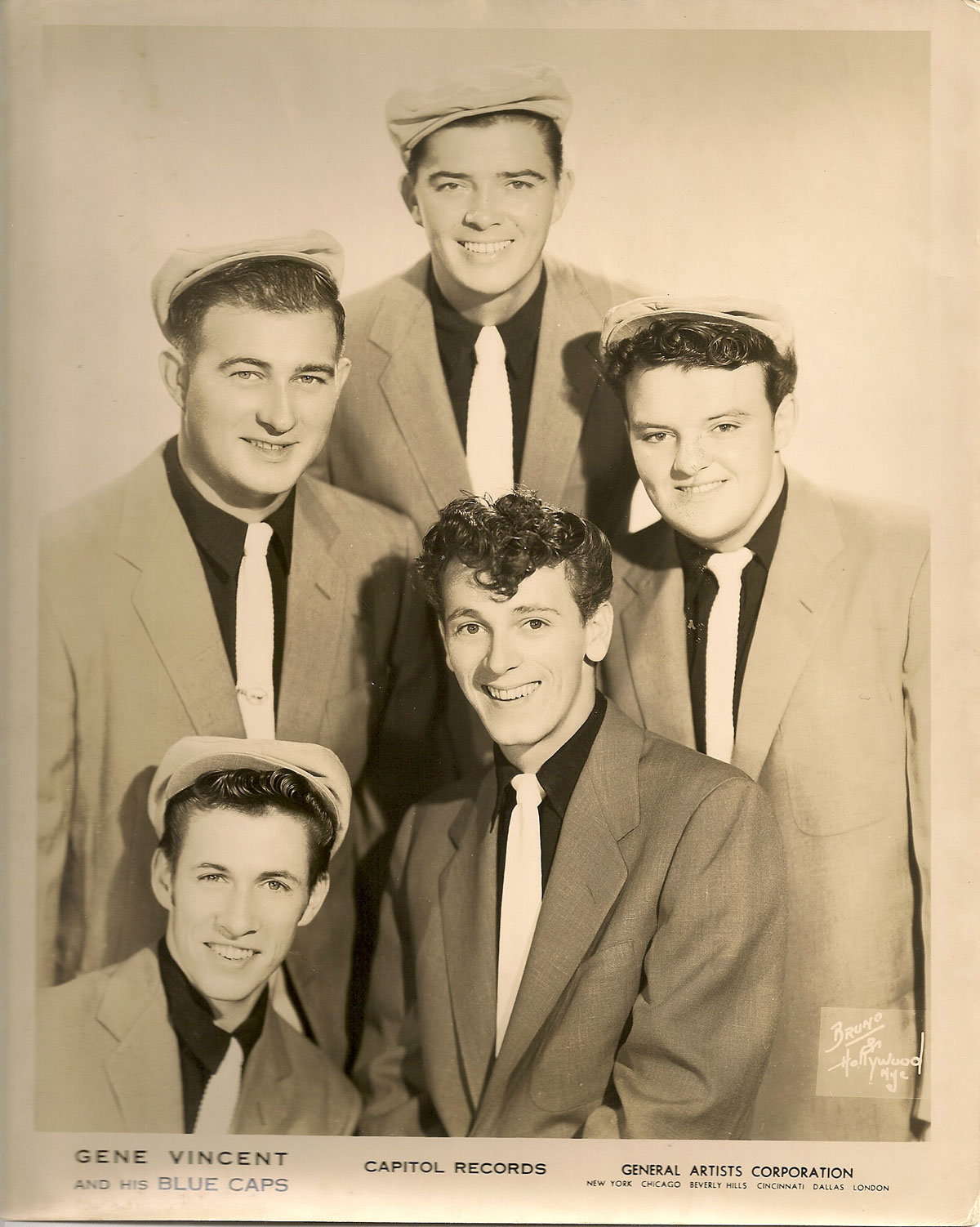 The first seismic explosion of rock 'n' roll back in the 1950s certainly had its share of flamboyant figures. Clifton Elwood Gallup, 1930-1988, was not one of them. Big, tall, affably good natured and several years older than Vincent and the rest of the Blue Caps, Gallup was anything but a '50s rock 'n' roll wild man or slouching, sneering hipster.
Between that first session in May 1956 and his departure from the band the following October, he played on 36 recordings by Gene Vincent and His Blue Caps. These include classics such as "Be-Bop-a-Lula," "Crazy Legs," "Who Slapped John," "Blue Jean Bop," "Cat Man," "Double Talkin' Baby," "Cruisin'" and of course, the magnificent "Race With the Devil." All together, however, Gallup's short stint as a Blue Cap constitutes a veritable education in dazzling rockabilly guitar. Even when he wasn't soloing, his guitar parts showed an advanced understanding of composition, and he routinely tossed off speedily intricate passages with seeming effortlessness.
And yet he's hardly a household name. Indeed, most have never heard of him (including a lot of guitar players), and his tenure as a Blue Cap was, as noted, exceedingly brief—not even one year. But make no mistake—Cliff Gallup is unquestionably one of the greatest guitar heroes of the 1950s. Just ask Jeff Beck, Brian Setzer, Jimmy Page, Eric Clapton, Albert Lee or any other among numerous acknowledged guitar greats who routinely adopt a tone of hushed reverence at the mention of Gallup's name.
Beck in particular has long been one of Gallup's most ardent admirers, and his 1993 rockabilly album Crazy Legs is an affectionately crafted tribute. "When I was learning guitar, Cliff Gallup was the biggest influence on my playing," Beck said that year in an interview about the album. "The cut was pretty deep and the scar has never healed."
"I wanted to show people what Cliff was doing and I wanted to be Cliff when we were doing it," he added. "The solos are so beautifully formed, with a beginning, middle and end, that they're like small miracles."
Such admiration by Beck and other esteemed players is telling in one key manner in particular: Whereas piano and saxophone were actually the main solo instruments of most original-era 1950s rock 'n' roll (back then there were few if any distinctions made between it and a closely related form only much later named rockabilly), Gallup was one of the very few early forerunners of the kind of musically mature and technically accomplished musician that rock music would later refer to as the guitar hero (a term the modest Gallup would undoubtedly shy away from).
Indeed, many novice guitarists of the 1950s with a modicum of talent and determination didn't have too much trouble figuring out, say, Buddy Holly's jangly chord progression in "Oh, Boy!" or Duane Eddy's bass-string melody in "Rebel Rouser" in pretty short order. Most of Scotty Moore's guitar breaks on early Elvis Presley records were fairly quickly deciphered, and even Chuck Berry's influential guitar technique wasn't too terribly daunting to dedicated disciples. All were solid guitar players and singer/songwriters, and plenty of modern rock guitarists from Keith Richards to Kurt Cobain to Billie Joe Armstrong and countless others can draw a line straight back to them, drawing on the eternal truth that much of the elemental power of the best rock music comes from its simplicity.
But from the 1960s onward, rock also kicked it up a notch or two—or ten—with bona fide virtuoso players of tremendous talent and acclaim. These were guitarists with truly dazzling ability and a relationship with the instrument far beyond that of most other players—names including Beck, Page, Lee, Setzer and other acclaimed aces. They can all draw a line straight back to Cliff Gallup's startling work on those three dozen numbers by Gene Vincent and His Blue Caps.
Gallup developed his deft speed, clarity and phrasing by devouring the work of his two greatest influences, Les Paul and Chet Atkins, neither of whom inhabited the emerging world of rock 'n' roll. Paul and Atkins were established pop masters and hit makers who pioneered electric guitar work at a very lofty level of technical proficiency; Gallup was among the very first rock 'n' roll guitarists to bring such a level of sophistication to the emerging form (indeed, Gallup's personal record collection consisted almost entirely of Paul, Atkins and gospel discs). And so, while Vincent racked up promising chart success on both sides of the Atlantic (the U.K. in particular) with his swinging, swaggering brand of rock 'n' roll, the nimble fretwork Gallup contributed to the songs was simply beyond the reach of most beginner and novice guitarists.
*          *          *          *          *
And then, just like that, the wild part of the ride was over. Cliff Gallup left Gene Vincent and His Blue Caps after only several months in 1956, just as Vincent was starting to hit it big. Vincent's manager, William "Sheriff Tex Davis" Doucette, had recruited the guitarist earlier that same year in assembling a band for his future star, and while Gallup got along fine with Vincent and enjoyed playing with the band and recording, he soon found that an increasingly busy touring schedule just didn't suit him.
Gallup married while he was a Blue Cap, and invited his wife, Doris, to join him on the road with the band, an arrangement that lasted all of one week. A devoted family man, he preferred a quieter life at home with his wife (they soon welcomed a baby daughter, too) to the hurried and raucous life of a touring rock 'n' roll musician. Gallup turned in his notice in October 1956.
Thereafter, Ken Nelson offered Gallup a contract of his own, but the guitarist politely turned it down. He returned to his job with the local school district, which he held for the next 30 years.
Although he shunned the spotlight, Gallup did record a solo album, Straight Down the Middle, in the early 1960s for small Norfolk label Pussy Cat. The album was a more mellow instrumental effort that he made with the Four C's, the local group he played with for many years after leaving Vincent's band. Gallup had by that time switched from a Gretsch Duo Jet to a Gretsch Country Gentleman guitar, in keeping with the more Atkins/Paul-inspired sound of his preferred style.
Gallup continued to gig in his hometown right up until his passing on Oct. 9, 1988, at age 58. Throughout the decades after his stint with Vincent (who died in 1971), he seemed unconcerned with the acclaim he'd earned from many rock and rockabilly guitar greats—if he was even aware of it at all.
"Cliff never followed the rock music scene later on," Blue Caps drummer Dickie Harrell once told an interviewer. "When asked how he felt about the newer guitarists admiring his style, he often wouldn't even recognize names like Eric Clapton or Jeff Beck. He kinda stayed in his own little world of music."
Nonetheless, Gallup's acclaim has only grown. He was inducted into the Rockabilly Hall of Fame in 1997 (Gene Vincent and his Blue Caps were that organization's very first inductees), and into the Rock and Roll Hall of Fame in 1998. Rolling Stone magazine's 2003 list of the "100 Greatest Guitarists of All Time" ranked Gallup 79th, praising the guitarist for introducing "the stylistic swagger that every rock guitarist now takes for granted."
Rockabilly remains alive, well and kicking in the present day—as spirited a genre as ever and one that's especially keen on preserving its sonic and stylistic identity. And so as long as there are cats who hang out with that certain swing, the music of Gene Vincent and His Blue Caps will remain vital and influential, and the guitarists among them who aspire to the best and the coolest of their kind will always look first and foremost to Cliff Gallup, whose combination of modest demeanor and razor-sharp musicality is a truly fine ideal to live up to.
View the new G6128T-CLFG Cliff Gallup Signature Duo Jet™ here!