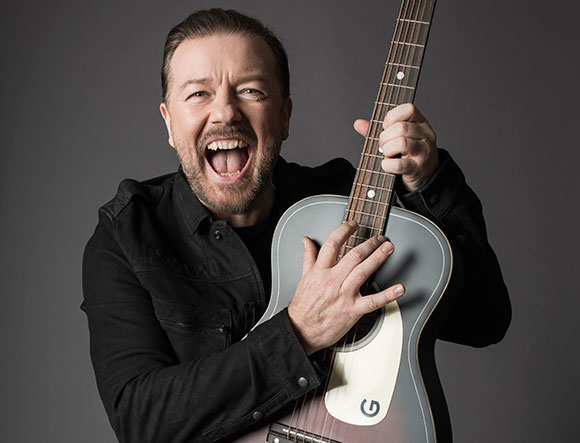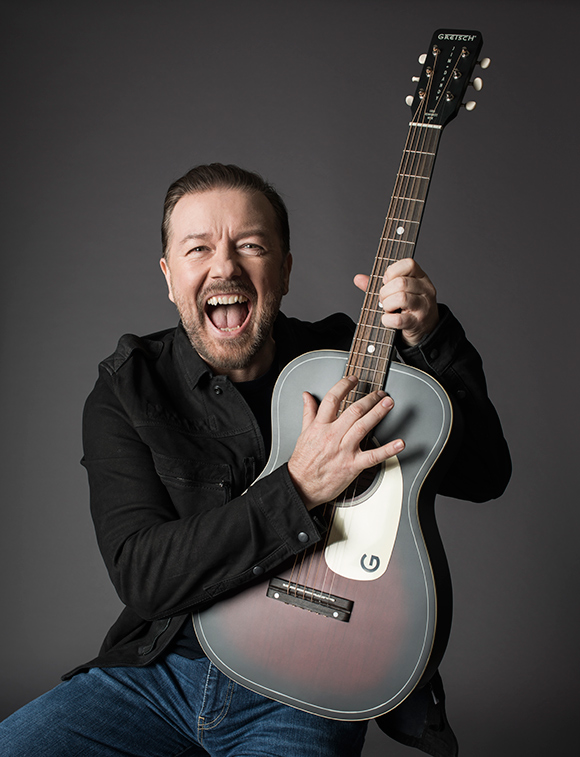 Actor, comedian and yes, musician, Ricky Gervais is all over the March/April issue of Guitar Aficionado, along with a few Gretsch beauties.
Gervais has returned to his role as David Brent from the original British version of the Office in the new Netflix film David Brent: Life on the Road.
The film follows Brent as he makes his last-ditch bit for rock stardom. Like his character, Gervais knows what it is like music dreams die.  He enjoyed a brief stint in the early-'80s as the singer of synth-pop duo Seona Dancing and a few minor U.K. hits before experiencing a rather depressing gig with another rock-oriented band.
"It was 1986, and we played a pub called the Bull and Gate in Kentish Town in London," he told GA. "We did soundcheck, and the sound guy said, 'You might as well stay on, lads. You're on now.' I went, 'When are they opening the doors?' And he went, "They're open. No one's come through to see you.'"
Although he shifted his career from music to comedy and acting, Gervais has been a guitar player now for over 40 years, has penned songs for television and has an acoustic collection that includes a Gretsch Jim Dandy flattop.  Still, he was a bit apprehensive during his photo shoot for the magazine.
"My worry is that I'm a fat little comedian," he said. "Me trying to pose like I think I'm Eddie Van Halen would not go well, so I went for mucking around a little bit instead.
"But I know guitarists take guitars very seriously so it would be quite easy for your readers to see me having fun with these beautiful instruments and go, 'How dare he? How dare he treat a White Falcon like that? You fat little idiot!"