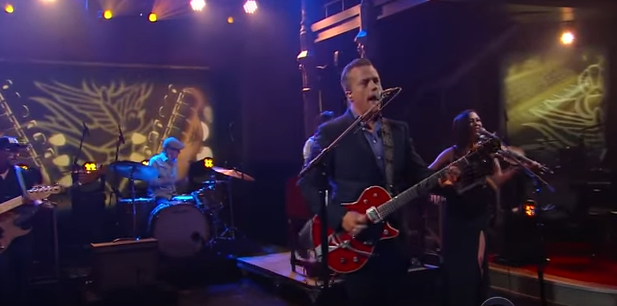 Southern rock outfit Jason Isbell & 400 Unit looked and sounded sharp during this week's appearance on the Late Show with Stephen Colbert. Dressed in a dark sport coat, Isbell and his band rolled through a spirited rendition of the politically-charged "Hope the High Road" off brand new album The Nashville Sound.
While clearly recognizing that many may be still angry over last year's presidential election, Isbell pleads for a more peaceful and positive resolution.
"I've heard enough of the white man's blues
I've sang enough about myself
Last year was a son of a bitch
for everyone we know
but i ain't fighting with you down in a ditch
I'll meet you up here on the road."
In an interview with Entertainment Weekly, he further explained the song's meaning.
"I really wanted it to be something that was reflective of my own character as it is now," he said. "Now that I'm a father, now that I'm grown, now that I'm sober, now that I'm clearheaded.
"I want [listeners] to feel encouraged to be vigilant but to still stay classy, for Christ's sake. If you're doing too much yelling and too much screaming and acting out of frustration, you're not effecting change in any positive way."
Check out the live performance below, especially that can't miss slide guitar solo on his vintage Gretsch Jet in Firebird Red at 2:05.