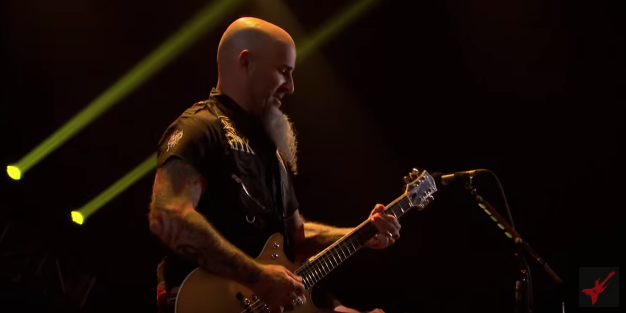 Loudwire held their inaugural Music Award concert last Tuesday at the Novo Theater in Los Angeles, bringing together the rock and metal communities for a historic night of rock 'n' roll.
Sandwiched between awards for categories such as Best Guitarist (Zakk Wylde), Best Bassist (Steve Harris), Breakthrough Band of the Year (Beartooth) and Hard Rock Artist of the Year (Stone Sour), were some stellar live performances including a quick two-song set by thrash metal vets Anthrax.
While Scott Ian typically rocks his signature Jackson models live, the Anthrax guitarist used his recently acquired Gretsch 6131MY-CS Custom Shop Malcolm Young "Salute" Jet for a cover of Kansas hit "Carry On My Wayward Son."
"Malcolm means everything to me," Ian has said of his guitar hero. "I learned how to play guitar basically listening to his rhythm playing on AC/DC records in the '70s. I would just sit and listen to the songs and figure out the chords and try and play exactly like him. I wouldn't even stop to learn the solos because in the time it would take me to learn one of Angus's solos, I could have already learned three mores songs, just the chords. To me, that was the song. Someone could else play the solo. I just wanted to learn as many songs as I could. And with learning all of those songs, my style initially … I just tried to play as much like Malcolm as possible.
"I didn't know it really at the time when I was 13, 14, 15 years old. I didn't know he was the greatest rhythm guitar player in the world then because I barely knew anything about guitar playing. I certainly was attracted to his sound and his style and his feel and the way he put chords together, and I loved AC/DC. So I was basically taking lessons from the best rhythm guitar player there is."
Watch Ian live in action with his "Salute" Jet below …