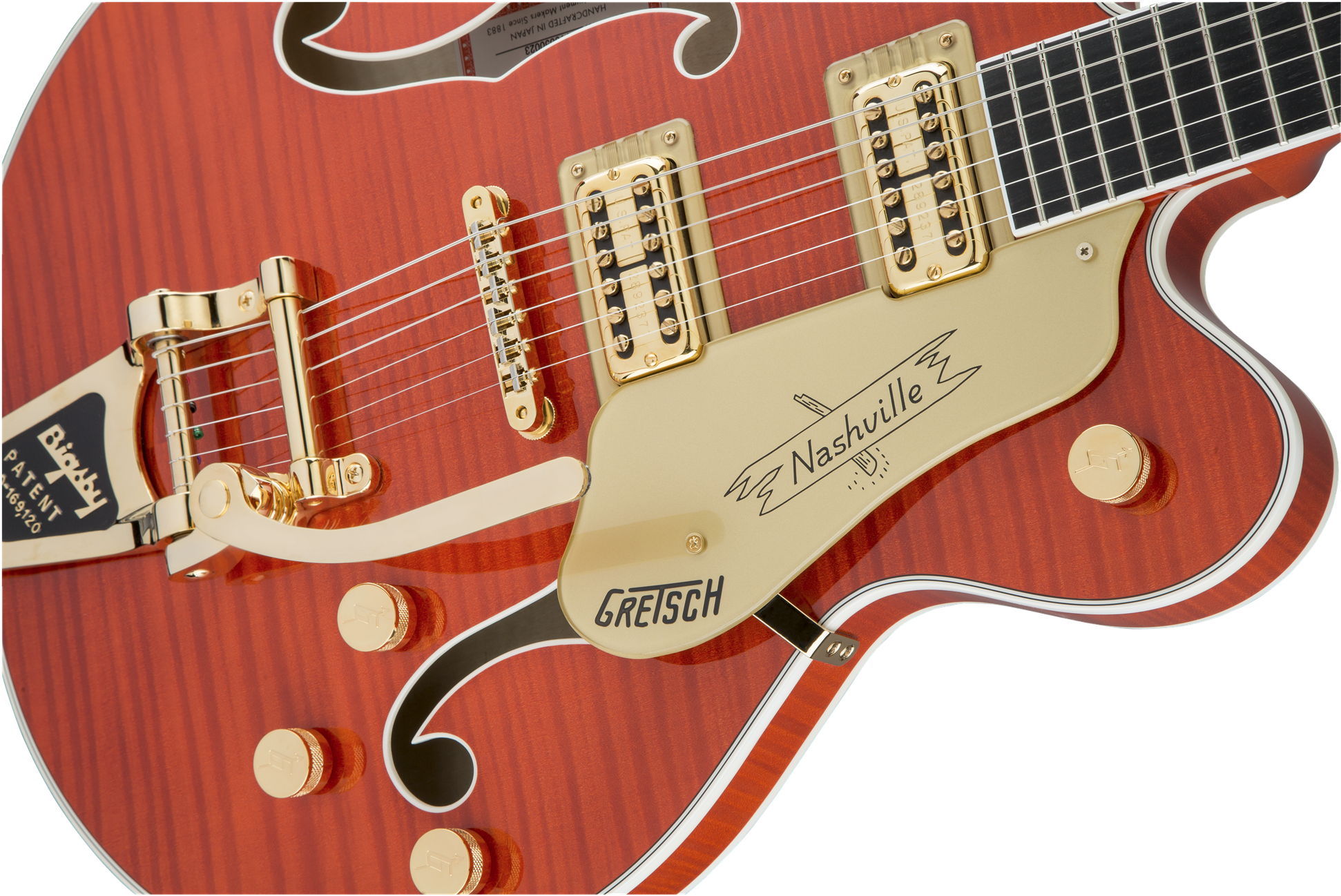 In its November issue, Guitar Player's Michael Molenda takes the Gretsch G6620TFM Players Edition Nashville for a test drive.
"There are few sights as drop-dead gorgeous to many guitar players as a Gretsch hollowbody or semi-hollowbody with a tiger­ flame top and a gleaming orange stain," notes Molenda. "But it's a conflicted image. It screams early rock, and all the pent-up and dangerous frustration of youth gone mad. Then again, it also evokes suits and ties and a family-style at the Grand Ole Opry. It's an image you can associate with the most gentlemanly of country gentle­man-Chet Atkins-as well as rockabilly rebels and punk rockers in leather jackets."
The G6620TFM looks are not its only characteristic with crossover appeal. As Molenda points out, the Nashville also produces a versatile sonic palette.
"The combination of Filter'Tron pick­ups and semi-hollow body produces a zingy shimmer with just enough midrange bite to be nasty," he writes. "It's a sonic signature that works equally well with a clean amp, an overdriven amp, and all manner of pedals. There's tons of articulation-though the sound is never overly bright ­and the dynamics are marvelous. Things clean up brilliantly when you soften your picking attack and get all gritty and wicked when you dig in. Overall, the Nashville is an excellent staging ground for wherever you wish to go with your sonic character."
The review breaks down more of the instrument's key features, and details why you will want one!.
"Right out of the box, the G6620 felt great performing everything from fast lines to syncopated riffs to complex chords to simpler, 'Wild Thing'-like barre chording," Molenda writes in summary. "Like the sophisticated/brutish dual nature of classic Gretsches, the Nashville can take you everywhere from jazzy melodicism to raining down absolute hellfire."
Pick up your issue of Guitar Player on newsstands now to read the full review, or get a print or digital subscription here!