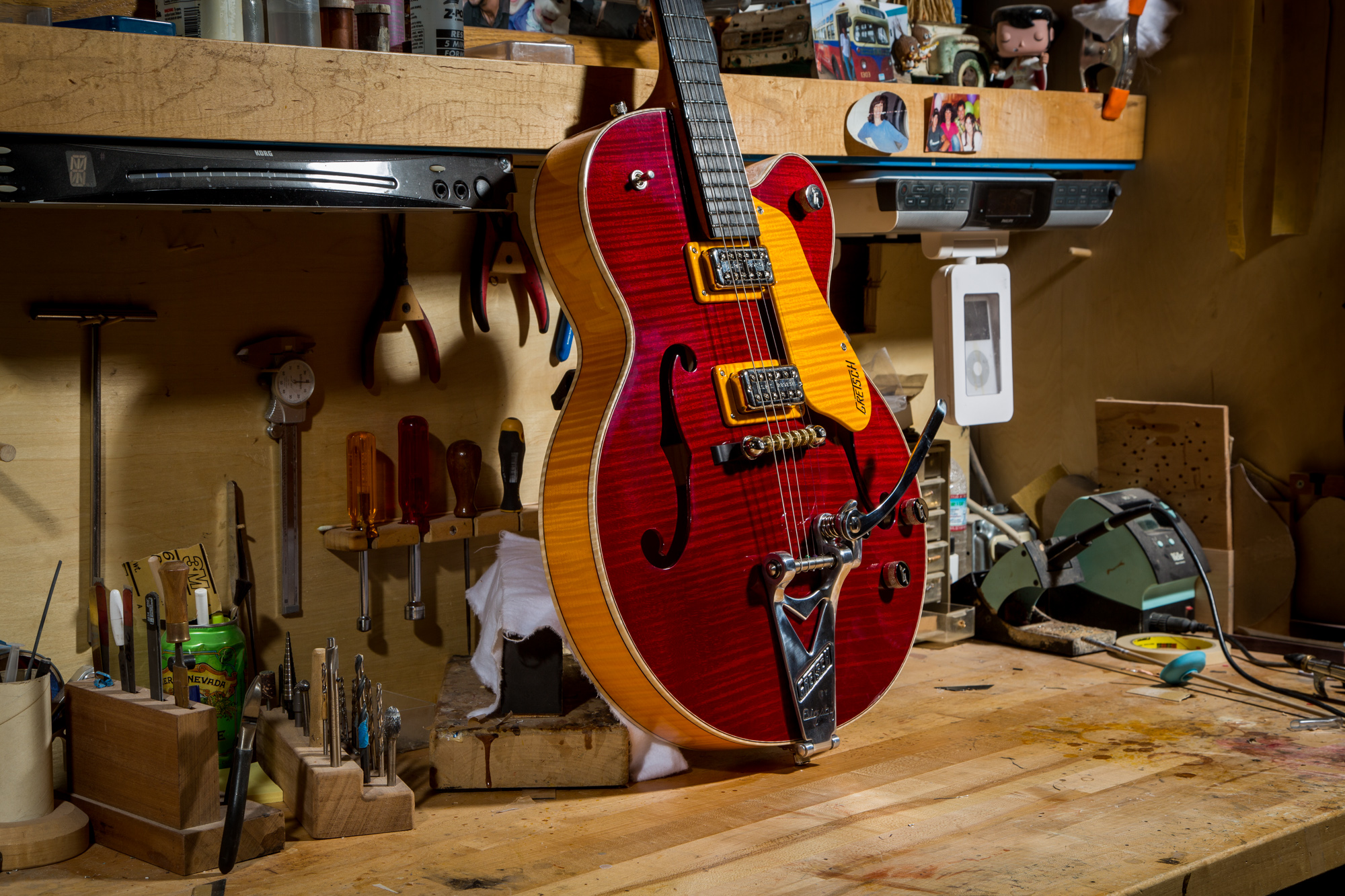 The Gretsch Custom Shop, led by Senior Master Builder Stephen Stern, came out swinging for this year's NAMM Show in Anaheim, Cali. During a private Custom Shop event on Wednesday night, the team showcased 10 marvelous builds ranging from retro to righteous.
Here's a look at each of these remarkable custom beauties:
Gretsch Custom Shop G6118 135th Anniversary™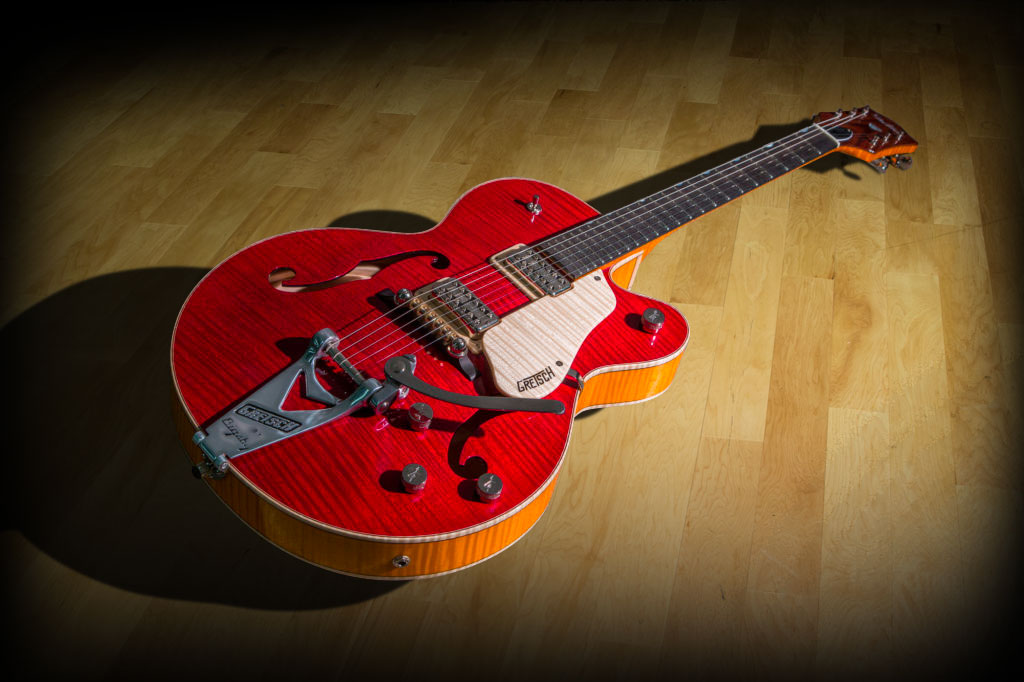 2018 marks 135 years for Gretsch Guitars. Stephen Stern and company celebrated by creating the one-of-a-kind G6118 135th Anniversary™ model. The 16" hollow body is covered head to toe in magnificent, laminated flame maple doused in a two-tone Dark Cherry over Amber Flame finish. Flame maple can also be found on the pickguard, beneath the pickups, and even in the binding alongside a cocobolo and maple purfling. This guitar's beauty isn't only skin deep. Two Filter'Tron™ pickups deliver massive sound while a no-load tone pot, treble bleed wiring with Squeezebox caps, Waverly tuners, space control bridge, and the patented Bigsby® tailpiece yield absolute performance for the player.
Gretsch Custom Shop Artist Model 150 Archtop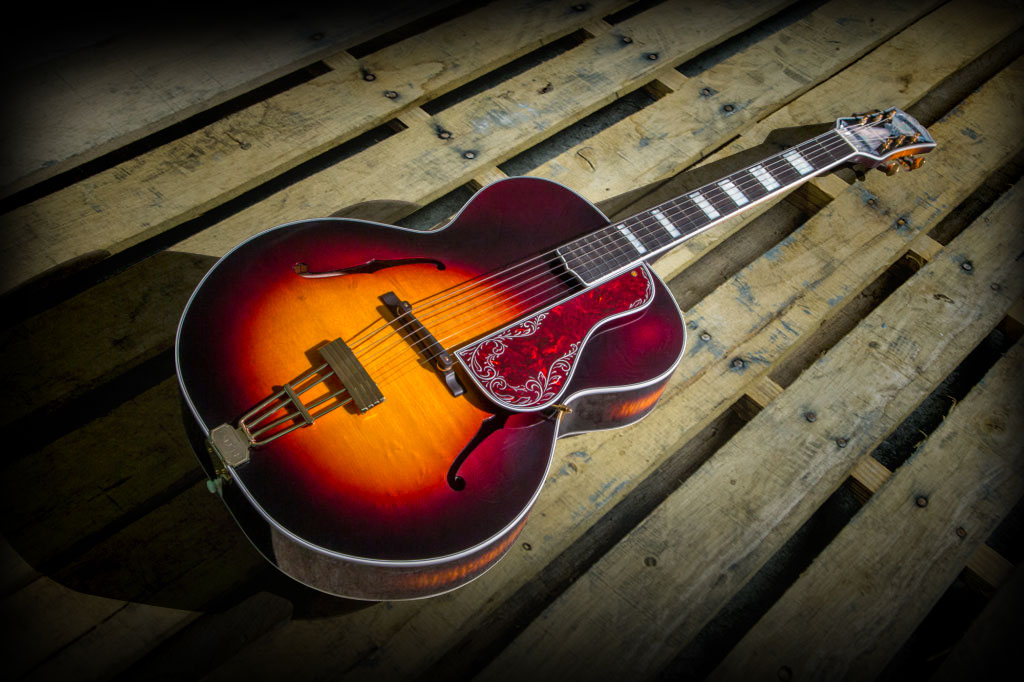 Stern's Gretsch Artist Model 150 Archtop is a seamless recreation of the original Artist Model 150 from the 1930s. This unbelievable acoustic guitar is the result of hours and hours of research and hard work, starting with Stern spec'ing out an original 150 at the Country Music Hall of Fame in Nashville. Expertly crafted, the hollow body archtop features a European spruce top and curly maple back and sides, hand planed by Stern himself. The custom art deco headstock and engraved tortoise shell pickguard turn this drop-dead gorgeous guitar into a true work of art.
Gretsch Custom G6134 '59 Penguin™ Roasted Birdseye Maple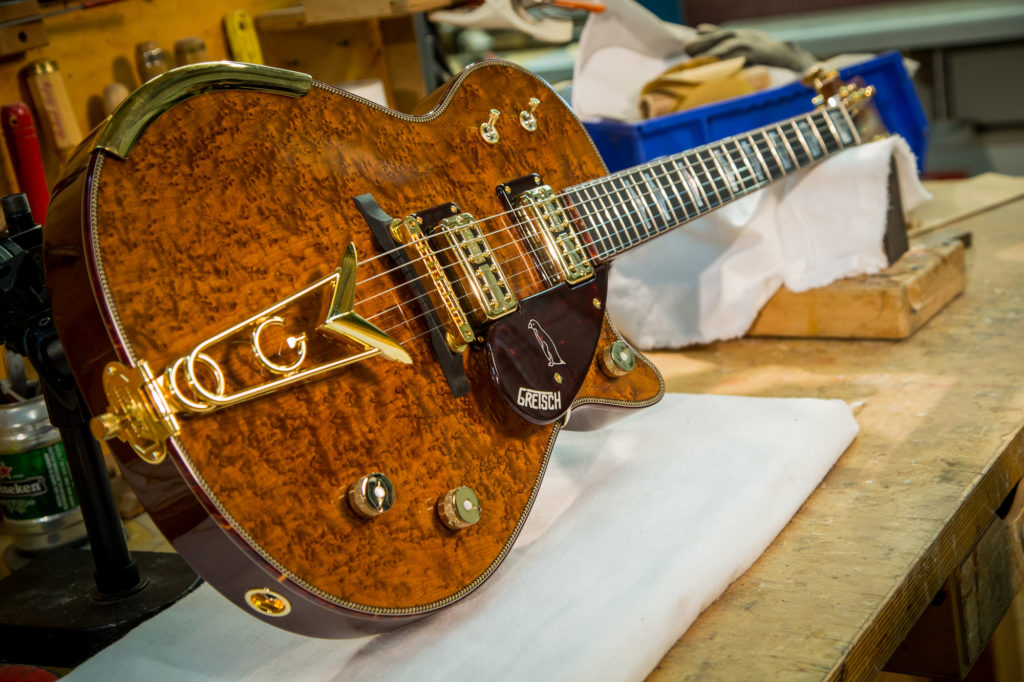 Gonzalo Madrigal was just recently promoted to Master Builder, and the craftsmanship that went into this '59 Penguin shows exactly why. With a chambered center block body, this elegant creation is topped with a roasted birdseye maple that Madrigal saved for over six months specifically for this build. Well-known for his masterful binding work, a tortoiseshell binding with herringbone purfling wraps the mahogany back and sides. Add in an ebony fingerboard with engraved hump inlays, tortoiseshell pickguard and gold accents, and you've got truly unforgettable artistry.
Gretsch Custom G6609T Super Broadkaster® Lake Placid Blue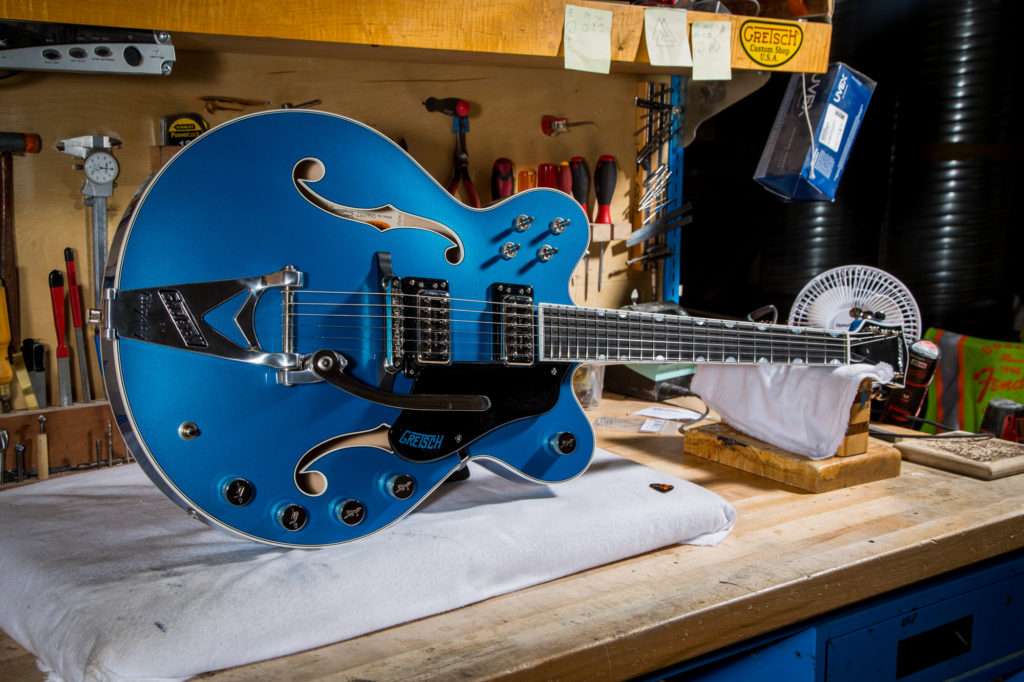 Apprentice Master Builder Andy Hicks loves every part of building guitars, but his favorite aspect is final assembly. The wiring guru's new G6609T Super Broadkaster® is the perfect representation of his skills with 10 total knobs and switches (five apiece) that give the player total tonal control over the Power'Tron™ pickups. The hollow body guitar's laminated maple top has classic f-holes and is covered in a dreamy Lake Placid Blue finish. A Synchro-Sonic bridge with Bigsby® B6G tailpiece, black Super Gretsch pickguard, and chrome hardware complete the specialized look.
Gretsch Custom G6134 Penguin™ BT Tobacco Burst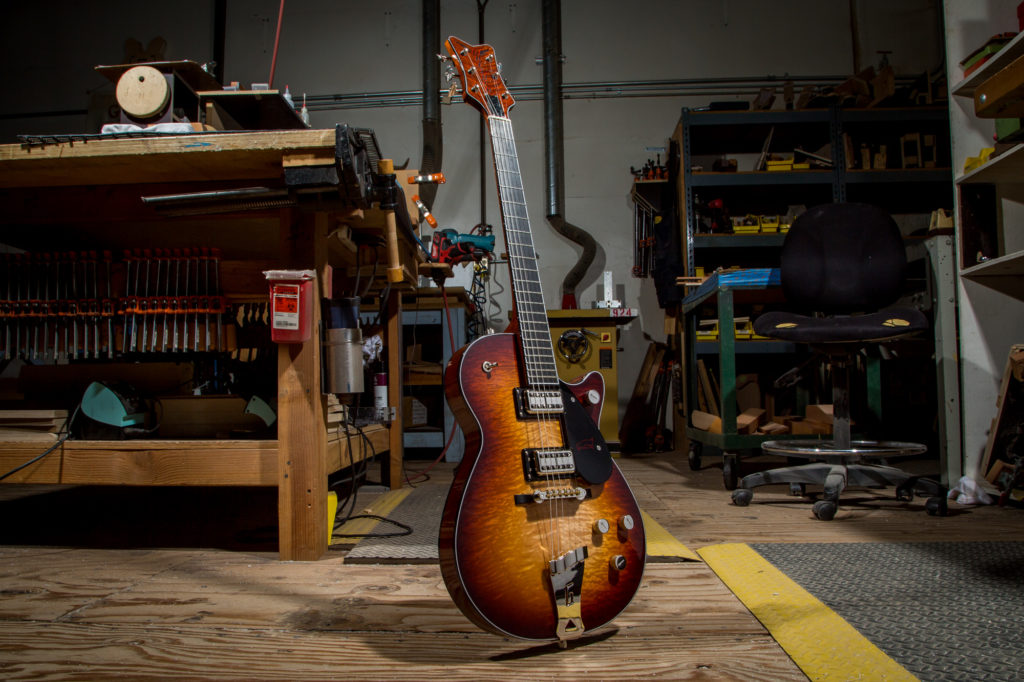 Chad Henrichsen knows his wood. Working in the custom shop, Henrichsen has developed the innate ability to be able to look at a piece of wood and know how well it will work in building. His custom G6134 Penguin™ BT utilizes this skill by using the same piece of book-matched solid maple throughout the entire piece. The atypical Tobacco Burst finish was conceived by Henrichsen when he asked for a sunburst paint job that would retain the natural beauty of the flame maple top by removing any basecoat. Its custom Falcon headstock features an intricate 3D Gretsch headstock logo inlay. A fan of hardtails, Henrichsen also added a chrome "G" cutout tailpiece. Built for the harder side of rock, this incredible guitar houses a pair of our new Tim Shaw built Broad'Tron™ pickups, providing full-spectrum fidelity for any situation.
Gretsch Custom G6130 Sunset Roundup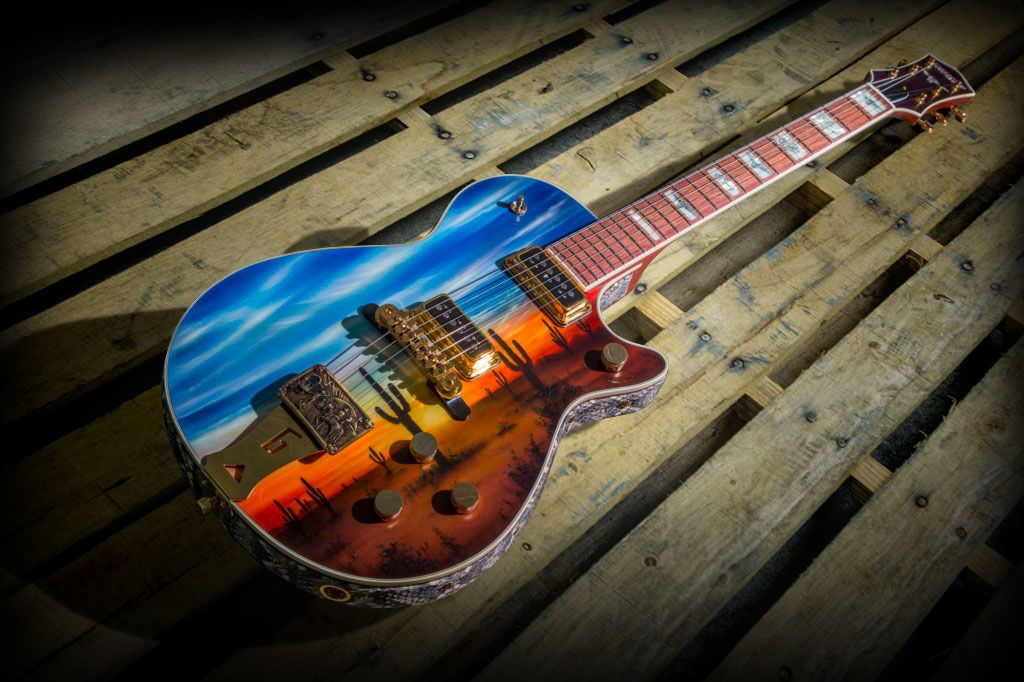 The southwestern styled G6130 Sunset Roundup was built using a pine top body with tinted white binding that sits aside the mahogany, snakeskin covered sides. The cowboy inspired build evokes western imagery with its custom Sunset paint job, engraved block inlays, and a truly original belt-buckle tailpiece. Giddy up!
Gretsch Custom G6120 '55 Dark Walnut Relic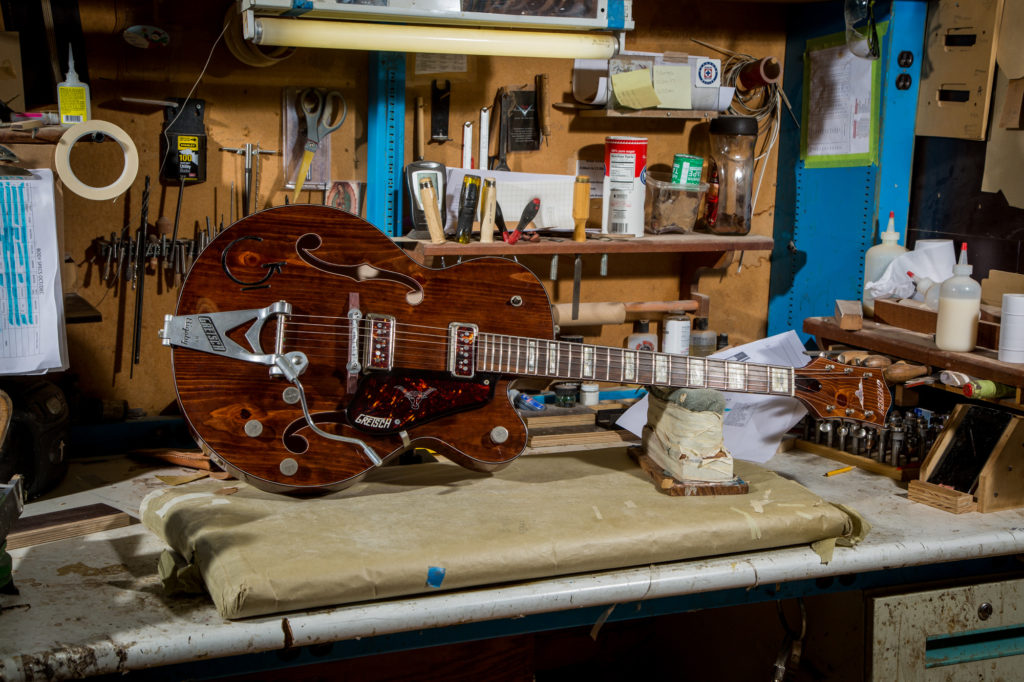 A collection of fine woods, the knotty pine topped G6120 '55 has curly maple back and sides, flame maple neck and a Brazilian rosewood fingerboard. The rustic-looking rig is filled with details including a tortoiseshell binding with cream purfling, tortoiseshell pickguard with custom steer-head logo, tortoiseshell pickup cover, and custom western engraved block inlays.
Gretsch Custom G6120 '59 Bordeaux Metallic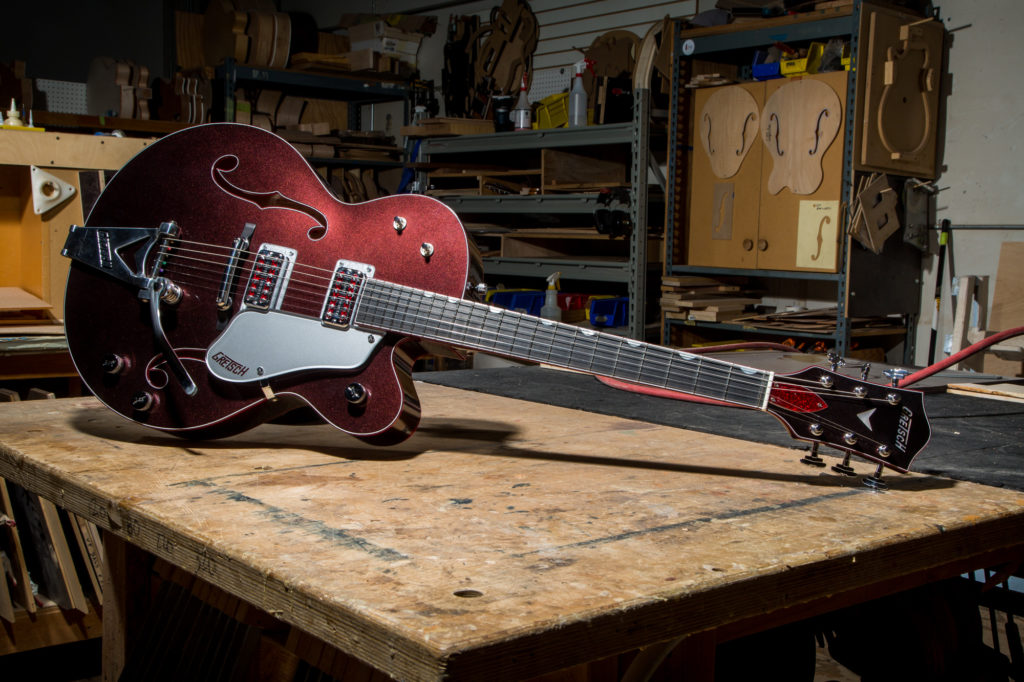 The custom built, hollow body G6120 '59 is an alluring shade of crimson thanks to the laminated maple top's Bordeaux Metallic finish and the ruby red sparkle binding, truss rod cover and matching pickup inserts. The glistening guitar is powered by our Filter'Tron™ pickups and features tone-switch wiring and a rocking bar bridge with Bigsby® B6C tailpiece. You can be sure that this baby will age nicely, just like a fine red wine.
Gretsch Custom G6128T Dyna Jet™ Lake Placid Blue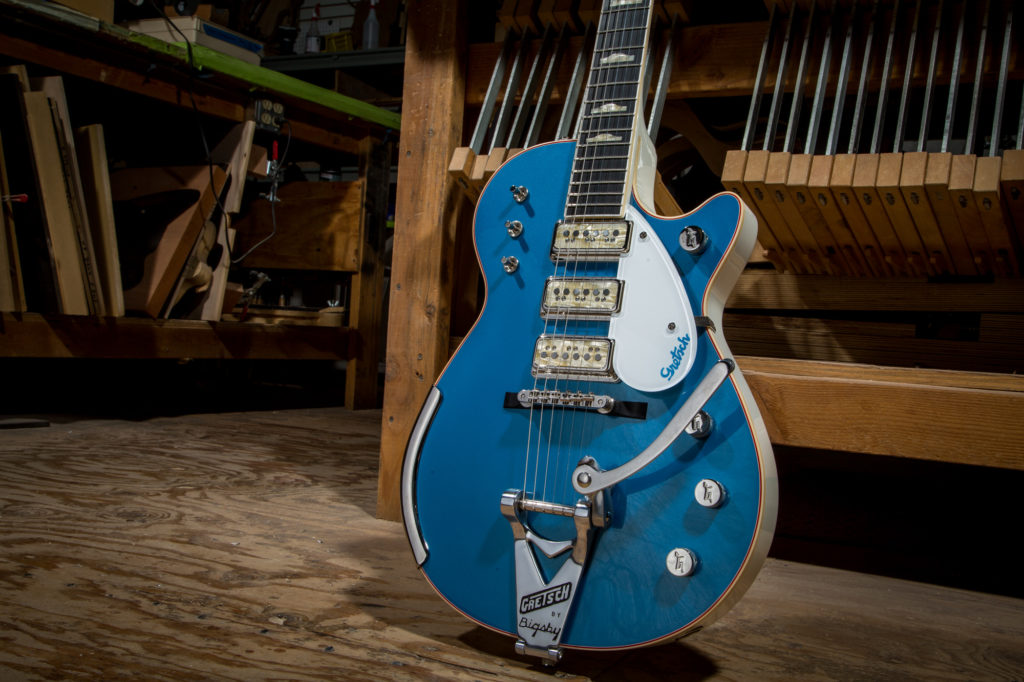 With a chambered mahogany body and laminated maple top, the graceful Lake Placid Blue G6128T Dyna Jet™ is met by a tinted white binding with red purfling and a cream pickguard. Three DynaSonic™ pickups with mother of pearl covers bring this beauty to life and provide full tonal range via its Gretsch arrow knobs and switches. Twenty-two frets and cloud inlays sit atop the ebony fingerboard. Chrome hardware including Grover tuners, an Adjust-O-Matic™ bridge, and Bigsby® tremolo tailpiece shine bright while you play hard.
Gretsch G6136 '55 Falcon™ Black Metallic Relic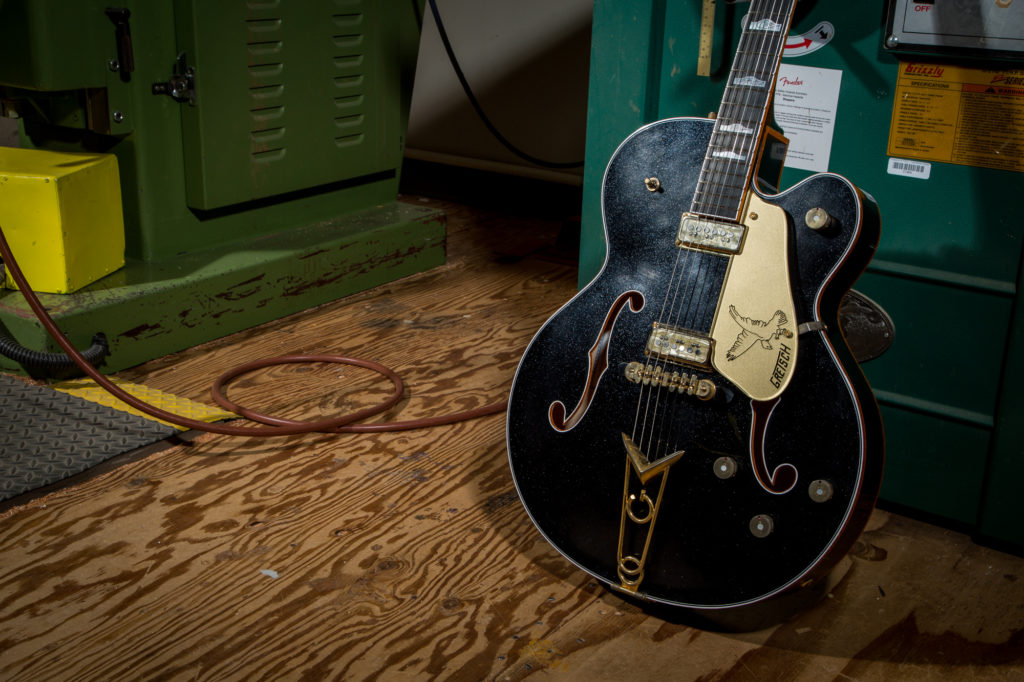 This road worn G6136 '55 Falcon™ is the only Falcon in the 2018 NAMM Custom Shop collection. Its wide, hollow body with f-holes is adorned by an arched, laminated European spruce top in a Black Metallic paint job that looks just at home on this guitar as it would on a classic car. The maple back, sides, and neck are enhanced by a spattering of sparkling Gold found in both the binding and headstock inlay. This Falcon flies above the rest with its finely relic'd brass hardware found on the classic "G" Cadillac tailpiece, Synchro-Sonic bridge, and hand-jeweled plain top knobs.