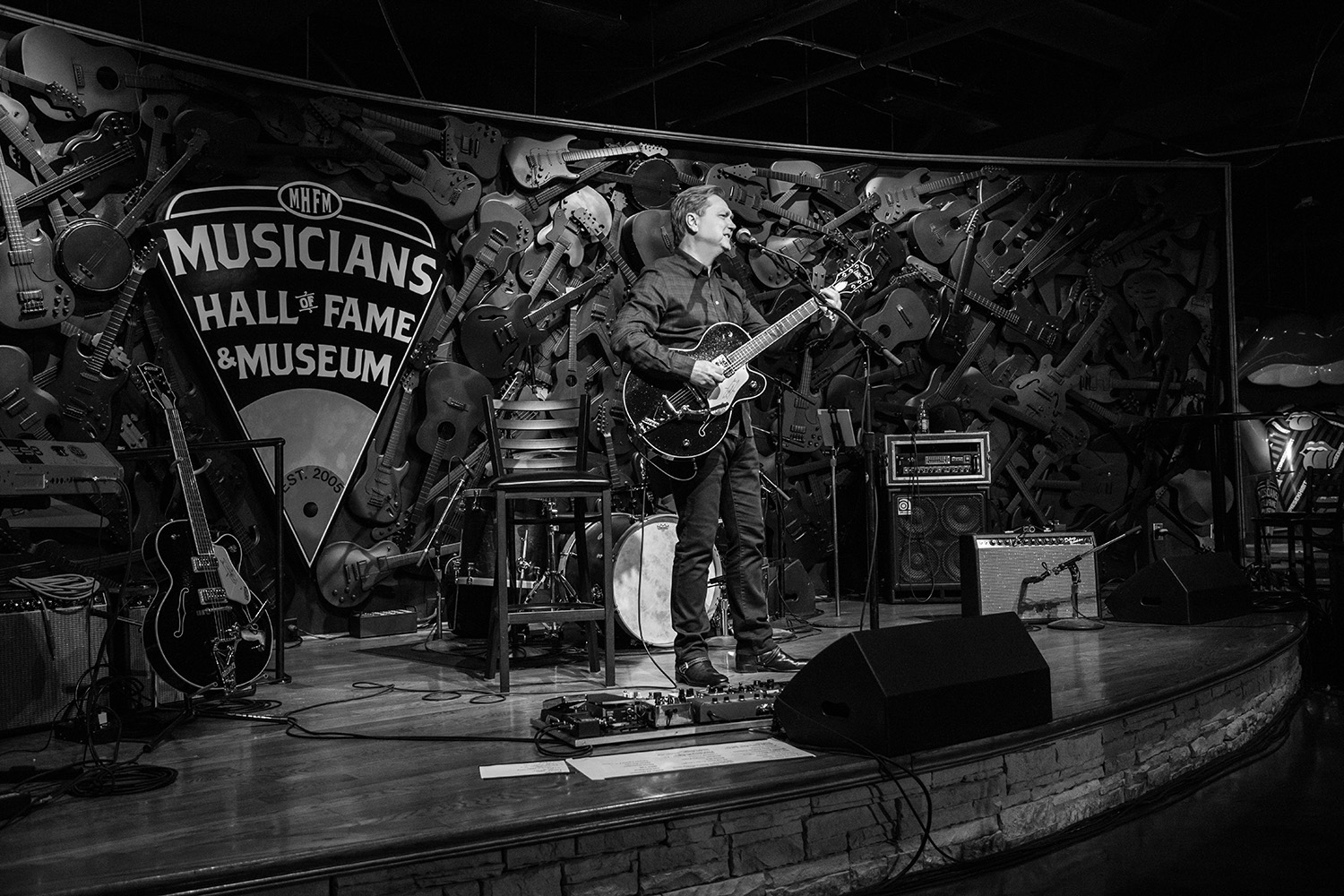 Gretsch celebrated the official launch of the Gretsch Steve Wariner Signature Nashville® Gentleman with Bigsby® at the Summer NAMM Show last week in Nashville with two special events.
At an invite-only event Friday night at the Musicians Hall of Fame, Gretsch friends, family, dealers and media enjoyed an intimate and very special evening with the country hitmaker.
Gretsch owner Fred Gretsch provided the night's opening remarks, highlighting Wariner's many accolades – from his C.G.P. designation to four Grammy awards to 14 No. 1 Billboard hits. Gretsch product specialist Joe Carducci served as emcee and hosted an in-depth Q&A with Wariner, which started out with the enormous influence his father had upon his musical journey.
Although his father worked full-time at a foundry, he also had a band that rehearsed at the Wariner home and records were always spinning in the house. On the weekends, his dad also helped out at Vic Zinn's music store and would often take his son along.
"I would see the row of Gretsch's," Wariner told the crowd. "My dad had tons of Chet Atkins albums and so I was very aware. As far back as I could remember, I knew Merle Travis, I knew Paul Yandell – even then, my dad would say 'No, that's not Chet, that's Paul Yandell playing with the Louvin Brothers.' He would distinguish. So I knew the Chet albums of course, and I would see the Gretsch guitars there at the store and I'm like, 'Oh my gosh, one day when I'm older, I'll be able to afford to buy one of these Gretsch guitars. I'm going to own one of these one day.' And here I am holding one with my name on it, which is unbelievable."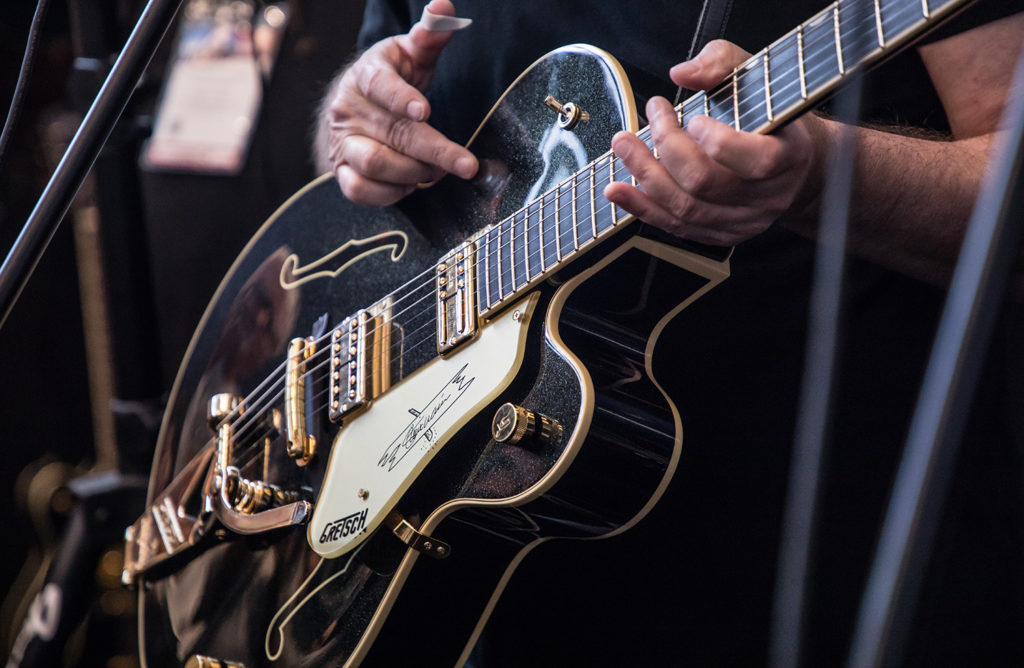 Wariner's musical career actually officially began though not on guitar, but behind the drum set after his dad's drummer disappeared from the band. Having listened intently to previous rehearsals, the then 10-year old Steve told his dad he knew the songs and could fill in.
"I was really paying attention," he shared.
Wariner would later move to playing bass and was discovered at age 17 at a club in Indiana by Dottie West, who invited him to join her band.
His big break, though, would come from opening for Bob Luman. The country legend invited Wariner to play on his comeback album, which was being produced by Luman's neighbor, Johnny Cash. During a recording session break, Luman asked the 19-year-old Wariner to play one of his songs for Cash.
"Johnny said, 'I love it, let's cut it,'" recalled Wariner. That process wound up having four times with all four of Wariner's songs also making Luman's final album.
Even more fortuitous, the session that day also included Waylon Jennings and Paul Yandell. Yandell, liking what he heard that day, offered to take a tape of Wariner's music to Chet Atkins.
However, when Wariner got the call from Chet, he thought it was a joke by his brother Kenny.
"I told him to get out of here," Wariner said with a laugh. "My brother was always playing pranks and pretending to be someone else so I thought it was him. But Chet said, 'No, it's really Chet Atkins.'"
Atkins offered to cut some songs with Wariner and would soon invite him to play bass in his band, beginning a lifelong friendship that continued until Atkins death in 2011. Atkins also bestowed his coveted C.G.P. designation upon his protégé at one of his shows in 1997.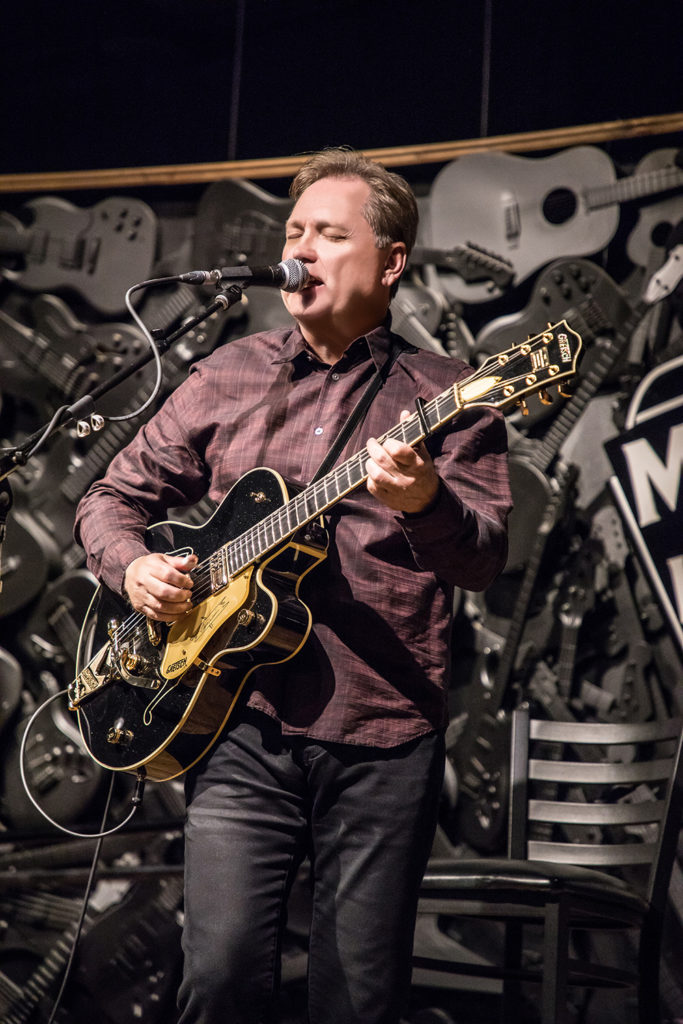 Standing onstage Friday night where he had been announced as a 2019 Musicians Hall of Fame inductee just a few days before, Wariner paid tribute to his mentor, friend and boss with his rendition of Atkin's "Producer's Medley," which Wariner recorded for his 2009 album, My Tribute to Chet Atkins.
The Grammy-award winning tune features classic recordings that Atkins produced, including "And I Love You So" by Perry Como, Jim Reeves' "Welcome to My World," "The Three Bells" by the Browns, Don Gibson's "I Can't Stop Loving You," "Java" by Al Hirt, "Let It Be Me" by the Everly Brothers, Skeeter Davis's "The End of the World" and "When You're Hot, You're Hot" by Jerry Reed.
Wariner also treated the audience to "Guitar Talk," even name-checking his Gretsch guitar in the lyrics, as well as the very apropos "6120" and his stunning and emotionally moving track "Sails."
To close out his set, Wariner invited his son Ryan up to the stage. Much like his father, the younger Wariner has worked with a quite a few big names, including Jewel, Gary Allan, Gene Simmons, Megadeth and Chris Cornell.
"Even if he wasn't my son, he'd still be one of my favorite guitar players," noted Wariner, who also stressed the importance of designing his signature guitar to be a versatile instrument suitable for all types of playing — from his own unique fingerpicking to his son's crunching rock and alternative styles.
Father and son demonstrated the instrument's versatility firsthand – first with the moody  "The Last Word," which Ryan wrote for Steve's  2016 album All Over the Map, and then a rocking rendition of JJ Cale's "Clyde" that featured Ryan tearing it up on slide.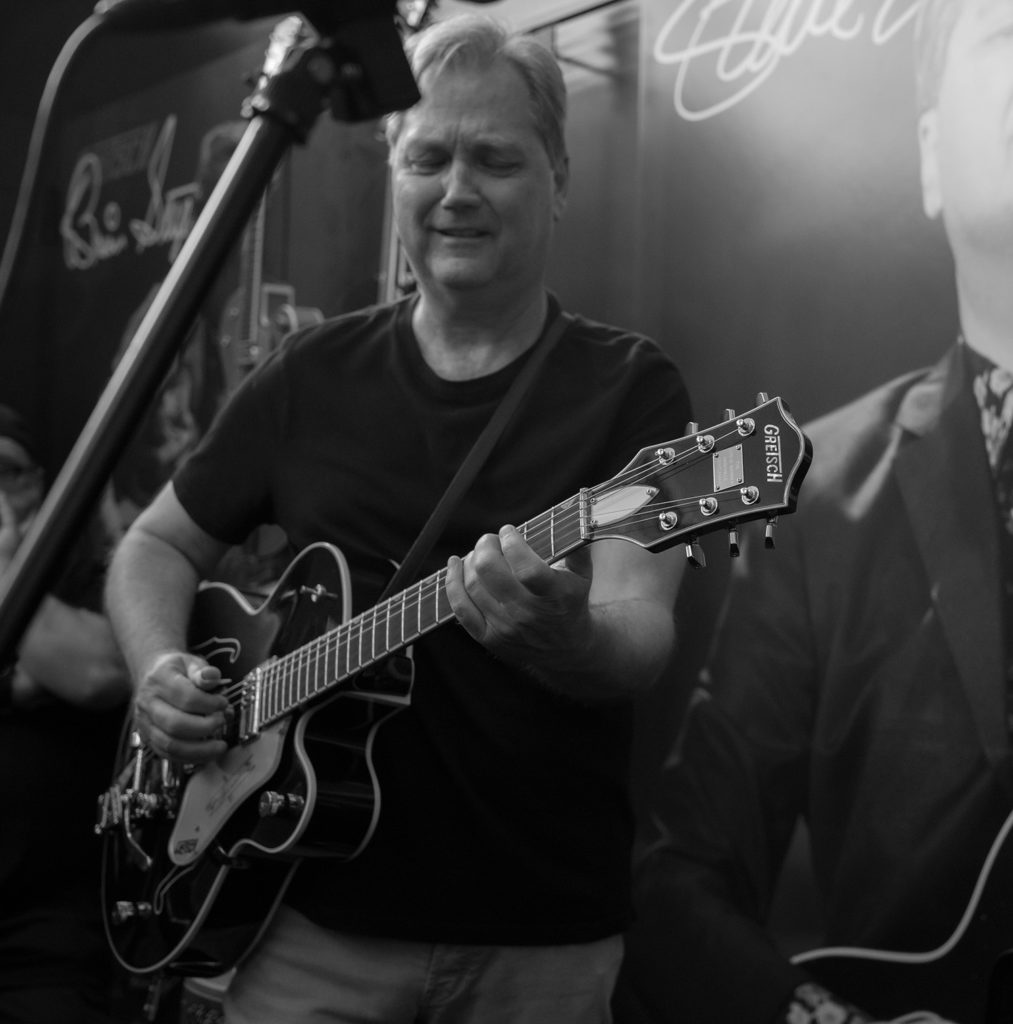 After a short night of sleep, Wariner returned to action Saturday afternoon with an abbreviated Q&A and playing demo straight from the Gretsch booth at Summer NAMM. This event was all about the fans, and it was definitely a full-house in attendance to hear Wariner wax a little bit about his earliest memories of Gretsch, what it was like to work with Atkins and the key features of his Magic Black signature Gretsch.
"This guitar has taken nearly two years to design and bring to life," shared Wariner. "I know I'm picky, but I believe great things are worth waiting for. I really wanted to design a guitar that even if people don't know or care who I am, they could still enjoy this guitar. All the appointments are geared towards the serious player. I think we delivered and I'm just so proud and honored to be part of the Gretsch family."
Wariner then treated the audience to his guitar wizardry by playing a few songs, including "Guitar Talk" and "Sails," and finally, stuck around the booth and posed for photos with each and every fan.