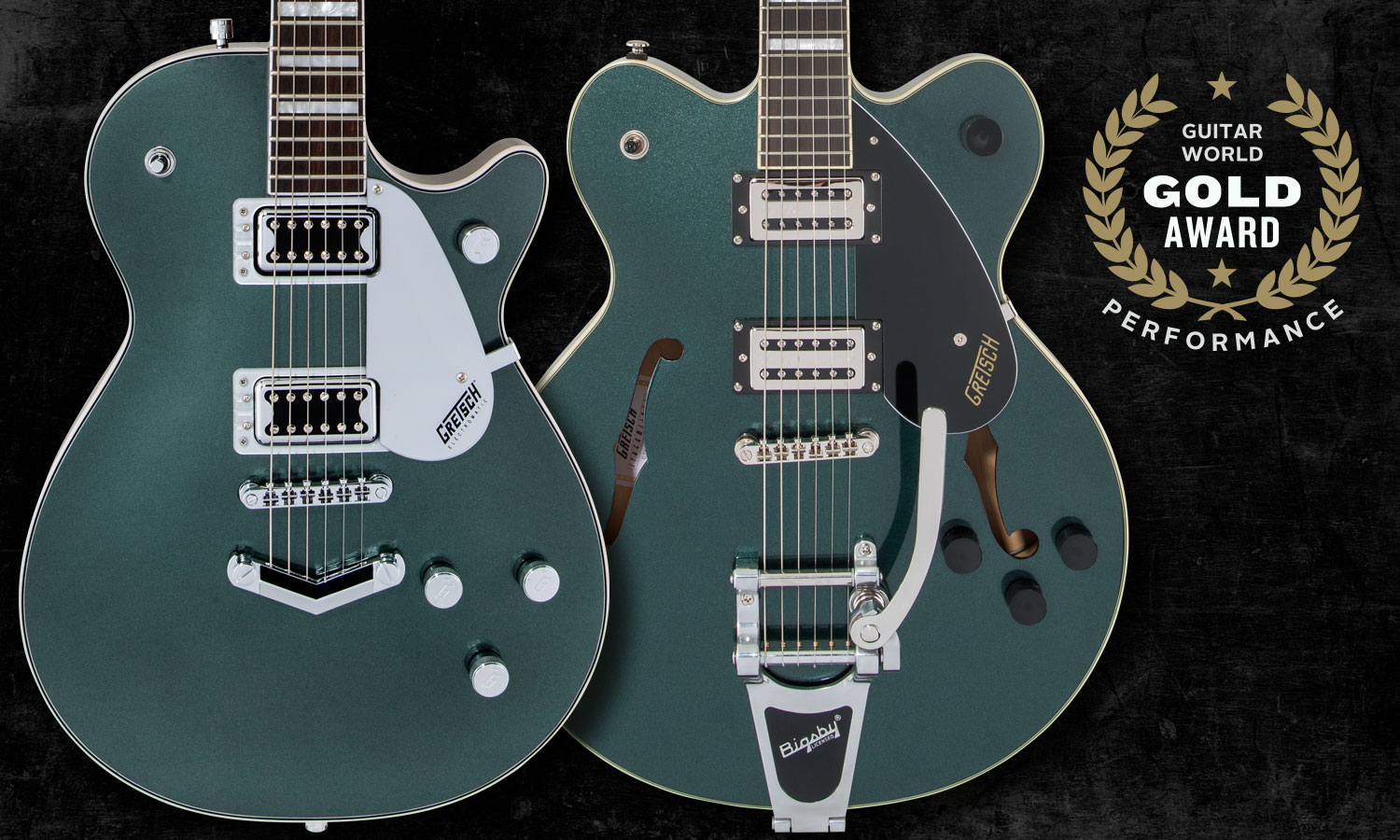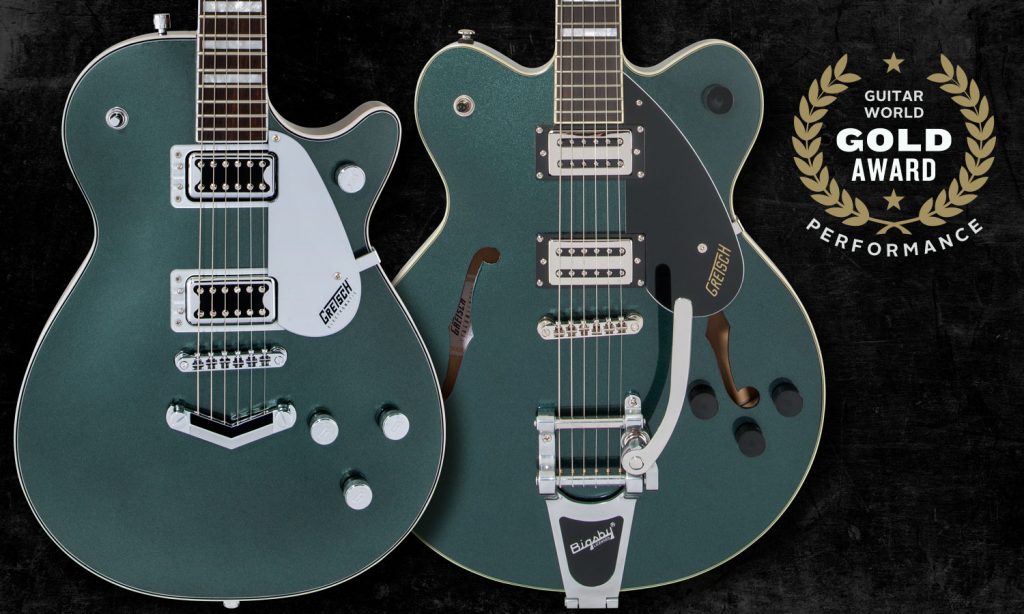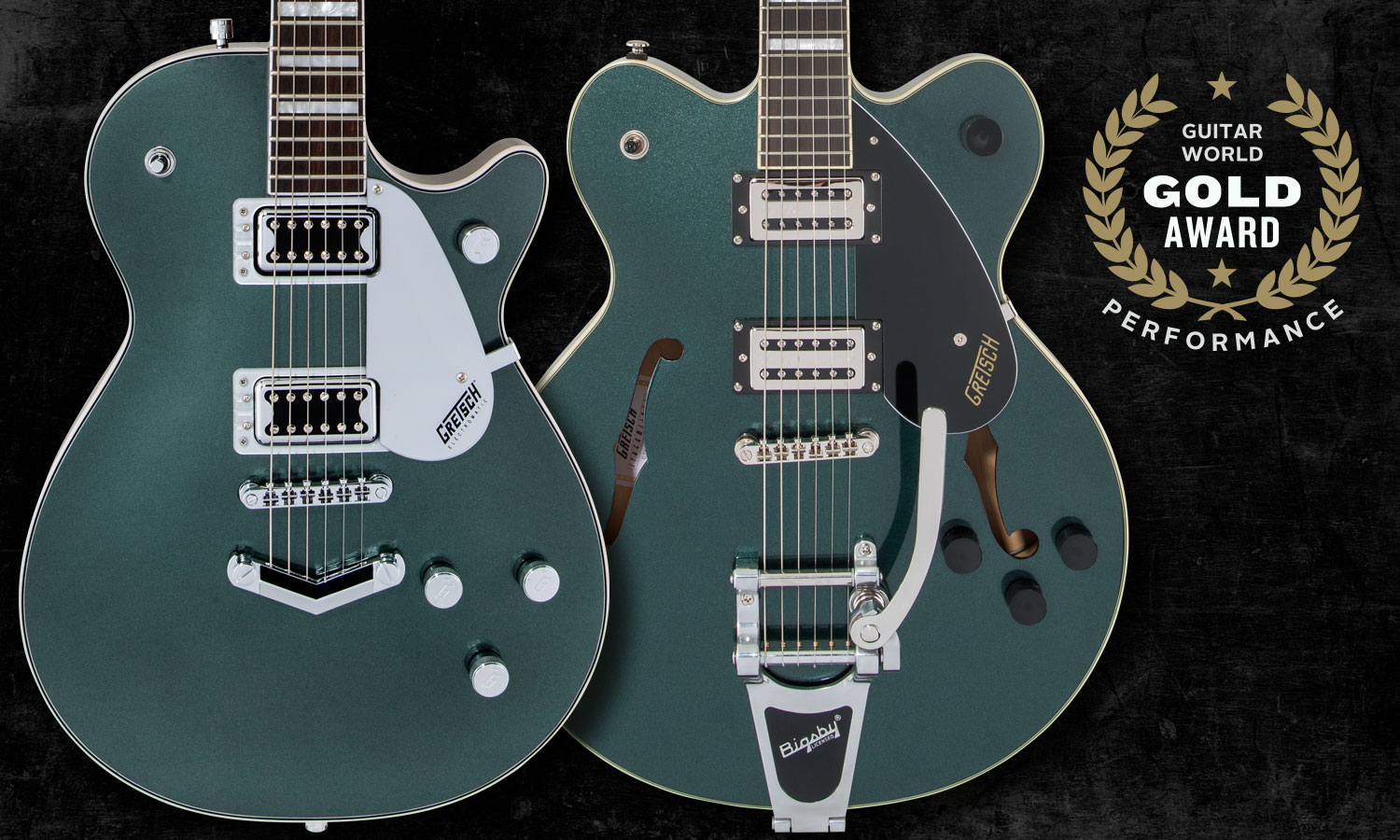 The Gretsch G5220 Electromatic Jet BT and G2622T Streamliner Center Block scored Guitar World's coveted "Gold Award for Performance" in the publication's holiday issue.
As reviewer Chris Gill noted right off the bat, owning a Gretsch should be an essential for all guitar players.
"To me, a Gretsch ranks as one of the top five essential electric guitars every guitarist should own, particularly since their models deliver a unique sonic voice that's unlike most either brands," he wrote.
Fortunately for musicians looking to get their mitts on a Gretsch, while the higher-end models might be out of reach for some, both these new guitars come with a price tag that make for a convincing grab.
"These [models] are versatile, exceptionally playable instruments that sell for outrageously competitive street prices that are so affordable you may want to seriously consider getting both," noted Gill.
The G5220 Electromatic Jet BT features similar appointments popularized by its Duo Jet brethren including a resonant chambered mahogany body with an arched maple top and a mahogany set neck, whereas the G2622T Streamliner Center Block is a hollow body design with a spruce center block. Black Top Broad'Tron pickups power the Jet, while BT-2S Broad'Tron pickups fuel the Streamliner.
"The G5220 Electromatic Jet's pickups are impressively hot, delivering blistering, ballsy overdrive that's perfect for most styles of rock, including metal and punk," wrote Gill. "The frequency range is a little wider than that of a classic Gretsch Filter'tron, with big, tight bass, full, rounded mids and surprisingly rich treble. The G2622T Streamliner's tone leans more toward classic Gretsch hollow body territory, with a distinctive midrange honk and reverb­like body resonance that's ideal for anything from hot-rodded rockabilly to smoking blues. The solid center block allows players to crank the amp's volume and gain way up without experiencing unwanted feedback."
Still not sold?
"Absolutely every detail about these Electromatic and Streamliner models is dazzling, from the eye-catching finishes and impeccable construction to the comfortable playability and snarling, aggressive tone," wrote Gill. "Both models deliver distinctive Gretsch character that will please the most discriminating vintage Gretsch enthusiasts and neophytes alike. In a blindfold test, most guitarists would not be able to tell the difference between these guitars and many of Gretsch's more expensive models – they are simply that good."
Grab a copy of Guitar World to read Gill's full review of the G5220 and G2622T.