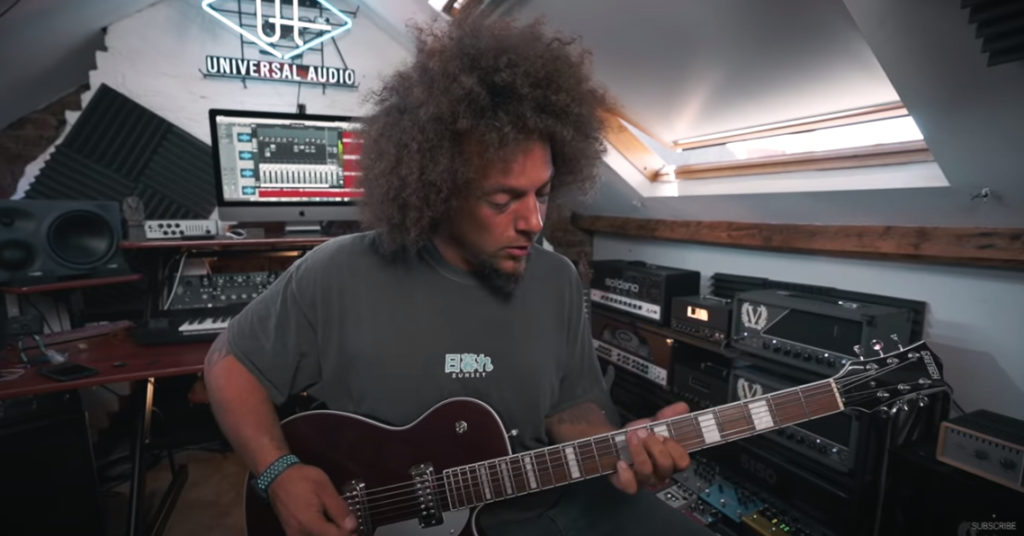 U.K. guitarist Rabea Massaad demoed the Dark Cherry Metallic Gretsch G5260 Electromatic® Jet™ Baritone with V-Stoptail, and highly enjoyed the instrument's complex tones and diversity.
Rabea kicked off his demo with atmospheric rock tones in A-standard tuning before diving into guttural, Soundgarden-esque hard rock riffs.
"One thing I really like about this being tuned to A-standard, is you can take any normal chord progression in a standard tuning that might be a bit bland, and it sounds awesome in this tuning," said Massaad. "If you've got a baritone handy, try it on that. Sometimes even the simplest chord progression in a lower tuning can sound really moody and deep."
The expanded 29 ¾" scale accommodates lower tunings without sacrificing string tension, so notes ring out bright and clear. Indeed, after riffing through a djent-inspired number in a dropped tuning, Massaad admitted he was impressed.
"I was certainly not expecting this guitar to sound that good in dropped G playing djent-y, palm muted, clunk-y progressive metal," he said. "Ultimately, I really like this guitar. "It's a different vibe completely. It's really easy to play, and so vibe-y down there in dropped [tunings]."
Watch Rabea's demo of the G5260 in the video below.