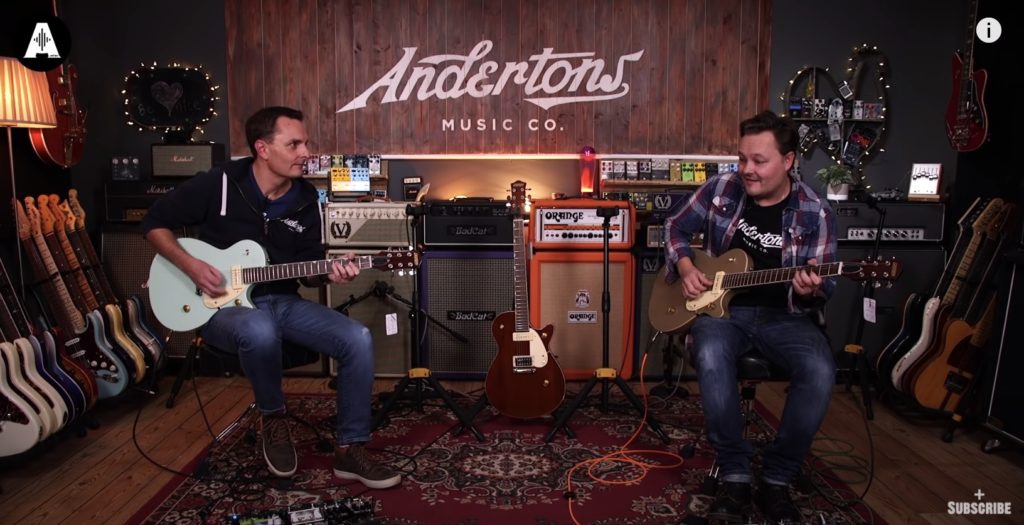 Andertons Lee "The Captain" Anderton and Pete Honoré showed the all-new G2215-P90 Streamliner™ Junior Jet™ Club models some love in a new video posted on their official Andertons Music Co. YouTube channel.
"This is a fantastic value," said Anderton.
The guys loved the gritty tones offered by the Broad'Tron BT-2S bridge pickup..
"It's definitely that different… TV Jones kind of vibe," said Honoré.
"It's got a Gretsch-y kind of vibe!" added Anderton. "You think of famous Gretsch players with gain, and you think of Malcolm Young and Billy Gibbons. They've all got that recognizable tone."
The P90 Soap Bar neck pickup also blew the guys away with its increased output and thick low-end.
"I think a lot of it is there is so much more bass-end on the P-90," noted Anderton. "It's not even a volume thing. It's just a bucket load more of bass that makes it sound a lot louder."
Watch the guys demo the G2215-P90 below.