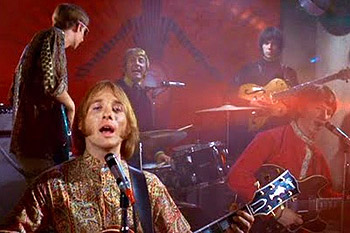 Gretsch guitars were all over the tube in the 1960s. Big hollow-body guitars remained in widespread use in rock and pop throughout the entire decade, and it seemed at times as though you couldn't throw a rock without hitting a TV set that was showing some variety or music show featuring some band that had at least one Gretsch instrument in the lineup. Pretty cool.
From the Beatles and the Stones and the Animals on The Ed Sullivan Show to the Kinks on Shivaree to the Zombies on Shindig! and more, Gretsch guitars were a staple on U.S. programming. Even across the pond, the Who's John Entwistle wielded a Gretsch 6070 bass on Ready Steady Go! in 1965.
And yet there was a whole other category of U.S. television programming in the '60s that also showed Gretsch instruments: prime-time series television on the three major networks at the time—ABC, CBS and NBC. Not only did you see and hear Gretsch guitars on variety shows and music shows; you also saw them on top-rated sitcoms, action-packed cop shows, cool spy shows and more.
Here are five notable examples of That Great Gretsch Sound on U.S. network series television in the 1960s. Some of these shows and the musical acts on them are well known and some are pretty obscure, but there's simply no mistaking a Gretsch when you see one.
The Monkees
Gretsch instruments appeared in nearly every Monkees episode from first (Sept. 12, 1966) to last (March 25, 1968). In this clip, from fall 1965 pilot episode "Here Come the Monkees" (which, oddly, aired Nov. 14, 1966, as episode ten), NBC's simian heroes swing their way through "Let's Dance On." Sort of.
And that's three Gretsch guitars out front, wielded not only by Mike Nesmith and Peter Tork, as usual, but here even by Davy Jones. Nesmith's guitar undergoes an interesting change toward the end, but it's nothing compared to the utterly magical transformation of Tork's bass. And pay close attention to the logo on that kick drum head, by the way …
I Dream of Jeannie
Speaking of the Monkees, TV's prefab four scored big more than once with irresistibly catchy numbers penned by prolific two-man hit squad Tommy Boyce and Bobby Hart, known collectively as, well, Boyce and Hart. These included two of the group's biggest and eternally infectious hits, "(Theme From) The Monkees" and 1966 debut single "Last Train to Clarksville." B&H did reasonably well on their own, too, scoring five charting singles, most notably 1968 top ten outing "I Wonder What She's Doing Tonight."
Boyce and Hart make this list due to a handful of '60s sitcom appearances that included ABC's Bewitched and NBC's I Dream of Jeannie. Here they are on the latter—episode six from season three (1967-'68), which aired Oct. 17, 1967. In "Jeannie, the Hip Hippie," Boyce and Hart heft a pair of Gretsch Tennessean guitars for performances of "Girl I'm Out to Get You" and "Out and About," the latter of which is seen here (and yeah, that is Phil Spector, if you can believe it):
It Takes a Thief
This one goes pretty deep.
Long before Hart to Hart, the Austin Powers trilogy, cameos on Two and a Half Men and late-night TV ads hawking reverse mortgages—even before Switch, which was a fun show—perpetually suave Robert Wagner made his series television debut in one of the cooler spy shows of the late 1960s, ABC's It Takes a Thief.
Coolness aside, it wasn't around long—It Takes a Thief only aired from 1968 to 1970, and might've been forgotten entirely had it not been for the 2011 DVD release of all 66 episodes. That's sweet for Gretsch fans, because now they can see Feb. 6, 1968, episode "A Very Warm Reception," in which Glen Falls, N.Y., rock band the Sundowners, appearing as "the Raspberry Wristwatch," play "Dear Undecided" from 1968 album Captain Nemo. And there you will see guitarist Dominick Demieri playing a left-handed Gretsch G6122 Chet Atkins Country Gentleman. No video found of it online yet, but here's a still from the episode …
The Sundowners were a regionally popular act in the U.S. northeast for a while in the late 1960s, and actually managed to wrangle a couple of network TV appearances. In addition to It Takes a Thief, the band also appeared on ABC's goofy Sally Field sitcom The Flying Nun. In Sept. 26, 1968, episode "Song of Bertrille," the Sundowners (backing actor/singer Paul Peterson) appear in a nightclub scene playing a number called "A Whole New World," during which cute-as-a-bug Sister Bertrille (Field) is mortified by the band's treatment of the song, which she wrote (on the show, not in real life). She has good reason too—the sheer drugginess of the performance is surprisingly overt for a network television sitcom, even in the late '60s.
Demieri is once again seen playing his left-handed Country Gentleman. We do have video of this one; we only mention this appearance second because It Takes a Thief is suave and cool, whereas The Flying Nun is merely cute:
Mannix
Long-running CBS hit Mannix was cool, and it had a great theme song. Mike Connors was pretty slick, too. But best of all might be the fact that Buffalo Springfield appeared on the Oct. 28, 1967, episode of Mannix. Yeah—the Buffalo Springfield. And that means Gretsch made it on one of the hippest cop shows of the era.
In the episode, "Warning: Live Blueberries," detective Joe Mannix is on the case as he visits a nightclub, where he outmaneuvers a few goons and questions Morgan Carpenter (Tom Skerritt way before Alien). But you can hardly discern their conversation, because the Buffalo Springfield are blasting through "Bluebird" and "For What It's Worth" pretty loud. And for what it's worth, the astute viewer will note that the renditions heard are not the studio versions everyone knows and loves. Watch closely and you can get a glimpse of them here and there during the two nightclub scenes, and that's definitely Neil Young and he's definitely playing his 6120. Hard to find video of it, but there are stills from the episode (no pun intended), like this one: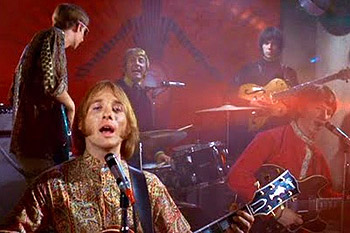 The Name of the Game
All-but-forgotten episode of a largely forgotten show featuring an obscure band performing a pretty obscure song. But never mind all that, because this is very likely the only appearance (not counting The Monkees) of a Gretsch bass on prime-time U.S. series network television.
The fact that few remember short-lived NBC mystery series The Name of the Game (1968 to 1971) doesn't mean it wasn't good. On the contrary, it was quite good; innovative at the time as a pioneering "wheel" series that prefigured the most successful such series in TV history, The NBC Mystery Movie, which everyone loved.
Episode "Jenny Wilde is Drowning" aired March 27, 1970, which is fudging it a little, but The Name of the Game is very much of the '60s, so it counts. This particular episode highlights an appearance by marginally less short-lived L.A. rock outfit the Yellow Payges (1966-1970, although we understand they reformed recently), who perform a really long version of their "Follow the Bouncing Ball" in a nightclub called the Psychedelic Daffodil (and if that's not '60s then nothing is). Now, if Wikipedia is right about the Yellow Payges' revolving-door bass player lineup, early 1970 filming means this is either a guy named Jim Lanham or Teddy Rooney, son of actor Mickey Rooney. No question about the bass, though. Blink and you'll miss it, but that's definitely a Gretsch 6071 single-pickup short-scale bass: