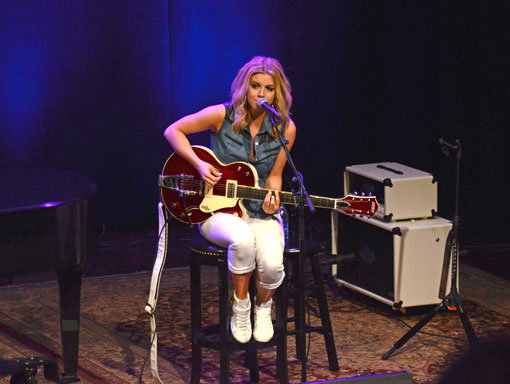 In support of the Bachman-Gretsch exhibit at Nashville's Country Music Hall of Fame, the very talented songwriter, guitarist and singer Lindsay Ell was invited to host a  Songwriting Session.
Ell actually has a personal connection to Randy Bachman, who she met at age 13. The Guess Who and Bachman Turner Overdrive took Ell under his wing, and she considers him to be like a second dad.
"I got to see his Gretsch collection, which  was actually in a guitar house on his property," said Ell. "He had a studio, the house he lives, and a guitar house, just for guitars. How cool is that?"
In addition to taking questions from the crowd, Ell also performed a few songs, making sure to introduce the crowd to her Gretsch "Red Betty" Center Block Junior with Bigsby.
Watch the archived stream below to see Ell showcase her versatility, switching from electric guitar to acoustic and over to the grand piano.