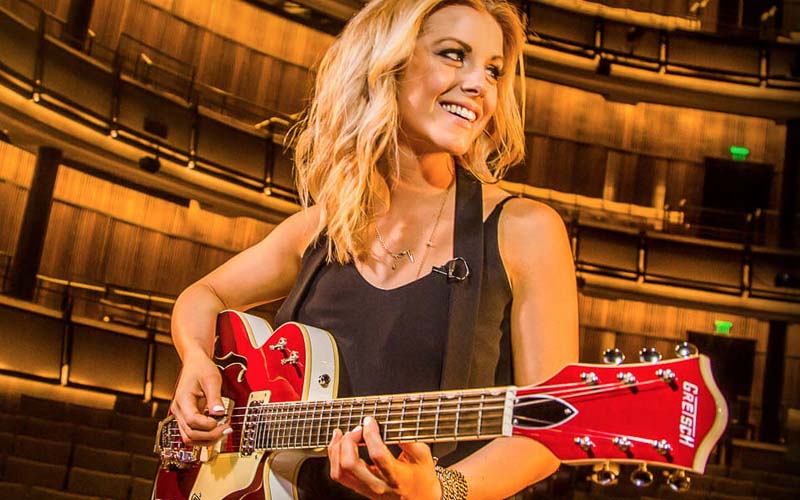 "I can play for hours and hours at a time," says country artist Lindsay Ell. "When I'm home I can honestly have my amp going most of the day and time slips away from me when I'm in guitar world (as) I call it. It just brings me into a different place."
But it's not just "most of the day" either. As she's captioned before along with one of many middle of the night noodling sessions on Instagram, "I'll apologize to my neighbors one of these days."
Considering her emotive and expert fretwork prowess, we're banking she can skip the apologies.
Raised in Calgary, Canada, Ell started out on piano at age 6, before switching over to guitar as an 8-year-old.
"I thought it was a lot cooler to play a Shania Twain songs on the guitar than classical on the piano (which she'd already been playing for two years), so I picked this thing up and it became another limb off my body pretty much ever since," explained Ell.
Ell honed her flatpicking and finger-style skills on the 6-string by tagging along with her dad to bluegrass camps, where they too would play into the wee hours of the night.
At age 13, cue BTO and the Guess Who's Randy Bachman, who after hearing a demo, pronounced Ell as a "young, female Chet Atkins." For Gretsch fans, praise doesn't really get much higher than being compared to the original Certified Guitar Player.
Taking the teen under his wing, Bachman introduced Ell headfirst into a world of blues, jazz and rock guitar, as well as the wonderful world of Gretsch.
"I had always known of Gretsch guitars but it wasn't until I met Randy that I really embraced all of the beauty and essence of what they are," said Ell. "In the summer we would go out to Salt Spring Island. I would record with Randy and my parents would come with me and we'd stay at his guest house on his property. He had a house where he and his wife lived, he had the guest house, the studio and he also had his guitar house. It was where his Gretsch collection lived and I did eventually get to go into the guitar house. It was like a kid in a candy store taking out cases and pulling out guitars."
Inspired by Bachman and encouraged by her parents, Ell spent her high school years driving across the country in a 15-passenger van and playing gigs anywhere she could book one.
"My parents let me drive the van by myself and allowed me to fully jump into a music career and I'm thankful for them for believing in me," she shared. "I would play wherever I could, and so I learned what to do when your amp blows up or your monitor goes out or your pedal board doesn't work — you learn to just roll with it because the show goes on regardless."
That immersive life-on-the-road experience prepared her for the next big gutsy leap — moving to Los Angeles and then Nashville to make a real go of chasing her musical dreams.
"I remember the first time I walked off the plane in Nashville and I had one person's name on a piece of paper— my guitar on my back, and it was just like, 'Okay, well now it's time to do this.'"
Over the last seven years in Nashville, she's continued to flourish as an artist — whether that's delivering a powerful ballad from behind the piano, holding her own in a room of the town's best songwriters, or trading guitar solos live onstage with the likes of country superstar Keith Urban or Buddy Guy.
Ell had been opening for the Chicago blues legend when one particular night during the tour, he invited her up from the audience to join his set.
"I walk out on stage and he says, 'Honey, we are in G,' and invited me on to his carpet and that was the best guitar lesson I ever got," gushed Ell. "Buddy Guy's band is on another level and it made me into a different player. I'll never forget that moment, and also going down to Legends a couple of times when he invited me to Chicago."
Her passion for music is quite palpable, and she has both the talent and versatility to set herself apart from the pack.
"I write and sing songs and love to perform in front of an audience, but I feel like the guitar adds another dimension to that especially with country music," said Ell. "You look at the short list of great female guitar players and there are not a lot of them. It has given me a chance to lead that way in country music as a female guitar player in today's day.
"And I feel like it allows me to connect with in audience in a different medium. You can write a song. You can sing a song and get up there and perform it, but the fact that I can also play a solo—I feel like it's another type of lyric. You can say something in a solo that other artists don't get the chance to say to an audience."
2016 has been a whirlwind for Ell as she continues to build an avid audience. After wrapping up an incredible run with CMT's Next Women of Country tour, the rising country sensation has been working on new music in the studio while also keeping up a relentless touring schedule, including several festival stops.
"This year's been incredible," she shared. "I'm really excited right now because we are in the studio and recording new music, music I feel is the most honest that I've ever written. I'm really figuring out what I want to say and how I want to say it and the kind of amps I want to put in my record and the guitars I want to play. It's a big thing for an artist to figure out that voice."
Now that she has, fans can expect big things from this country gal.
Watch Ell play her Red Betty and see more from our exclusive interview here!