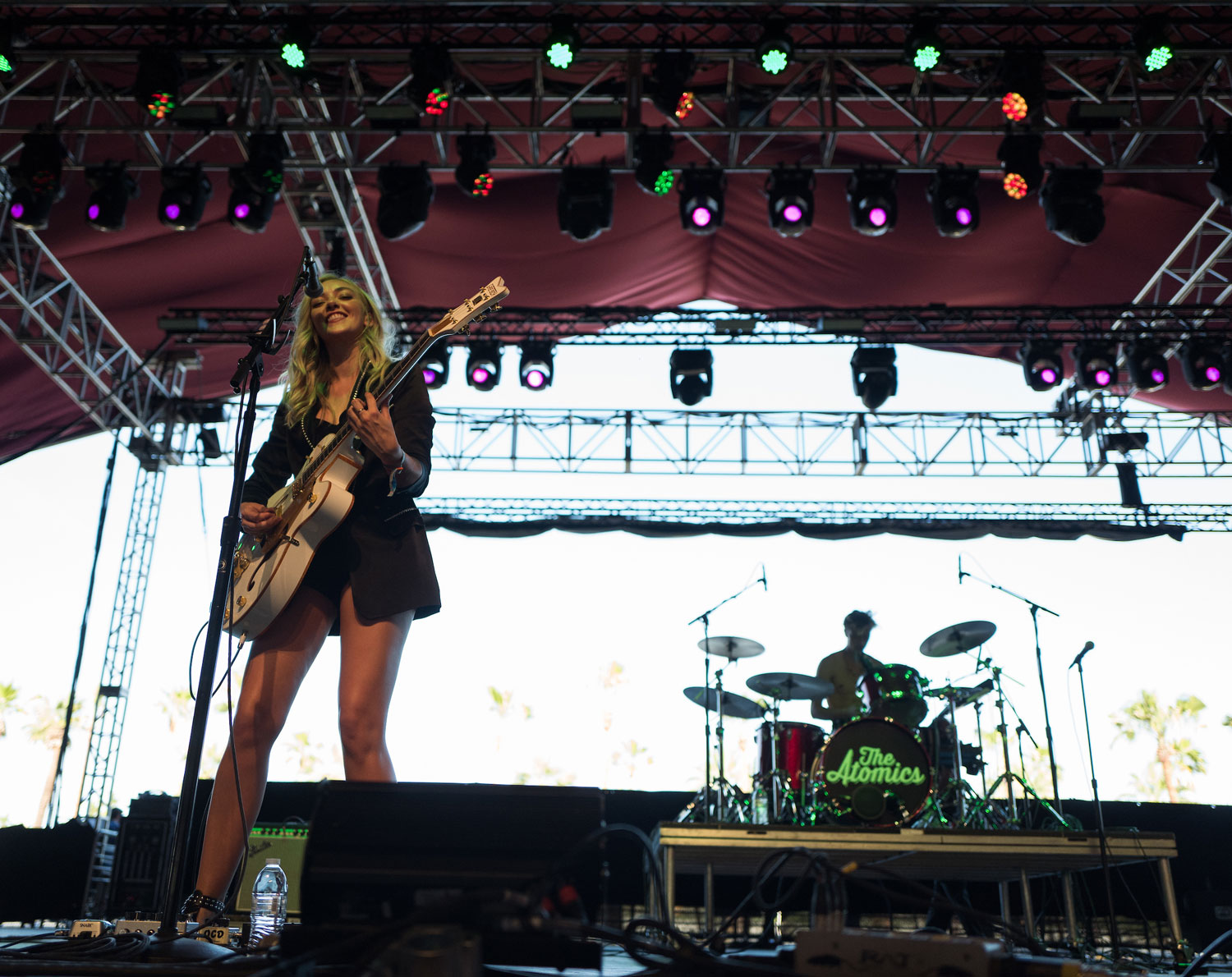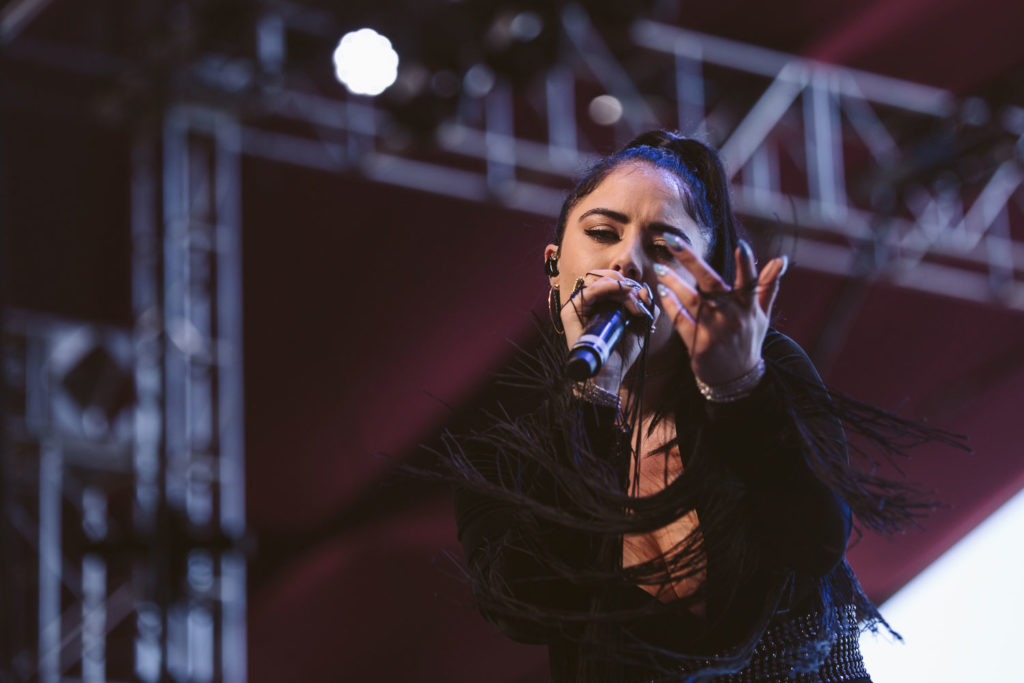 Rare that a band with only four live gigs under their belt lands a spot on the Coachella bill, but the Atomics are anything but ordinary. This alternative pop/rock group is a family affair of four siblings — drummer Lucky Blue Smith, bassist Pyper America, guitarist Daisy Clementine and frontwoman Starlie Cheyenne — all blessed with good genes and star power.
The group first rose to fame with successful modeling careers before fully dedicating themselves to their true calling in music. And along with making their Coachella debut this year onstage, the band once again blended their many talents as the face of the H&M Loves Coachella collection, featuring a campaign with their cover of Grass Roots' track "Let's Live for Today."
After logging gig No. 5 during weekend one of Coachella, the Atomics took the Gobi stage Saturday afternoon for only their sixth live performance ever, putting on a polished set and showcasing veteran-like stage presence.  Hours before their weekend two gig, Daisy expressed her excitement with Gretsch over playing the festival, and shared how they rushed to learn three new songs to add to the setlist.
"Last weekend was so exciting and so unreal," beamed Daisy. "It was the most fun I've ever had, and I am so excited for today's performance. I think it's going to be better than last week because we are really focused and slightly more experienced."
The siblings can thank their dad for their start in music, as he set them on their way one Christmas when Santa delivered instruments under the tree. Daisy was initially gifted with a bass guitar but soon found out she had an affinity for lead guitar instead.
"I was one of those kids that was just obsessed with being challenged all the time," explained Daisy. "The songs we were playing at the time were too easy. So I ended up switching with my younger sister Pyper, but it makes so much more sense that she's the bass player and I play guitar. It just fits our personalities so much better. I don't know how to really describe it other than instruments have different personalities and she definitely fits the bass."
While the young band is still developing their sound and perfecting their debut album, their set offered a mix of original work peppered with covers to introduce concertgoers to their surf-inspired style, influenced by their love for the Ventures and Dick Dale — something else that got passed on from dad.
After a few songs in, sassy lead singer Starlie took a moment to gush on her Britney Spears obsession before breaking into an infectious cover of "Toxic," telling the crowd that she never dreamed she would be performing this song on the Coachella stage.
Next up, Starlie grabbed a red hot Streamliner to complement the growl of her husky vocals and spit-fire spunk, rivaling her instrumental siblings on rhythm guitar.
Another set highlight was "Everyday is the Weekend," a reggae-sounding, sway-inducing tune that had the midday crowd on their feet.
The Atomics closed their 45-minute performance with "Voulez Vous," which encompasses their retro sound with each of the sibling's personalities shining through the catchy chorus.
I don't care if I don't understand
What he say?
A voulez vous coucher