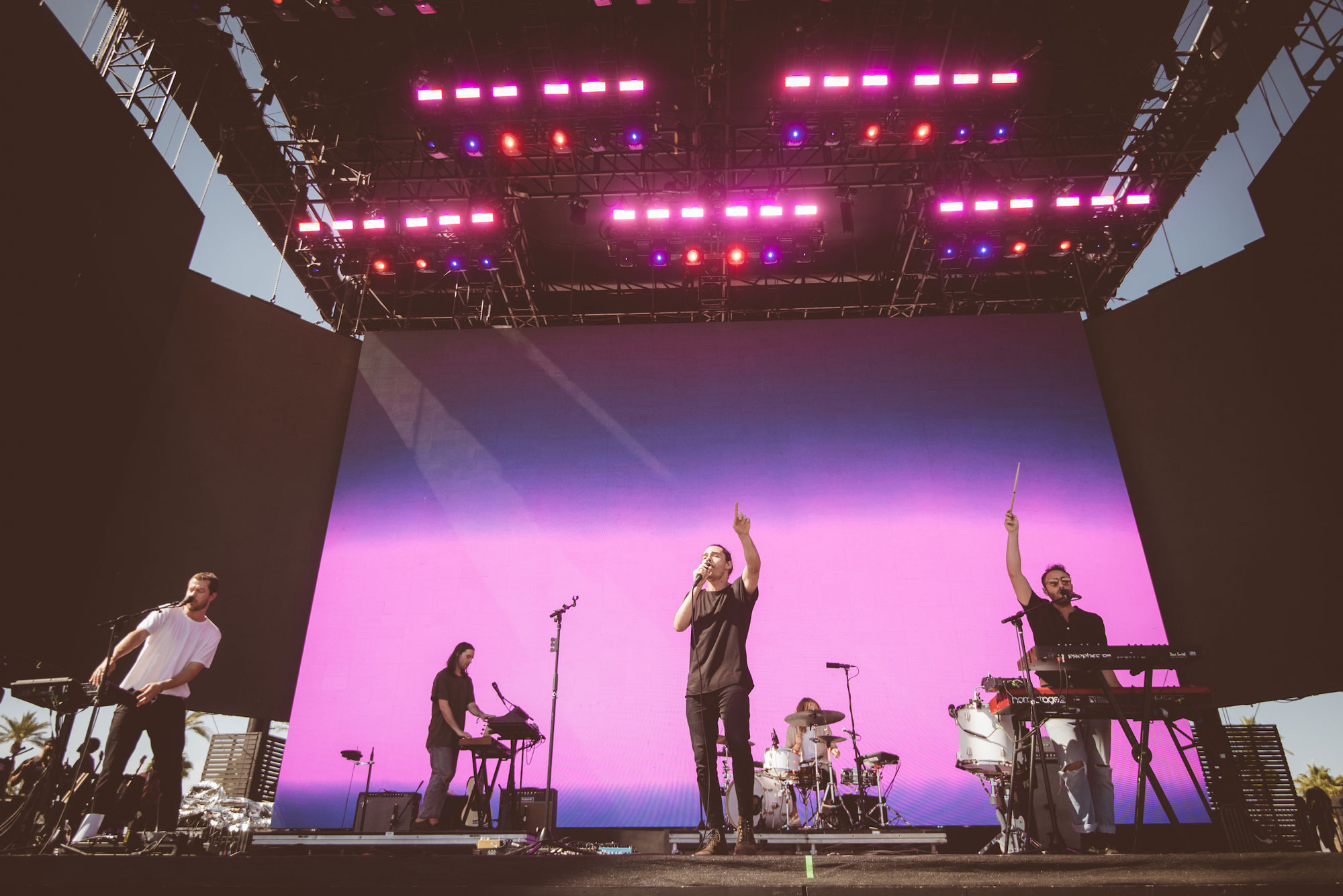 Shortly before their debut Coachella appearance in 2010, Local Natives guitarist Ryan Hahn spoke with the press at his alum, Pepperdine University. Asked about the band's future 10 years down the road, Hahn explained that it was really just about making music full-time as long as possible. However, he did throw in that it would be nice "to still be relevant in another 10 years."
Seven years later, Local Natives are now festival veterans, making their third appearance alone at the desert fiesta over the past two weekends, playing the venue's biggest stage at that.
"Yeah, it's pretty wild that we've traveled and toured as much as we have," said the Orange County native. "We've played hundreds of festivals now. It's kind of surreal to even be playing the main stage at Coachella.
"There's never really like a plan to get our music to sound like this or be like that, but there has been this natural progression where I feel like we've done something different. We've grown, and we're really proud of the direction we've taken things."
The California indie-pop outfit has continued to evolve and mature as a band, and with 2016's Sunlit Youth, they went bigger and broader and reached for the skies.
It was no surprise that Local Natives chose to kick off its Saturday midafternoon set with the lead single off that latest effort, "Past Lives," a yearning and effervescent track that reminds us that the world is constantly evolving and the chance to reinvent oneself is always there.
That spirit of hope and optimism was present throughout the set, from the majestic "Coins" to the expansive and politically charged "Fountain of Youth," which singer/guitarist Taylor Rice took a moment to explain.
"The last few months have been super difficult for all Americans, but we believe in this idea that the younger generation can take our world and make it into what we want," he said. "We want to be united. Let's choose that. Let's love each other."
Well-known for their gorgeous harmonies, there was plenty of that too. Hahn, Rice and Kelcey Ayer showcased their pristine vocals on a beautiful cover of Kanye West's "Ultralight Beam."
Coachella performing artist Sofi Tukker stepped in for the bubbly "Dark Days" duet, which featured Nina Persson of Swedish pop-rock the Cardigans on the original recording. Tucker's husky timber paired nicely with the angelic falsettos of Local Natives.
While most of the set had a plaintive and sentimental feel, there was also time for some good old-fashioned fun. After asking the crowd if they were ready to dance, Rice headed out into the audience for "Villainy," a song that features synth swirls, catchy percussion and those resplendent harmonies.
Local Natives also played brand new track "I Saw You Close Your Eyes," which when hitting the web a few weeks ago was accompanied by explicit instructions to "position your head about 12 inches from the screen and close your eyes when you're ready to listen." A catchy bassline powers this groovy tune and instantly had the avid crowd swaying along.
After sharing that he used to sneak into the Empire Polo grounds for Coachella in his high school days, Rice and the rest of the guys dipped back into their 2011 catalog for "Who Knows, Who Cares." Local Natives also treated fans to "Wide Eyes" off 2009's debut album Gorilla Mano and returned to that effort for the finale as well.
Closing out with "Sun Hands" seemed apropos considering the thousands of fans with their hands held high in the festival sunlight.
I want to lift my hands towards the sun
Show me warmth
Baby, won't you show me warmth again?
And when I can feel with my sun hands
I'll promise not to lose her again
And even if the morning never comes
My hands are blessed to have touched the sun