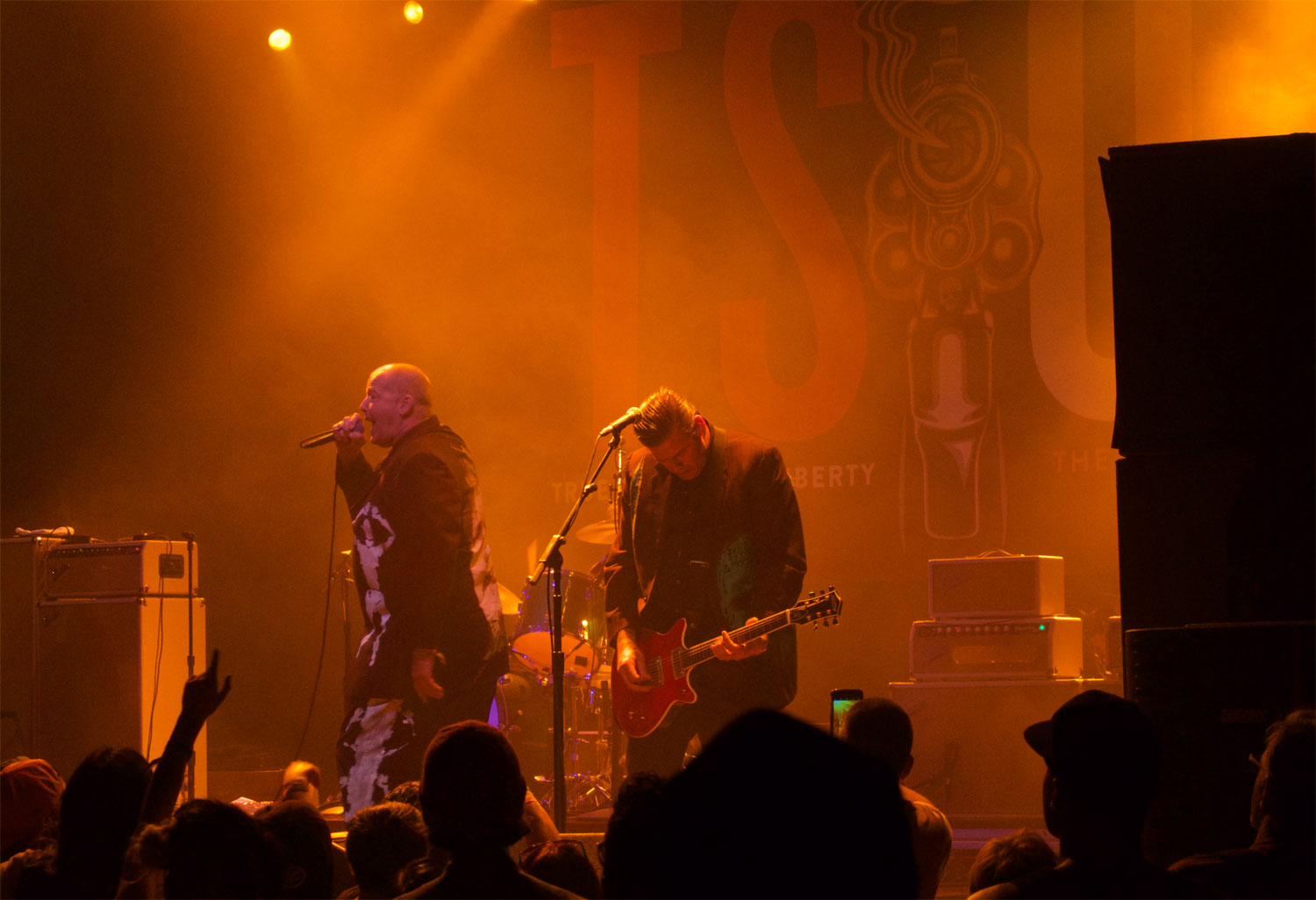 Long Beach, California punk stalwarts T.S.O.L. (True Sounds of Liberty) actually played one of Golden Voice's first-ever shows back in December 1981, but it wasn't until last weekend that they appeared on its famed Coachella festival bill.
Nearly four decades into their storied career, it came at an exciting time as the band released new album The Trigger Complex late last fall. With their 11th studio album and their first since 2009, T.S.O.L. set out to make a throwback album — something that reminded them of the punk music they loved when they first started out.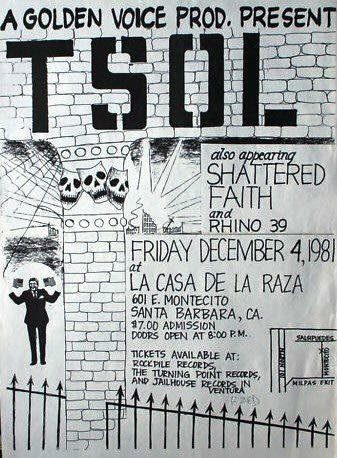 "What we were trying to get was what excited us when we started playing," shared guitarist Ron Emory.  "It was Generation X, it was the Damned, seeing the Ramones. They were just stripped down and they kind of had their thing that they do. So The Trigger Complex is a very different record for T.S.O.L. but at the same time, it falls right into place with everything we've ever done. It's a unique thing that is mostly major chords, there's a couple of minors every once in a while. There's definitely no weird chords like I usually play, but somehow it manages to still works out where it sounds like where it should be. Stripped down, simple, back to our roots, just thinking of Generation X and that first record  — it was so great and so tight and so straightforward, and so good. We tried to get that kind of vibe."
Taking the Sonora tent, an air-conditioned venue dedicated to six-string acts, T.S.O.L. kicked off the Sunday night set with "Sounds of Laughter," an oldie off 1981 full-length debut Dance With Me before launching into the first four tracks off the new album in the same order they appear — "Give Me More," "Sometimes," "Superficial" and "Satellites."
Of course, punk diehard enthusiasts began taking each other out and stirring up a mosh pit before Ron Emory had even finished hitting his first chord on his Gretsch White Falcon.
Fans shouted early-on and often for "Code Blue." Singer Jack Grisham reassured them they wouldn't leave the venue without playing that staple. But "not now," he said.
Instead, Mike Roche ripped into the thundering bass line for "World War III."
There were times when the set was sloppy and various T.S.O.L. members would cop to "f**k ups" and/or start over – but that just made the energetic set all the more authentic and true to form for a hardcore punk show.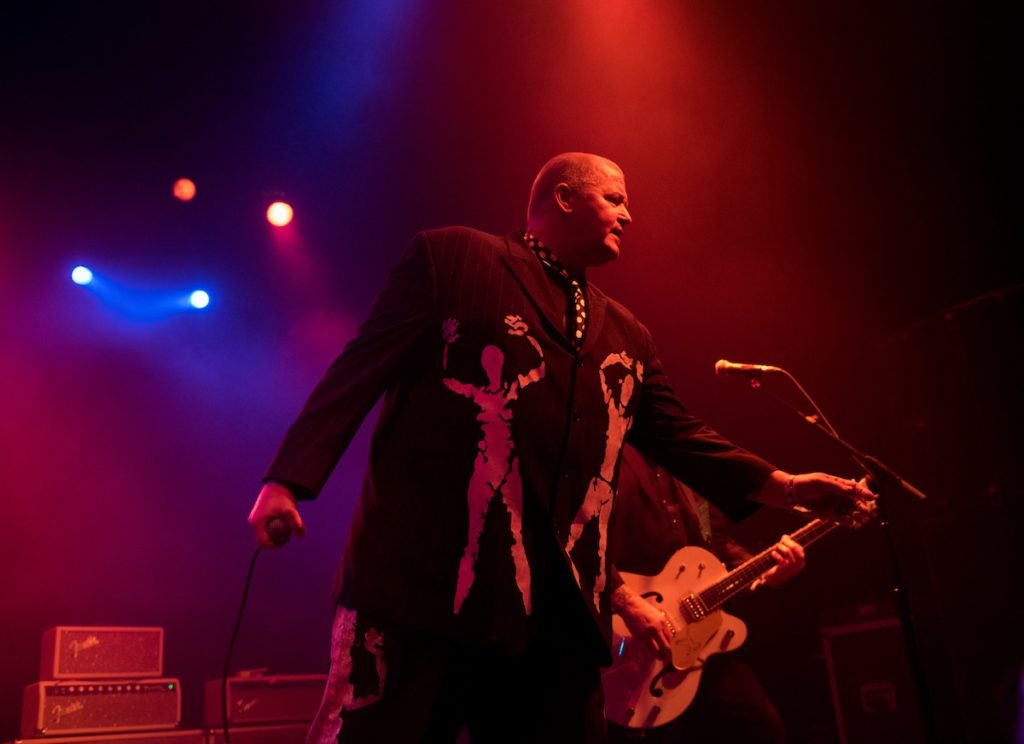 And there were stories, too.
Grisham recalled a pickup basketball game with Snoop Dogg's band during the recording of Trigger Complex that was interrupted when folk singer Jon Fogerty obliviously parked a "Corvette or some small sporty vehicle" in the middle of the court.
"Rap guys don't think like punk guys so they thought I was f'ed up," recalled Grisham. "But I told them that I was going to bounce my balls all the way down that guy's hood."
There was the time when the singer also thought he'd do a solid and volunteer at his daughter's school. His activism came to a swift end when the school assistant read his T-shirt: "F*ck the Police."
However, Grisham showed the audience a hint of his softer side when he shared that his custom-made suits that double as collector's art are put up for auction after every performance and the money raised is donated to his local food bank.
"You can stand up here and say 'f**k the government all you want, but it does not feed a hungry family,'" preached Grisham.
Despite the raunchier and probably best left out of print tales, T.S.O.L. made the back-to-back weekends a family affair. Emory soaked in weekend one with his kids, checking out sets by Lorde and Twin Peaks, while keyboardist Greg Kuehn's son Max of the band Fidlar sat in on drums. Grisham's daughter also made an onstage appearance, but he in jest shamed her with her choice of T-shirts.
"Lady Gaga? I thought I raised you better than that."
And as promised, T.S.O.L. delivered "Code Blue" as the finale, fueling the fired-up crowd to erupt in their most impressive mosh pit of the night, encouraged by Grisham's anthemic line "Cause I can do what I want."