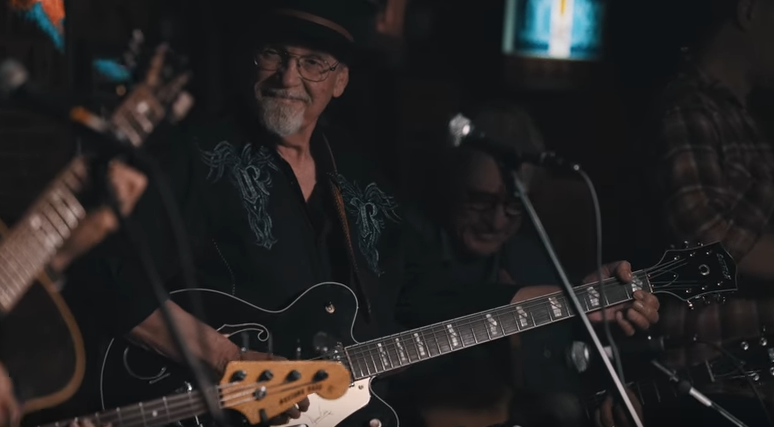 After relocating to Nashville, Tenn., Black Keys singer/guitarist Dan Auerbach founded his own Easy Eye Sound studio and eventually began to write and record his new sophomore solo album Waiting on a Song.
""I mean, there are just so many musicians everywhere — and some of the greatest musicians, that made some of my favorite records of all time," Auerbach told NPR. "I mean that's it. That's why I came here."
Several of those musicians wound up actually playing on the album, including Gretsch signature artist Duane Eddy.
"I met him a few years ago, through a mutual friend of ours," said Auerbach of the King of Twang. "We went out and had lunch, but I really got to know Duane when he first came to the studio, because he walked in and his eyes lit up. I could just tell that he loved being in a studio. So he was one of us, you know?
"So when I started recording last summer he was just here all the time, just playing, just because he wanted to be here. So there's Duane, on guitar and baritone guitar, doing his magic. And then there's people like Gene Chrisman on drums, who played the drums on 'Natural Woman' by Aretha Franklin and 'Son Of A Preacher Man' by Dusty Springfield. And 'I'm In Love,' by Wilson Pickett. And then Bobby Wood, who played on 'Sweet Caroline' by Neil Diamond and 'Suspicious Minds' and 'In The Ghetto' by Elvis, he's playing Wurlitzer. And it's just, the room is filled with all of these incredible people."
Auerbach and Friends recently performed live at the Historic Station Inn in Nashville, and you can watch the talented group run through "King of a One Horse Town" below.