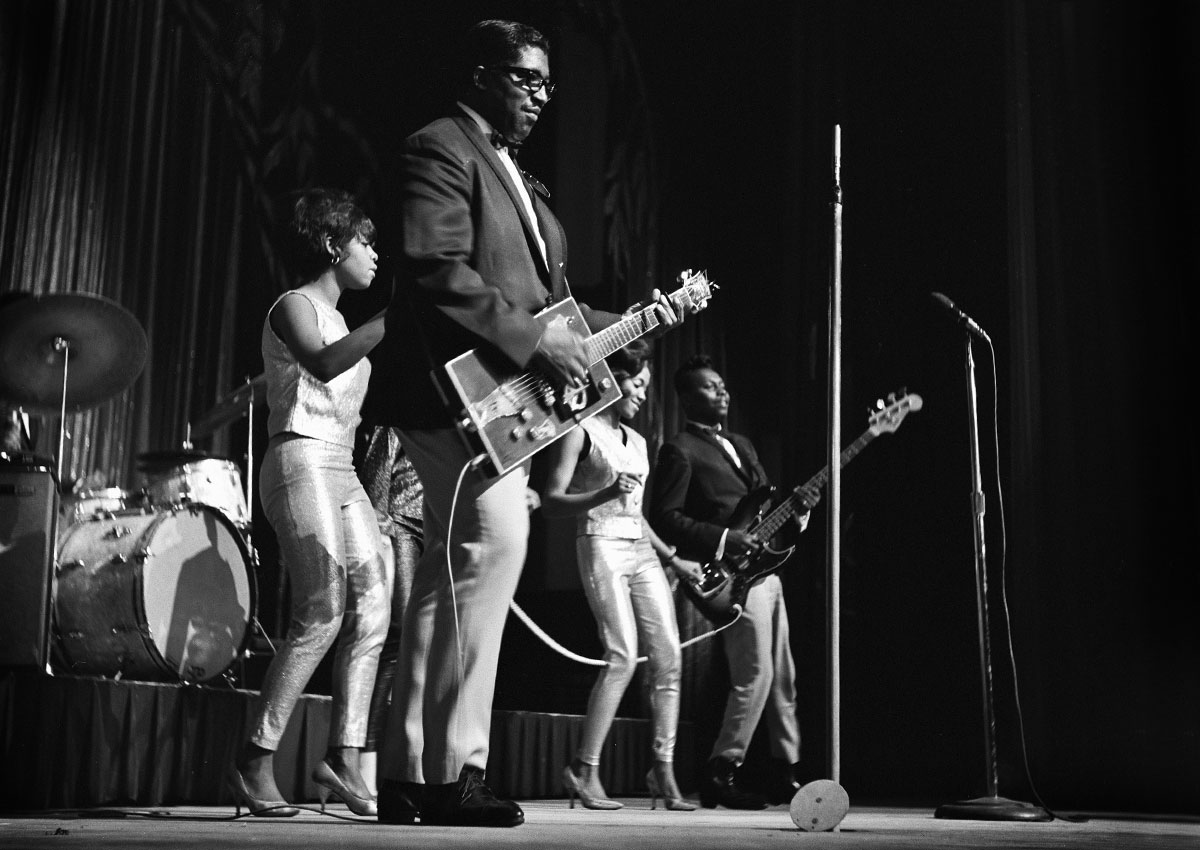 The late legendary guitarist Bo Diddley was pivotal in the transition from blues to rock and roll in the '50s, influencing countless artists including Elvis Presley, the Beatles, the Rolling Stones, Tom Petty, and more. Diddley's influence didn't stop at just music though, as the pioneering picker's incredible instruments were just as important as his innovative beat.
Guitar Aficionado magazine's February issue recently recognized these contributions by taking a look at a few of Diddley's most "Bo-Dacious" guitars including the Gretsch G6138 Bo Diddley and G6199 Billy-Bo models.
Author Chris Gill met up with former Bo Diddley band member Charles Tona to explore the origins of the revolutionary rocker's uniquely shaped guitars. Tona had joined Diddley's band in the 1990s and was gifted a number of his bold guitars before he passed away in 2008 including the original "cigar box" guitar which Diddley hand built himself after his favorite '57 G6131 Jet Firebird was stolen.
Shortly after, Diddley contacted Gretsch's Giuliano Balestra from their Brooklyn, New York factory and had him build three additional square shaped guitars that were more refined versions of his "cigar box" design.
"Fred Gretsch personally gave that guitar to Bo," Tona recounted to Gill. "Bo originally came up with the rectangular body shape [G6138] because he wanted to reduce the guitar to just the strings and a piece of wood. He wanted to keep it simple, and he wanted something that wouldn't get in his way while he performed."
Diddley also had Balestra build a modified version of his famous Cadillac model with short, blunt horns that he ended up calling the Jupiter Thunderbird. This wildly distinctive guitar eventually found its way in to the hands of Billy Gibbons of ZZ Top and became the basis for our G6199 Billy-Bo model.
"After using the guitar to record a ZZ Top album, Gibbons fell in love with the guitar but was hesitant to bring the real deal on the road," wrote Gill. "Instead, he approached Gretsch about building a reissue. The result was the Billy-Bo Jupiter Thunderbird, which shares both of their namesakes."
Read more about Diddley's impressive guitars by picking up the latest copy of Guitar Aficionado HERE.