July 12, 2018
By Sara Norton
---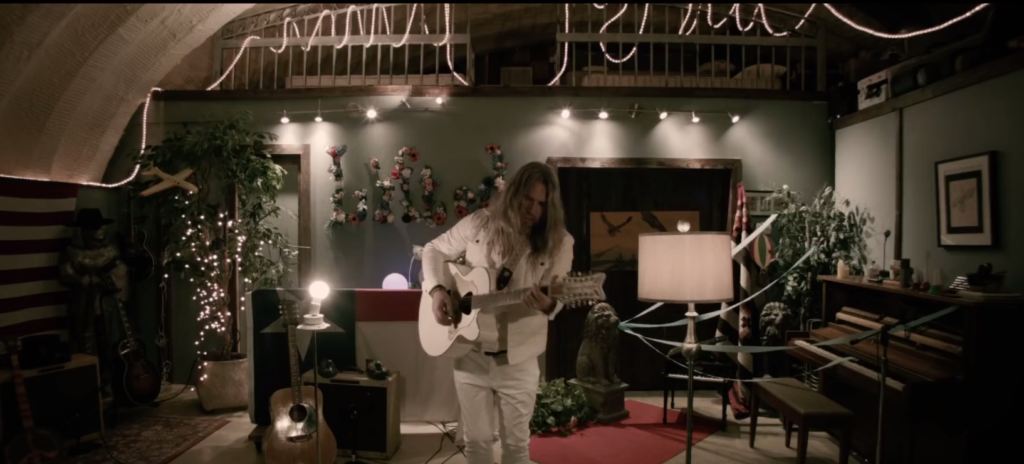 As fans eagerly await July 27's album Lifted from Israel Nash, the Texas-based troubadour continues to tide them over with fresh cuts from the effort — first with a stream of lead single "Rolling On," then an official music video for "Lucky Ones" and now another audio stream of "SpiritFalls."
In the Cameron Ford directed music video for "Lucky Ones," Nash dons an all-white suit with a pair of goggles and takes the viewers hunting around his Dripping Springs, Texas ranch as he plucks sounds from a field of wildflowers or in a rocky wash with his recorder.
The pulse of the raw Texan nature around Nash's home is mixed brilliantly with polished studio recordings, resulting in a rugged bohemian anthem encouraging listeners to nurture a relationship with their surroundings.
"'Lucky Ones' is a song about everything being connected: People, nature, the whole thing and beyond," Nash told Glide Magazine in a recent interview. "I wanted the video to illustrate those vibes I feel when I'm here in my place. On the ranch, with my family and my studio, Plum Creek Sound out here in the Hill Country, where I live and create."
In the hippie-psychedelia jam "SpiritFalls," Nash wraps the listener up in blend of wavy vocals, lulling guitars and environmental imagery. The new single beats in the same vein as the previous ones, as he encourages his audience to establish a relationship with nature and embrace their role in the world that surrounds them.
"From the big sun in the sky all the way down here to the live oak trees, we're not only connected but ultimately dependent on the things around us," said Nash in an interview with Broadway World Music. "We might be small in this whole big picture, but we're not meaningless. We're here, altogether, just open up the eyes and see the beauty that surrounds you."
Stream "SpiritFalls" here, and check out the music video for "Lucky Ones" below, featuring Nash with his Gretsch G5022CWFE-12 Rancher Falcon Acoustic/Electric 12-String, a guitar as ethereal as his suit.