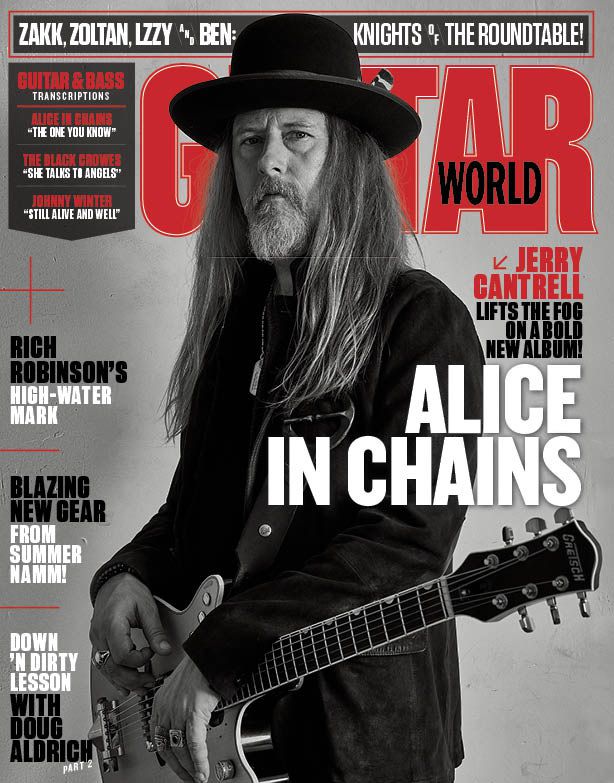 .
Alice in Chains guitarist-songwriter Jerry Cantrell graces the cover of Guitar World's October issue, along with his G6131MY-CS Custom Shop Malcolm Young "Salute" Jet™.
Inside the issue is a lengthy interview with Cantrell as he discusses the band's approach to writing recently released sixth album Rainier Fog.
"I throw a ton of shit up against the wall, and then I pick out the best pieces and string them together," said Cantrell of his writing style. "I'm actually much more of a writer than I am a free-form-solo guy."
The recording process for Rainier Fog planted Alice in Chains in familiar soil. The majority of the album was recorded at Studio X in Seattle, the same studio that produced the band's 1995 self-titled album.
"It's nice being home," shared Cantrell. "We are good wherever we record, but Studio X is a part of our story. It's the hometown [studio]."
Cantrell also found a match with his new Malcolm Young Salute Jet.
"My buddy Mike Tempesta (Artist Relations) got me one of those Gretsch Malcolm Young tribute replicas; I use that on 'Maybe,' and I think on 'Fly' and one or two other songs," said Cantrell. "That guitar has great fucking tone."
Visit newsstands to pick up your issue or subscribe online here, and check here for tour dates.