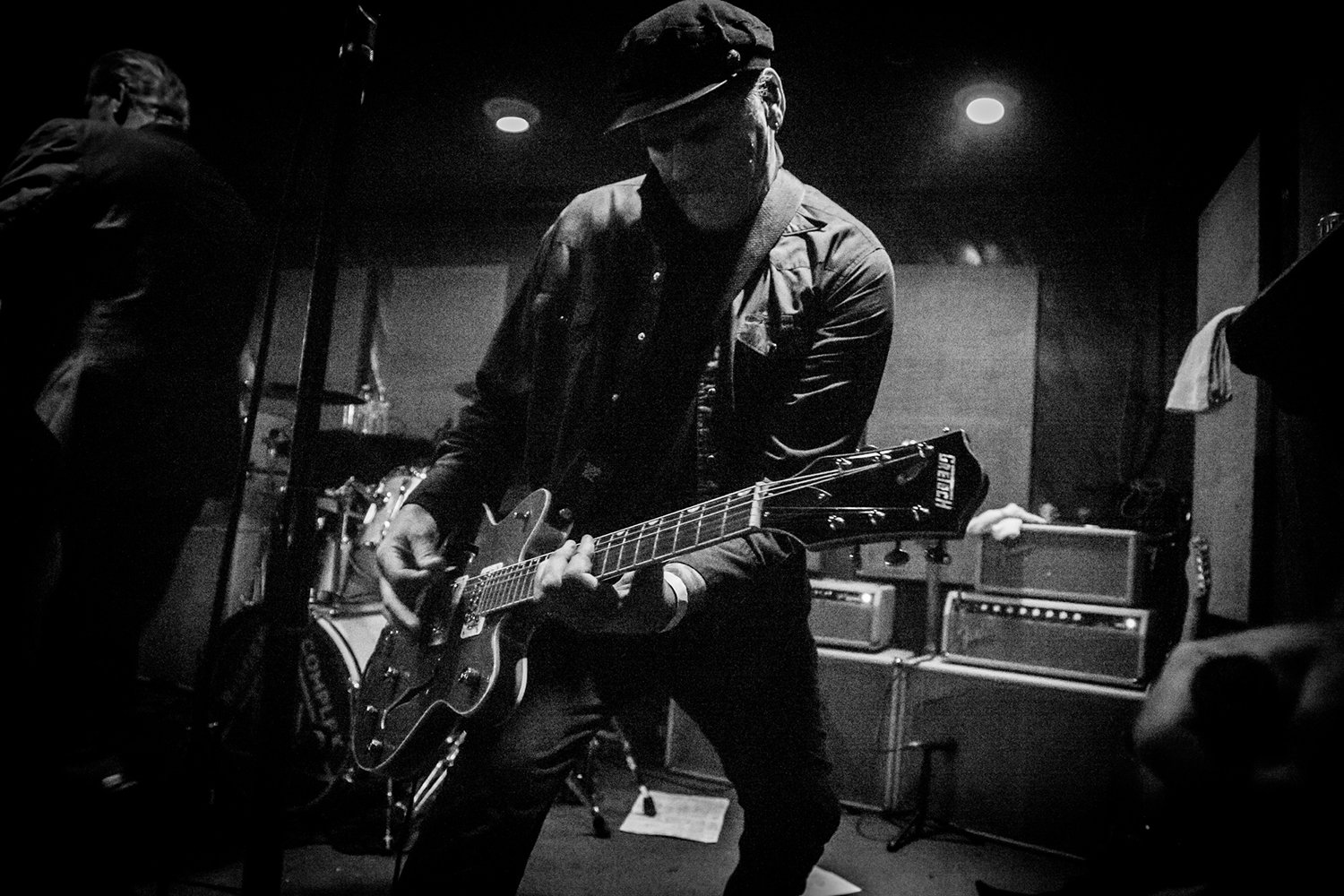 "When I put one of those big [Gretsch] hollow bodies on, it's making a statement," said T.S.O.L. guitarist Ron Emory in a new Gretsch video. "And plugging them in, it's different. My band loves when I play them."
Emory's history with Gretsch dates back to his teen years when he was first smitten by the playing of Eddie Cochran, whose grave at Forest Lawn in Cypress, Calif., he would hang out at with friends.
"On his gravestone, there's an etching of Eddie and a guitar," recalled Emory. "Of course Gretsch is a very popular guitar with rockabilly – you've got all the greats from the past like Cochran who played them originally— and they do get a fantastic sound for rockabilly. But, they are rock and roll guitars all the way. I mean they are absolutely rock and roll guitars."
Over the last 40 years, Gretsch guitars have been right at home with Emory on stage with his punk rock band, starting with his initial purchase of a Corvette.
"It was a '62 or '63 Gretsch Corvette," said Emory. "I couldn't tell you where I got it. It was probably out of the newspaper and it was probably really cheap. It was very simple — it had a pickup and two knobs. It was a fun guitar and was very unique looking."
Another Corvette served him up parts that he used to even build his own Gretsch after being inspired by rock and roll pioneer Bo Diddley.
"Bo Diddley had these crazy cigar box-shaped guitars that Gretsch made for him so I decided to make myself a Bo Diddley guitar," revealed Emory. "I got another Gretsch Corvette. I took the neck off of it and pickups out of it. I made myself a single pickup Gretsch Bo Diddley guitar."
As chance would have it, Emory later met the inspiration behind his guitar backstage at The Music Machine venue in Santa Monica, Calif., and took the opportunity to get his guitar signed.
"I hand [Diddley] my guitar, asked if he would be kind enough to sign it," says Emory. "I gave him the marker, and he wrote 'The Man, Bo Diddley,' really pretty, really nice."
Unfortunately, a relationship gone sour resulted in a storage sell while Emory was out on tour with T.S.O.L and all he has left is a photo of the autographed guitar. Fortunately though, he's continued to find other Gretsch models that have inspired him — from Falcons to Anniversary models to Silver Jets.
"I went on to appreciate the clarity of the Gretsch sound," he said. "The pickups have such a unique high end where it just punches through but you still have that low-end grind on them. I know some of the older hollow bodies were a bit hard to control but if you set your amp up properly you could get some really unique sounds through them."
And as Gretsch has progressed, Emory has found that the newer models are really something special.
"The Falcons, the hollow bodies, the new pickups break up really good, and really clean," said Emory. "They've got these great, great highs and bright tones, but what's great about those particular guitars is with the master volume you can control the amount of gain and output and you can really get some really nice overtones. I use multiple amps and kind of split them up stereo so you can get these really cool harmonic feedbacks that you can't get with any other guitar. I couldn't get it with a Gibson; I couldn't get it with anything else."
Watch more from our in-depth interview with Emory below, and to keep up with all things T.S.O.L, be sure to give them a Facebook follow.