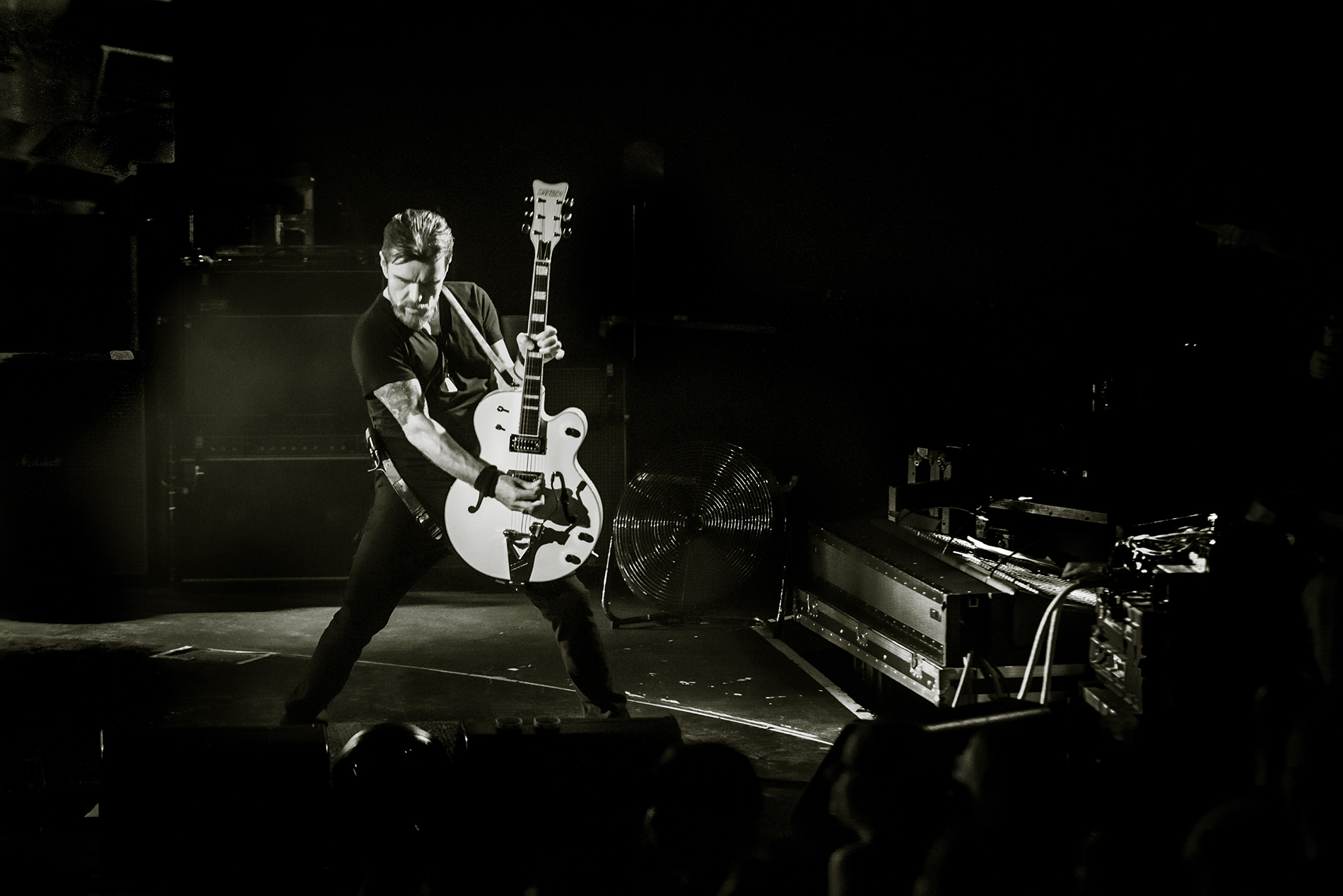 For the magazine's September issue, Guitar Player's Jude Gold caught up with The Cult's Billy Duffy to discuss the Aug. 30th re-release of Sonic Temple and supporting tour.
"It's been 30 years since the Cult released Sonic Temple, their fourth album," wrote Gold. "Powered by Billy Duffy's bigger-than­ Beethoven guitar themes and Ian Astbury's mystical, soaring lead vocals, the record went Platinum by winning over both traditional hard rock fans and alt-rock/pre-grunge fans alike, and, to celebrate, the Cult are hitting the road. Their aim is to transform each concert venue they hit into – to quote the name of their world tour – A Sonic Temple."
Invited to watch the band rehearse for the tour, Gold cataloged Duffy's stage gear, which of course included his Gretsch White Falcon.
"I got my original Falcon from a guitar shop in London – we ordered it from America – and now people love to see that guitar," said Duffy. "I think it gets a bigger round of applause than I do!
"It was the end of the '70s, punk was kind of fading, and we were all looking for guitars that would give us different sounds because you couldn't really outdo what heroes like [the Sex Pistols'] Mick Jones were doing with a Les Paul. So I got into the Gretsch look. Plus, I wanted something that behaved a little differently, spatially. I needed to make as much noise as possible with a guitar."
Duffy also reflected on the role his famed raptor played in achieving the textures found on the album.
"There's a lot of Les Paul on the album, but there's quite a bit of Gretsch, too," noted Duffy. "AC/DC did that in a great way, with Malcolm Young on the Gretsch and Angus on the Gibson, and in one sense that's what I was going for, but with a lot more layers."
So, what's next for Duffy after The Cult – A Sonic Temple triumphal world tour wraps up?
"[There's] this new Gretsch Players Edition-based G6228 I'm using that will hopefully become a new signature model of mine," said Duffy. "I'm working with TV Jones to create a special pickup for it. It's got a bit of balls to it and it's a great hallway point between the Falcon and a Les Paul."
Grab the September edition of Guitar Player for the full interview with Duffy, and catch The Cult on tour here.