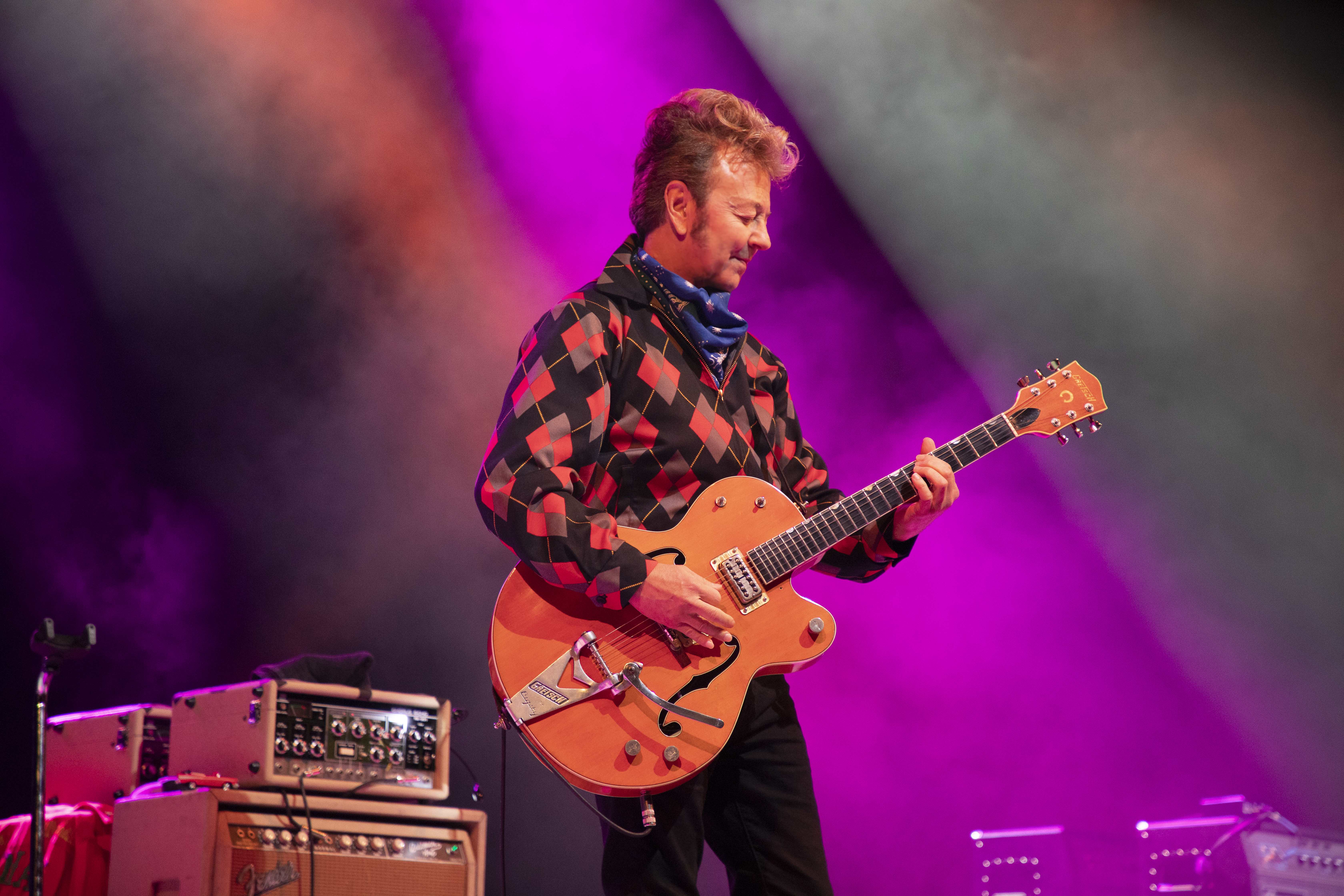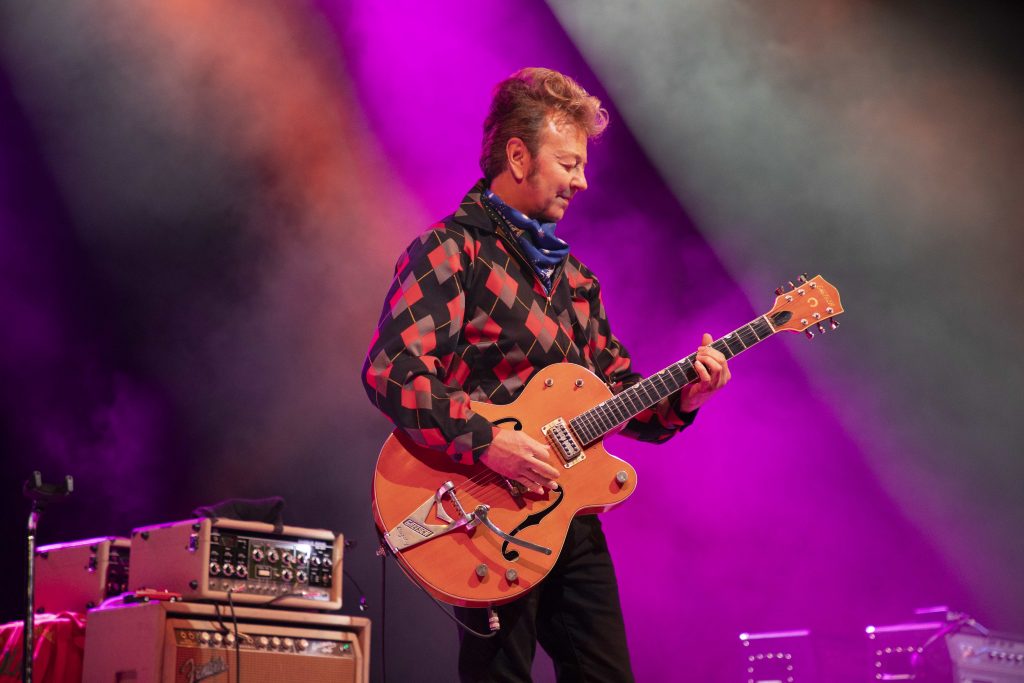 Famed luthier and pickup guru Tom "TV" Jones and Brian Setzer guitar tech Tyler Sweet discussed the legacy of Stray Cat frontman's famed Gretsch guitar "Smoke" in an exclusive behind-the-scenes interview.
"Over the years I have worked on many of Brian's guitars," said Jones. "But this guitar, Smoke, I have worked on five times as much as all the rest. It's been to four of my shops; I've moved several times. It's been in my shops a lot. I've sweat over this thing; I've bled over it. My DNA is all over this thing, and so is my heart and soul."
After retiring his original Gretsch G6120 '59 model "Stray Cat," which appeared on the cover of the Stray Cat's eponymous debut album and was also used to record the band's next two albums, Setzer acquired the famed G6120 '59 "Smoke."
"Brian's former tech Rich brought the guitar in [to my shop], probably '97, and on the case was tape that said 'Smokin,'" noted Jones. "And I said, 'What does that mean?' And he said, 'This guitar smokes, man.' So, the first year or two it was called 'Smokin' and it evolved. I looked through my journal notes … and a few years later it was called Smoke."
Jones made several modifications to the instrument, including redesigning the original headstock and removing the zero fret. He also refretted the instrument to have 9.5"-12" compound radius.
"The good thing about the bridge we are using, each string is able to have its own height so I can easily adjust it," said Jones. "The whole reason for this is so the guitar plays evenly all the way up the neck."
Smoke has been Setzer's number one for over 20 years now, and has sure made Sweet's job pretty easy over the last decade plus.
"This is year 13 [for me] with Brian, and Smoke has been here with me the whole time with me and has never broken a string!" Sweet shared in the video below. "I have had maybe one or two small issues with the guitar."
Sweet also revealed that Setzer rarely changes strings.
"Brian doesn't change strings a lot anymore, he likes old strings," said Sweet. "I don't do a lot of string changing anymore, only when absolutely necessary. A few years ago, we were doing a Montreal Jazz Festival. The guitar had been sitting for six months and the strings sounded really, really dead.
"Basically, the gear came to the venue very late and I didn't want to take a chance of changing the strings and having him make a maneuver that would be different than my stretch technique. To stay off nationwide television [without an issue], I decided to leave the strings the way they were. He played ['Smoke'] throughout the whole show, it stayed in tune the whole show at the Montreal Jazz Fest. After the show, he asked me 'Ty, what did you do with the guitar?' and I said, 'Absolutely nothing.' And he said, 'Don't change strings ever again unless you really have to,' so I don't! This guitar stays close to around 100 percent in tune. He could play this guitar the whole show; it's so worn in and perfect that it comes back to me at minimum 98 percent."
And now fans of the Stray Cats, Setzer and Smoke can enjoy a piece of rockabilly attitude themselves with the new G6120T-BSSMK Brian Setzer Signature Nashville Hollow Body '59 with Bigsby — a recreation of the electrifying instrument that hosts the same vintage appointments and rock 'n' roll attitude as Setzer's Smoke, including its 9.5"-12" compound radius, which is the first Gretsch production model to feature a compound radius fretboard.
Watch Jones and Sweet in the full interview below to learn more about the quirkiness and magic of Smoke.