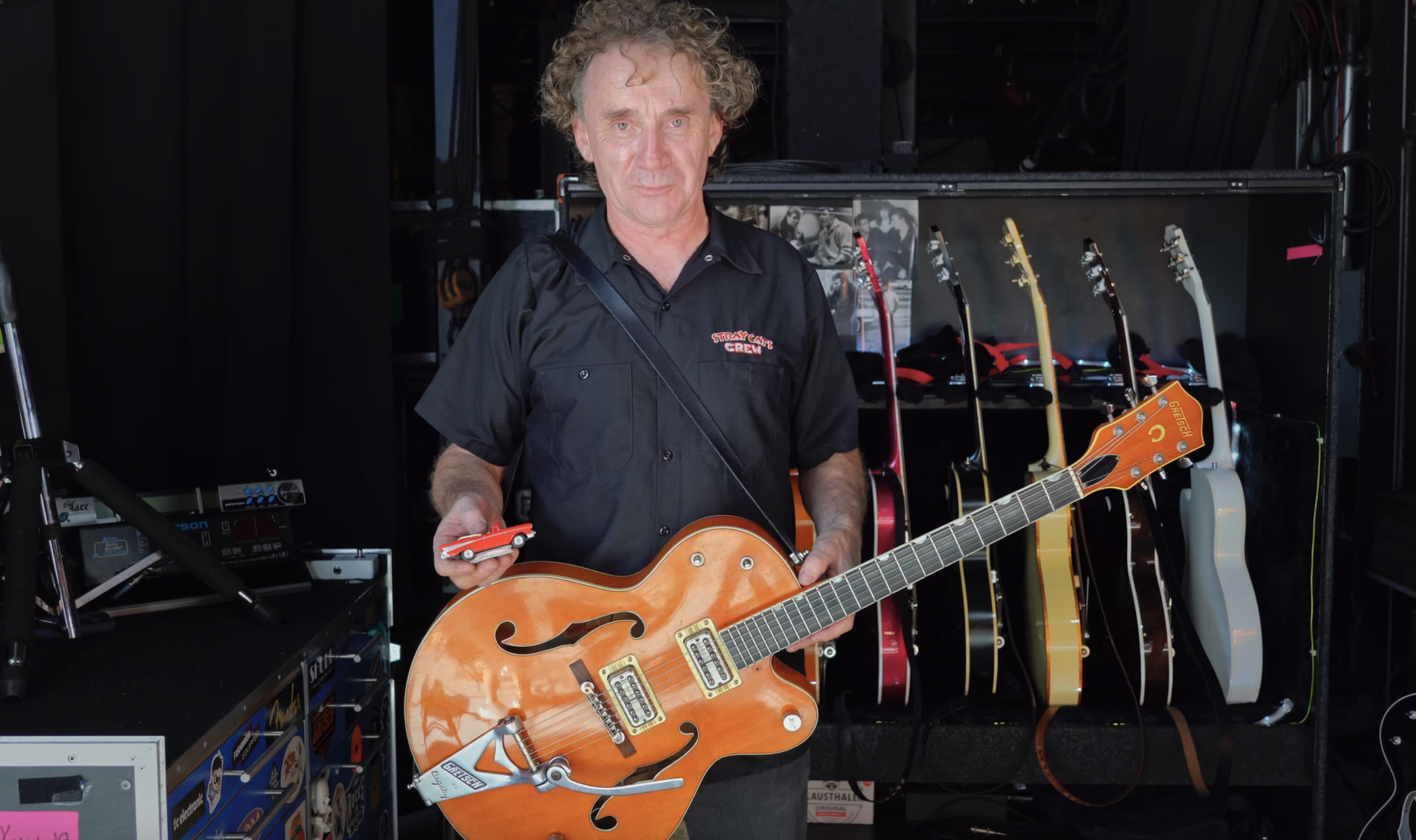 Brian Setzer's guitar tech Tyler Sweet showed off the rockabilly legend's eccentric touring rig of Gretsch guitars in an exclusive behind-the-scenes video during the Stray Cat's 40th anniversary tour. At the time, Setzer's rack was loaded with several of his custom 6120 models, like the flashy "Spotty," the crowd-favorite Smoke guitar and a can't-miss sparkle finish.
"This is one of Brian's favorite guitars, it's a 2011 Hot Rod in Green Sparkle," said Sweet. "It's stocked with TV Jones classic pickups, like most of his guitars. We use this for a few songs in each one of the sets between the Stray Cats and his other band Rockabilly Riot."
Setzer's Spotty guitar made the leap from center stage to the big screen in the Disney movie The Country Bears, in which Setzer performed his original number "I'm Only In It For The Honey."
"This is, what I call the leopard guitar but it's [actually] called the country bear," said Sweet
Sweet also explained that Setzer's go-to number one guitar, the famous orange stained Smoke, developed such a cult following that they used to hire extra security on certain tour dates.
"We used to have security just watch this guitar," Sweet said about the famous model. "We would have security for an all-day watch. It's a beautiful instrument."
Sweet also wheeled over Setzer's amp rig, consisting of a Fender Bassman 6G6B circuit with a Roland RE-301 Chorus Echo.
"I have seven of the [Fender Bassman 6G6B circuts] with me on the road and three [Roland RE-301 Chorus Echo]," said Sweet. "If you want to try and recreate the sound, go get yourself a Fender Bassman and RE-301 and good luck!"
And what's with the slick little red convertible atop Setzer's rig?
"This little car is my good luck charm that I put on top of Brian's amp all the time," explained Sweet. "He actually has a '57 convertible. So, I figured one day I'd put this up there and see if he gets it. He got a good chuckle out of it, and it goes up there every night."
Enjoy this close look at Setzer's touring rig below.