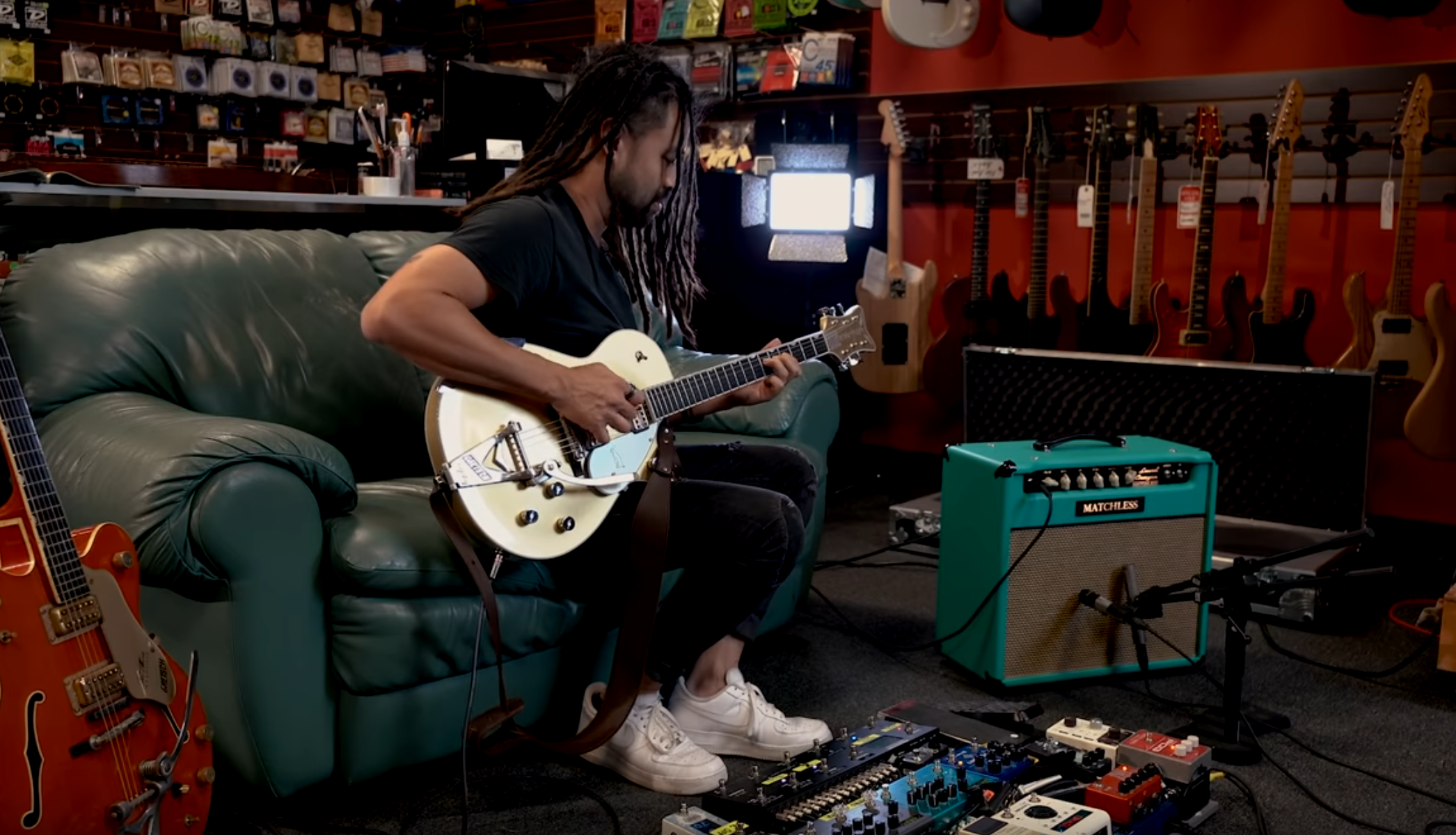 Hillsong Worship guitarist Nigel Hendroff gave the team at 440 Sound in Atlanta, Ga., a close look at his Gretsch G6134 Limited Edition Penguin in Casino Gold during a half-hour video interview.
"It's got that chime to it!" said Hendroff as he played a couple licks on the Gretsch. "I love it. I like the bite the Gretsch has. I like the warmth of the neck pickup. The middle pickup has a really nice jangle to it. Obviously, the bridge pickup, just rock and roll."
Hendroff also explained his pedal board and creative writing process before touching on how his early days of performing in jazz clubs around his hometown in Perth, Australia, fine-tuned his guitar skills.
"To be honest, I never set out to be a 'worship' guitarist," said Hendroff. "I was playing in pubs and clubs from the age of 13. My mom used to drive me down to this place by the water back in Perth. Every Friday night I'd do a jazz gig … and that's where I cut my teeth in learning guitar, figuring out the instrument and playing in bands."
After a few years traversing the club circuit, Hendroff discovered a new calling in his musical journey once he started attending church with his family.
"I heard the worship team there and I was like, 'What's this?' he recalled. "The music didn't sound really good; it was out of tune. After a while, I felt like God opened me up spiritually. It was like listening through the bad notes but hearing the sound of worship. And from that point on, I was sold on it."
Hendroff made it his mission to bring his love of guitar and performance to his church and inspire fellow worship musicians to strive for excellency when approaching their instrument.
"I wanted to bring all that knowledge I gained from [playing clubs] to church and help church musicians become better," he shared. "I figured the platform of God is holy and God deserves our finest. So, I wanted to help encourage and inspire musicians to bring their best because we serve an excellent God who deserves our best."
To finish out the video, Hendroff continues to put his Penguin through the paces with another twelve minutes of playing. Watch Hendroff in the full interview below and follow Hillsong Worship for more music news and announcements here.