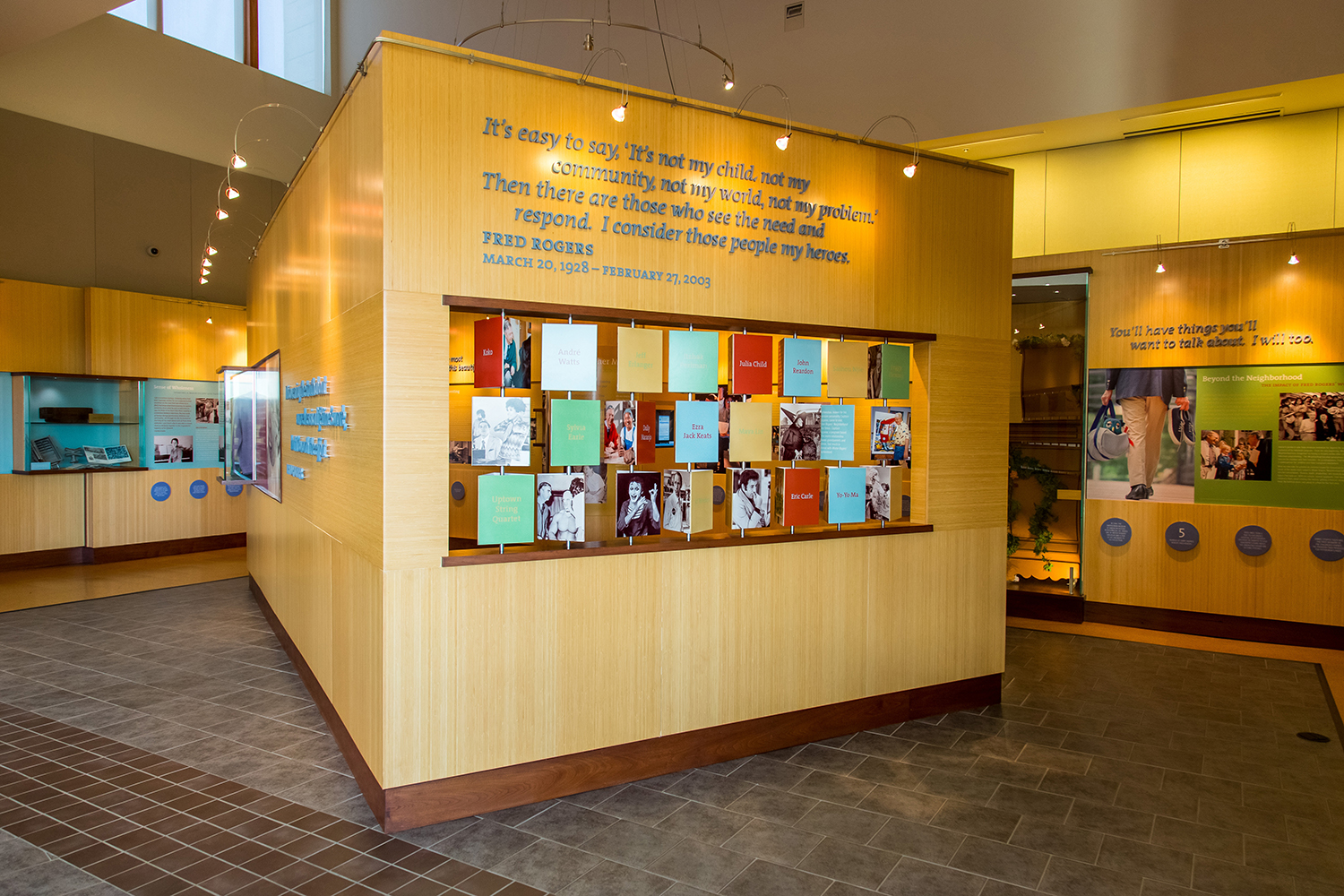 Through a generous grant from Fred and Dinah Gretsch and the Gretsch family, The Fred Rogers Center for Early Learning and Children's Media at Saint Vincent College is pleased to announce the establishment of the Gretsch Fellowship in Children's Music at the Fred Rogers Center.
"Dinah and I have a guiding belief enriching lives through participation in music and we can think of no one who exemplified and lived that principle more than Fred Rogers," said Fred Gretsch, CEO of Fred Gretsch Enterprises. "Our family is honored to further the work of the Fred Rogers Center through the Gretsch Fellowship."
This endowment will allow The Gretsch Fellow in Children's Music to conduct research and develop best practices in music experiences for children within the ethos and vision of the Fred Rogers Center and its mission "to help children grow as confident, competent, and caring human beings."
"We extend our appreciation to Fred and Dinah Gretsch for their sponsorship of this new fellowship program," said College president Father Paul R. Taylor, O.S.B. "This partnership provides a fantastic opportunity for professionals to engage in rigorous academic research, while building upon a set of shared beliefs in the importance of music in the development of young children. The Fred Rogers Center, with its consistent history of excellence in the field of child development, is once again on the cutting edge of research for the benefit of children. We are excited to begin this fellowship in the fall and look forward to a continued friendship with the Gretsch family."
"We are grateful for this opportunity to bring a musician/scholar as a Fred Rogers Fellow to the Center to explore the materials in our Archive and to study the many ways that Fred Rogers used music to connect with children about really important things in life," said Dr. Roberta Schomburg, executive director of the Fred Rogers Center. "Fred's concern for children's feelings was evident in the songs he created for "Mister Rogers' Neighborhood." His love of music and his understanding of children went hand in hand as he created songs that have touched the lives of children and families for fifty years."
With this announcement and in keeping with the Gretsch tradition of excellence, the Fred Rogers Center at Saint Vincent College is recruiting talented professionals for the program, with the expectation that each successive Fellow will significantly advance the quality and profile of the program. Applications are now being accepted at www.fredrogerscenter.org.
A musician with notable credentials in scholarship, education, or a related background will be considered and, to align with Gretsch's focus, a special invitation is offered to guitarists and drummers, but all musical backgrounds will be considered. One Gretsch Fellow will be selected, with the fellowship beginning fall 2020.
During the two-semester appointment, a Gretsch Fellow will be expected to conduct research in the Fred Rogers Archive and prepare a scholarly whitepaper, journal article or other scholarly product related to children and music. Topics of study will vary depending on a Fellow's area of expertise and may include, for example, research on Fred's methodology for integrating music in "Mister Rogers' Neighborhood," observations of children learning and performing music, and studies of effective methods for musical instruction. The Fred Rogers Center also has the capacity to support a "virtual" Fellow to facilitate participation by academic faculty; preschool, kindergarten, and elementary teachers; music educators; and others who may not be able to maintain a physical presence on the campus during both semesters of the appointment.
A passionate musician, Fred Rogers believed that music was critical for the social and emotional development of young people. In a July 22, 1999, interview for the Archive of American Television, Rogers said of music:
My first love is music. It is a unique way for me to express who I am and what I am feeling. Music was always my way of saying who I was and how I felt. I was always able to cry or laugh or say I was angry through the tips of my fingers on the piano. I would go to the piano even when I was five years old. I started to play how I felt. And so it was very natural for me to become a composer. Having written all of the music for the Neighborhood I feel as if that's one of my gifts to children…There is something very mystical and wonderful about how music can touch us.
"Since my great-grandfather Friedrich Gretsch established his namesake company in Brooklyn in 1883, our family has been engaged in a worldwide community of music makers," Fred Gretsch said. "For generations, we've understood the importance of music education and the more we can learn through research and the development of best practices, the greater the impact we can have on the lives of our children."
For more information about The Gretsch Fellowship in Children's Music at the Fred Rogers Center at Saint Vincent College, visit www.fredrogerscenter.org or call 724-805-2750.