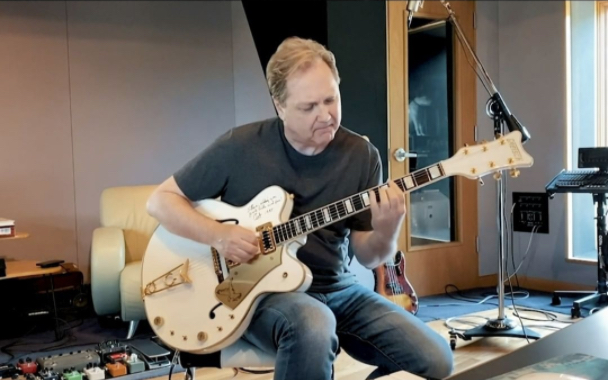 Singer/songwriter/storyteller and multi-instrumentalist Steve Wariner joined Gretsch for #FalconFriday last week, treating everyone to a special story about how he acquired a unique Gretsch White Falcon from the late-great Chet Atkins.
"I was downtown on Music Row in '85 and we had a rehearsal," said Wariner. "I didn't have time to go home and get my guitar. I called Chet and said, 'Chet, I need a guitar!' I go by and he pulled out this White Falcon."
This peculiar White Falcon had been adorned with a plethora of gold knobs and pickup switches along the lower bow.
"I was really a Tele guy at the time, but I took the [White Falcon] anyway," added Wariner. "I did the rehearsal and brought it back to Chet's office. He said, 'Why don't you just keep that? Do you like it? I think that's the most gaudy guitar I've ever seen in my life, take that thing!' I said, 'Sure!' It's a really cool guitar."
Atkins signed and dated the upper horn, and Wariner cherishes his extraordinary bird as a token of their affinity for one another.
"[This White Falcon] is a great reminder and memento of our friendship," said Wariner with a smile.
In another #falconfriday post, Wariner shared the story behind a hidden gem that was only found last week when he took the guitar to be set up.
"I took [this White Falcon] to my great friend Jeff Senn who is a wizard with Gretsch guitars," said Wariner. "He called me and he said, 'Steve, you better sit down because I found something in the pocket of the case you're not going to believe.' He pulled out these pickups. We figured Chet and Shot Jackson were going to put these in this White Falcon at one point. And Jeff figures they are early '60s [models]. They would have been exactly what Chet would have had in his Country Gents."
Later in the day, Wariner also hosted a live session on the Gretsch Instagram and shared a performance of "Wonderful World" with his Falcon.
Watch Wariner in the #FalconFriday episodes below.