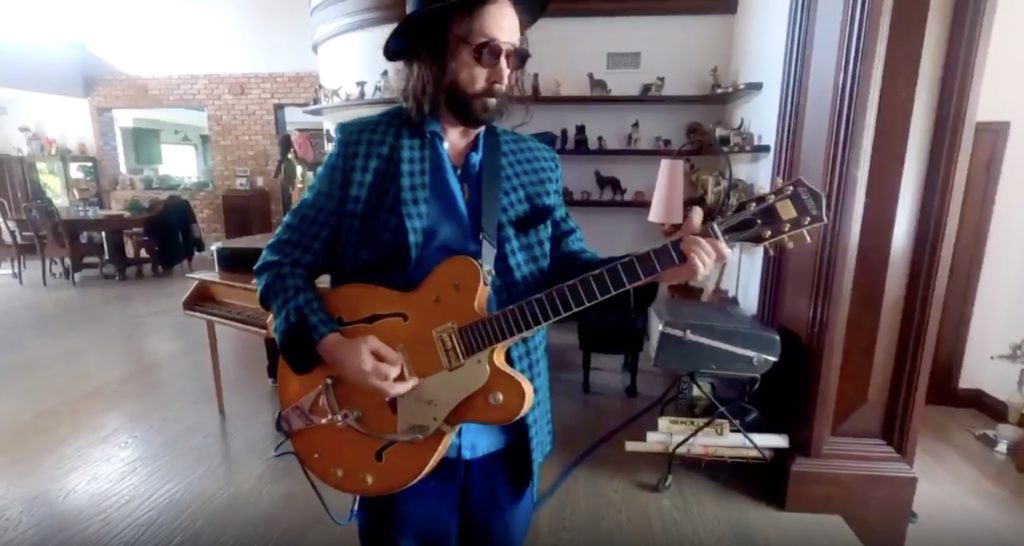 If you're a guitar lover and we'll assume that's a yes given the site you're currently visiting, famed Tom Petty and the Heartbreakers guitarist Mike Campbell is one Instagram account you should definitely consider following.
As he quipped in a recent post, "Welcome to the church of guitar," and that's exactly what you'll experience throughout his feed. Whether posting performances from the bathroom, various rooms in his home or even a simple stairwell, Campbell's guitar collection is worth drooling over. Of course, we're partial to Gretsch, so here's a look back at five of our favorite clips!  
First up, watch as Campbell uses a vintage Gretsch Tennessee Rose™ on "The Lonely Bull," because as he explains, "it lends itself to those deep tones. This guitar is very much like one of George Harrison's guitars!" Campbell also shows his "mojo," good luck charm!
2. Campbell also showed off some serious finesse while he performed a rendition of Duane Eddy's 1958 hit "Rebel-'Rouser" on a vintage Gretsch G6120T-55 Chet Atkins® Hollow Body.
"When I was a kid in Jacksonville, there was a station called WAPE and they played all the hits of the time," noted Campbell. "They played this song all the time, and I fell in love with it. It was one of the first songs I taught myself when I did get a guitar."
3. Campbell also shared the song that inspired him to want a life on the road playing music — the Big Boppper's 1959 hit "White Lightning."
"When I was first learning guitar at about the age of 15, I was sitting on the porch of my duplex and this guy came walking up with black boots, black leather pants and his hair dyed black and greased back like Elvis," said Campbell. "I'm playing guitar, and he said, 'Let me see that thing.' And he showed me ['White Lightning'] and it inspired me to be a traveling musician."
4. Sticking with his vintage Chet Akins model, Campbell also gave a stellar performance of Shirley Bassey's iconic number "Goldfinger."
5. And, last but not least, we loved the talented musician's twangy version of The Rolling Stones tune "Oh Baby (We Got A Good Thing Goin')" off the 1965 album The Rolling Stones, Now! on a vintage Gretsch Jet.
"['Oh Baby (We Got A Good Thing Goin')'] is an old song I like, and we used to play it sometimes with the band," said Campbell.
Pre-order the debut album Reckless Abandon from Campbell's new band the Dirty Knobs here.