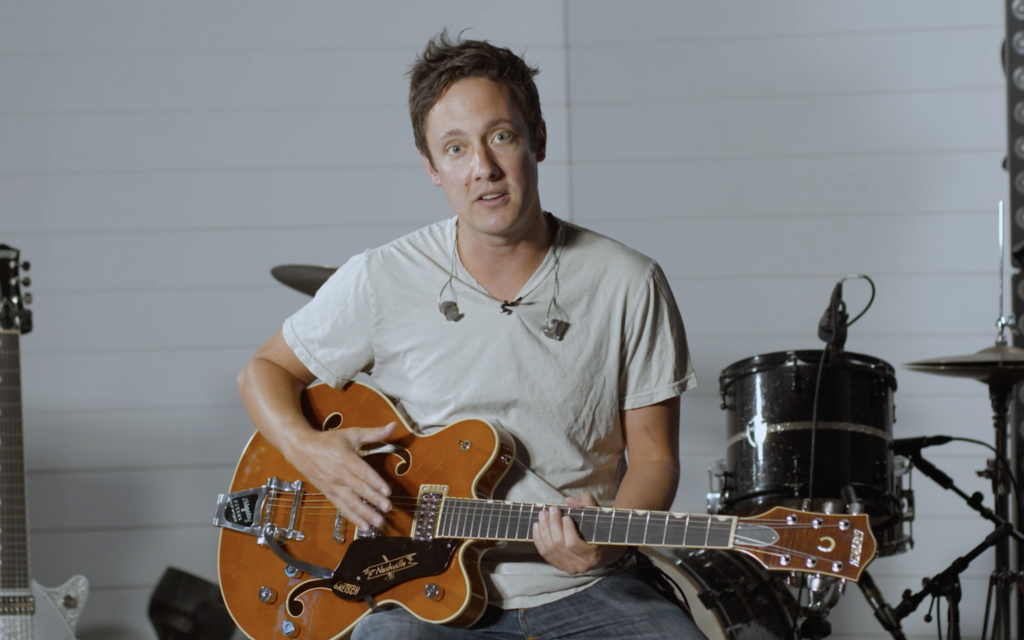 Jesus Culture's Jeffery Kunde put more of his Gretsch collection on full display in recent episodes of Gretsch Tone Tuesday, including an all-new G5655T Electromatic® Center Block Jr., his favorite G6620T Players Edition Nashville® Center Block, his first-ever Gretsch, a vintage G6128T Duo Jet™ and a G9500 Jim Dandy™.
First up, the Electromatic G5655T …
"The G5655T model is a little bit more affordable but doesn't sacrifice on any of the quality," said Kunde of the Electromatic.
The G5655T features a smaller compact body with a chambered spruce center block for greater sonic projection.
"This Electromatic sounds just as good and plays just as good as some of the nicer guitars out there," said Kunde. "This thing is light and compact but still has that huge hollow body sound you want from a Gretsch."
Kunde also gushed on his G6620T Nashville, detailing how the pairing of the center block design and High Sensitive Filter'Tron™ generates a distinct, energetic resonance.
"The G6620T is my favorite Gretsch I have ever owned!" said Kunde. "This guitar is amazing because it has all those qualities of a big hollow body guitar with a more organic tone with that center block going through the body. It produces this really nice warm natural sound that is still very clear. I'm still able to cut through the mix in a full band."
As for his vintage G6128T from the early-'90s, it still has its original pickups.
"It's got sweet Filter'Tron pickups that are aged to perfection now and have a nice smooth but tight sound," said Kunde. "This guitar has been around the world with me on tours and in studios. It's quite beat up by now. But I still love it and play it often."
In his latest Tone Tuesday, Kunde showed off the incredible voice generated by the humble G9500 Jim Dandy™ 24" Scale Flat Top.
"This guitar totally rips for how small it is!" noted Kunde. "It sounds really huge. It's a nice compact size so you can take it anywhere you want, and it's a great fit for most situations."