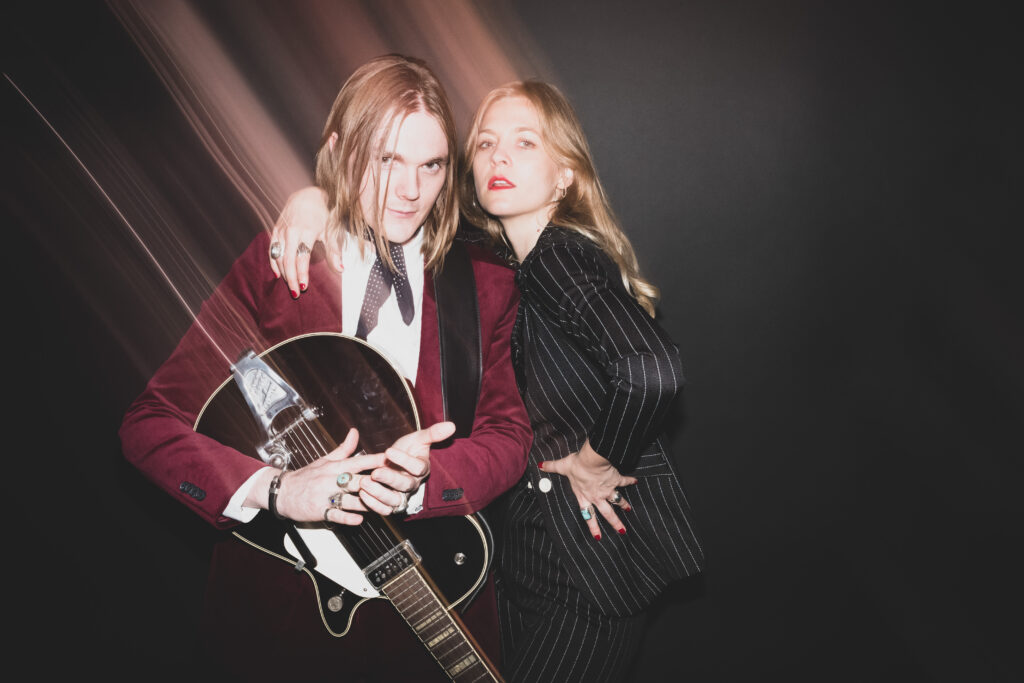 Husband-and-wife duo Ida Mae's sophomore studio album Click Click Domino is set to arrive this Friday, July 16, and we are enjoying all of the goodies they have been trickling out lately — from live performance streams to Chris Turpin's appearance on Premier Guitar's "Hooked" series to the official music video for the album's sweltering title track.
"This was written kind of as a knee jerk song," explain the band's Chris Turpin and Stephanie Jean Ward of the single in a press release. "The unfiltered noise of social media, concerns surrounding social engineering, the lack of emotional connection and physical disconnection gets to all of us. We all know how easy it is to falsify an image, be it in fashion / politics / or any aspect of your everyday and in a lot of people's lives it has become a necessity to play into it. [We] wanted to write the lyrics to 'Click Click Domino' almost as Twitter statements, counting characters, making a short sharp stream of consciousness commentary."

It's accompanying video, filmed around the streets of London, also employs a "tunnel-vision" motif as it follows Turpin and Ward through the city.
Rooted in Brit rock reverb, "Click Click Domino" received an extra dose of blistering guitar from guest Marcus King.
"The riff was originally inspired by the playing of one of our favourite guitar players Pop Staples and it slowly morphed into something that in my mind almost echoed moments of Peter Green's Fleetwood Mac," said Turpin. "It kicked up a gear when Marcus King came over and we stood side by side, soloing call and response guitar lines over the outro. The attitude of his playing was perfect."
Turpin dished in more detail about ALL of his guitar influences in his "Hooked" video for PG, which asks artists to share the one song that "hooked them on guitar for life."
"I can remember so vividly so many of those songs because I am sure everyone knows that when you start dialing into guitar music, it becomes a strange archeological time traveling quest where you feel like you are unearthing these secret worlds and incredible songs and learning the fraternity and bloodlines of different bands – it's quite astonishing.
Calling it an impossible task and listing out a dozen or so other songs while playing quick riffs from each one, Turpin finally lands on "Calvary Cross" by Richard Thompson.
"I picked this song in particular because I remember this song being played at parties – where you'd get old enough to go hang out at parties with your parents. I can remember sneaking off to the back room to where the naughty parents would be having cigarettes and hanging out and playing nylon string guitars and listening to records. I can remember this song being one of the songs I heard at that party. It's an incredible song.
"He's an astonishing songwriter and amazing guitar player, and the intro to this song an "incredible piece of free-form, kind of wild beautiful improvisation that feels like the wheels are going to fall off all the time with these strange bends and intervals."
Watch the "Hooked" clip below to see him play this song on his Gretsch Chet Atkins model, and click here to stream Ida Mae's new music.
Stream or download the single from the platform of your choice here