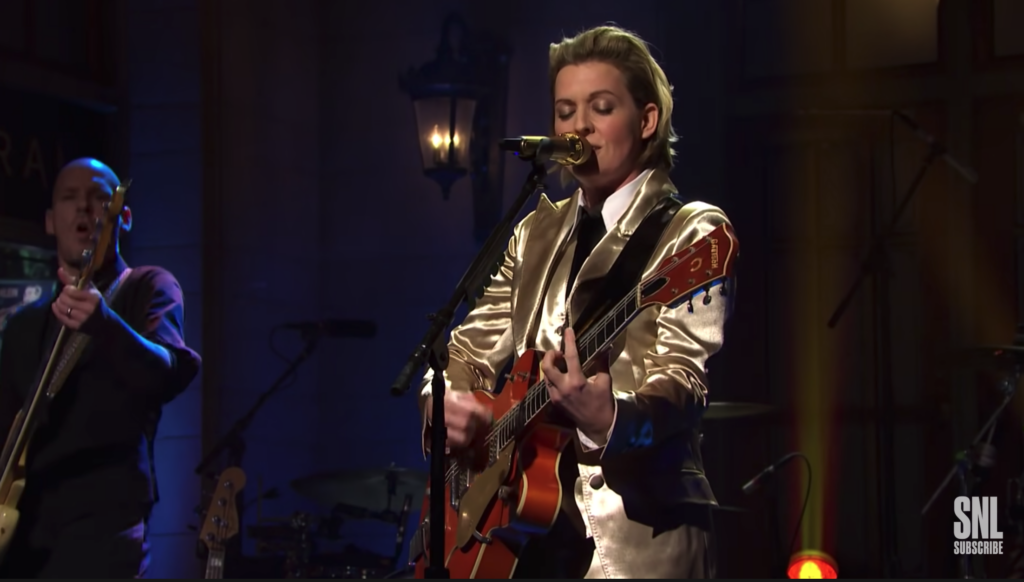 Grammy-award winning artist Brandi Carlile conquered the stage during her musical guest debut on Saturday Night Live with two brilliant performances of songs from new album In These Silent Days. With Ted Lasso star and former SNL cast member Jason Sudeikis also making his hosting debut, the episode proved to be a memorable one.
It was also the realization of a dream that the Nashville singer-songwriter had expressed on social media three years prior when she had her first glimpse of the famed SNL Studio 8H set.
At the time, Carlile posted a photo of herself sitting on the stage, writing, "On a recent trip to NYC when I was lucky enough to perform on @latenightseth I wandered accidentally into the SNL studio looking for the bathroom! I saw the stage and it took my breath away… I don't know why but I've always seen it as a definitive 'ok now you're a rockstar' moment in a person's musical life…I just HAD to grab a pic on the iconic Saturday Night Live stage. 🤘ONE DAY we'll get there man! Dreams come true everyday."
Rocking a shiny gold tuxedo and armed with a classic Gretsch Nashville guitar, Carlile and her ace band — twins Tim and Phil Hanseroth on bass and guitar respectively, Shooter Jennings on Keys and drummer Chris Powell — delivered a fiery performance of the country rock rager "Broken Horses."
For her second number, Carlile, clad in a sequenced black and white tuxedo, took to the piano and belted out the first few stanzas of slow-burning ballad "Right on Time." The song takes a dramatic shift as Carlile grabs a guitar and rocks out with her bandmates before ending the heartfelt number with her trademark hair-raising vocals.
Watch the stunning performances below, and pick up Carlile's new album here.